Despite having a bit of a needle phobia, I started going to acupuncture after a friend recommended it for my carpal tunnel and as an overall stress reliever, among other reasons. I was able to get past my fears of needles and saw great benefits from it. I still don't love the feeling of the needles going into my wrists and upper back (carpal tunnel trigger areas), but I leave feeling so much better that it's well worth it and I am able to relax once they are in.
Getting to acupuncture weekly or even bi-weekly can be tough sometimes though, so when I heard about this acupuncture mat, I decided to give it a try. Is it the same thing as acupuncture? No – but it does give me similar relief, just at a lower scale. For me, I can use this when I feel my back or wrists acting up instead of going right to an acupuncture appointment.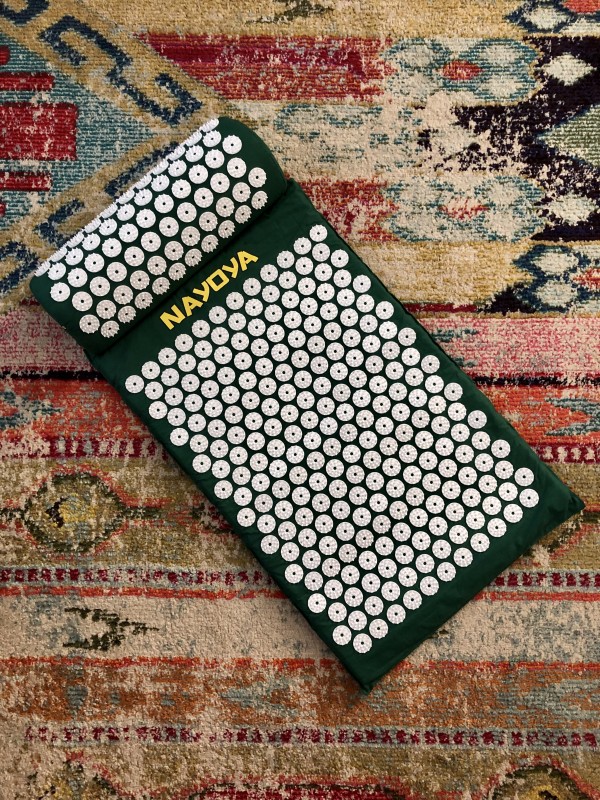 What does an acupuncture mat do? Laying on an acupuncture mat for as little as 20 minutes will relieve neck and back pain, headaches and other aches, paints, stress and tension. You'll feel relaxed while you're using it, which could lead to better sleep, circulation, mood and increased energy levels. And if it doesn't help, the mat I got has a lifetime money back guarantee.
How does an acupuncture mat work and what does it feel like? It's made with pointy plastic spikes that don't actually go into your skin like a needle would. The instructions suggest starting off against a surface vs. laying flat or you could also start with a shirt on to lessen the feeling of them. I prefer going right on a flat surface with a sports bra or light tank top so I can feel the effects. I've also used it on a giant pillow to get it to dig into my back exactly where I need it.
When you're laying on it, you'll start to feel almost a tingling sensation which I find to be similar to what you feel at an actual acupuncture appointment as the placement of the needles create good circulation. It doesn't hurt but can feel weird – once I distract myself with t.v., I stop noticing it.
My carpal tunnel stems from my upper back (I can feel the exact spot usually), but I also like to prop my arm up on the headrest while I'm watching t.v. I bend my legs and put my feet on the floor so my back sits flat on the mat. Some people say that they browse their phone while using it but I prefer not to do that because of my carpal tunnel.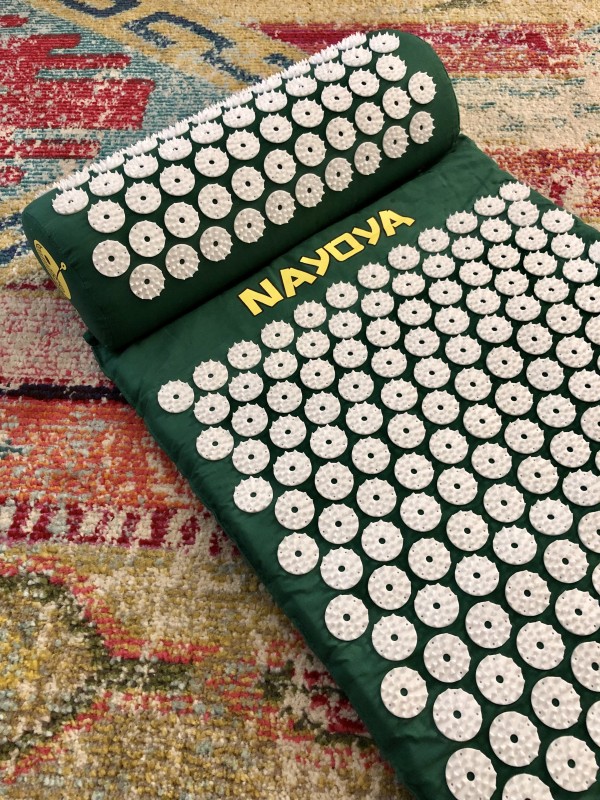 Which acupuncture mat should you buy? I have this one, which is under $40 on Amazon, but it looks like there are several nearly identical options on there for even less (here for $19 & lots of colors; another here). I recommend getting one with the pillow, which you can choose to use or not use, depending on how you are positioned or where you are targeting.
Even I was skeptical about this being one of those things that I buy and use only a few times, but I have continued to use it for many months now. It comes in a bag that you can easily roll up the mat and headrest in, so I keep it next to our couch to pull out when I need it (like tonight!).
Here are a few different acupuncture mats to shop: