*This post contains affiliate links.*
When you live in the city – aka without any designated play room other than a corner (ok, most) of the living room – having a Christmas baby requires some carefully curated list making. Lucky for me, coming up with gifts for 1-year-olds was a relatively easy task thanks to several friends and my sister-in-law with kids a year or less older than Sofia.
So whether you're buying for your own little one or someone else, I thought I'd make it easy with my list of gifts for 1-year-olds – which include Sofia's favorites or recently gifted items that she'll use within the year. Here are our favorite gifts for 1-year-olds, organized by price. Note that I wrote about each idea below when Sofia was about 13 months, so by now she's getting even more use out of them as she is fully on the move!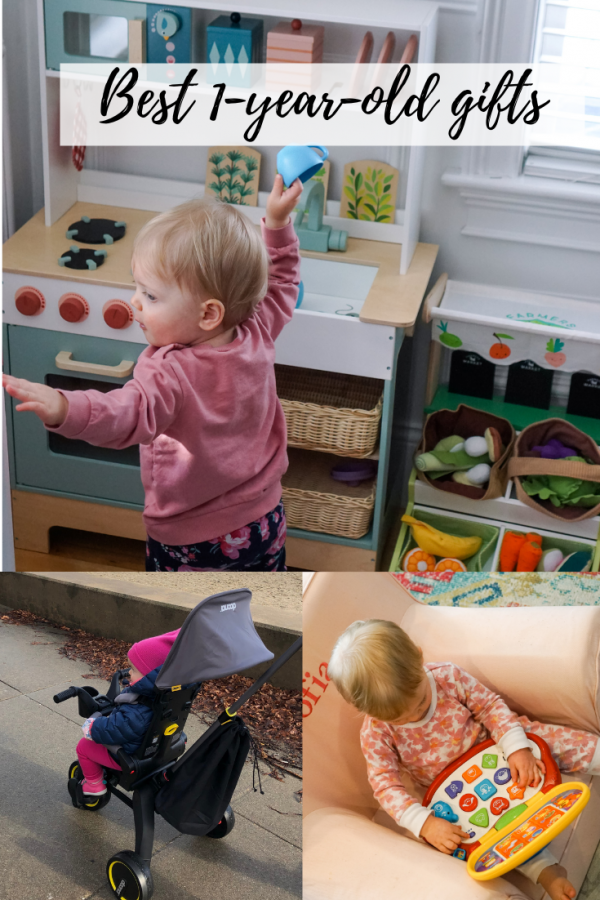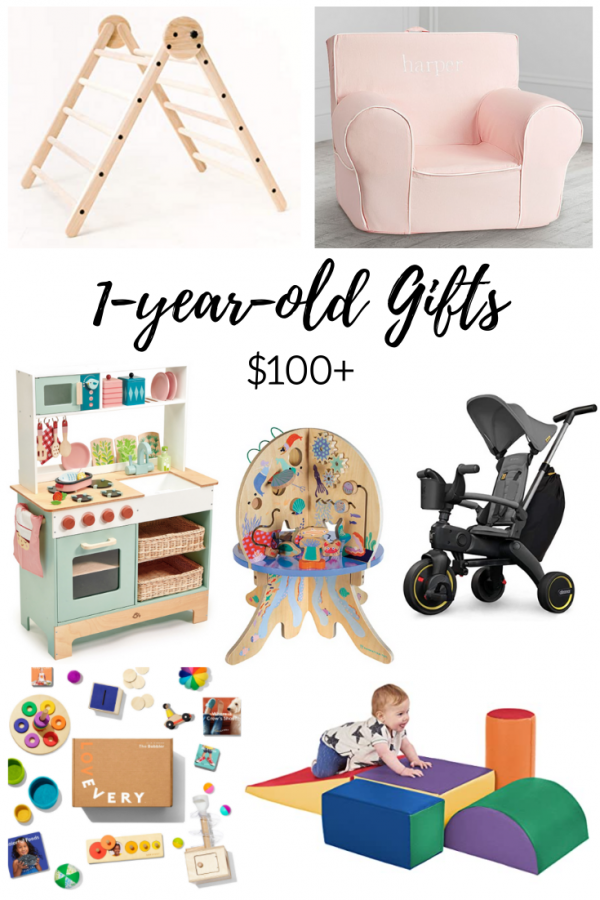 Over $100
Pottery Barn Anywhere Chairs – Kids love these chairs. We got the "Regular Anywhere" size which she figured out how to climb into but still has room to grow into. There are so many different sizes, colors and ways to monogram. And I love that you can just buy covers if they get worn or you want to size up for one kid and pass down to another.
Tender Leaf Toys Kitchen Set – I spent far too long researching kitchen sets, mainly because ours will live in our living room in a very specific space. I love this wooden set with fun yet pretty neutral colors. And then we got the farmer's market below to go alone with it. Note: Took a few of the tiny pieces and set aside for when Sofia is older. Also, this kitchen set goes in and out of stock all the time, so just keep checking back. My backup option, which is also $100 cheaper, was this one.
Doona Liki Trike – We took this out for a spin for the first time recently when we had nice weather and it was a big hit. It has 4 modes – parent, push, tricycle and bike – and can be used from 10 months to 3 years. It's a big win for us because it has a super compact fold so we can store it in our city condo.
Homi Baby Pikler Triangle – There are several brands that make these wooden play gyms, but we got this one in particular because it folds. The one with the ramp that we have doesn't seem to be on Amazon right now, but you can get it here (or without the ramp here). You can read about the philosophy behind pikler triangles here. We haven't taken this out quite yet but likely will in a few months. If you don't have space, we also considered this simple wooden balance board.
Lovevery Kits – The Babbler (ages 13-15 months) – Lovevery gives you the option to tailor your gifts based on the child's age. I think the one-year-old gift is a fun one with toys like a wooden coin bank set, puzzles, a ball run and more. We don't have this but wish we did!
Foam Shapes for Climbing – We don't have room for these but if we had a finished basement or dedicated play room, they would be great! Sofia is always tiring us out chasing her on our big couch and making sure she doesn't fall off.
Manhattan Toy Tree Activity Center – We got the activity cube in the next section, but I'm a big fan of this brand so I'm sure these are good options too. Also like this under the sea themed one.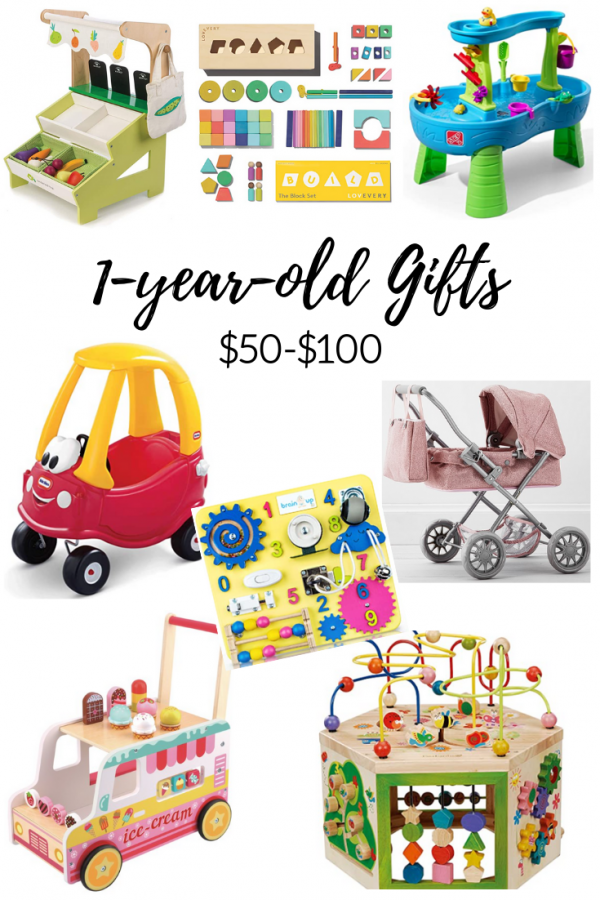 $50-$100
Tender Leaf Toys Farmer's Market (shown in 1st image) – This is the same brand as the kitchen set above and it's equally as cute. For now, we put away the wooden fruits and veggies it came with and replaced them with cheap soft options from IKEA, but eventually we'll take them out. Note: this is smaller than the kitchen set, so don't expect them to be comparable side-by-side.
Fat Brain Toys Scoop 'n Scoot Ice Cream Walker – Another gift from my sister-in-law that gets lots of use. I loved seeing Sofia go from having no clue what to do with it to putting together ice cream cones and pretending to eat them within a couple of days. She's starting to show interest in pushing it, so I'm sure once she starts walking she'll love it even more. Similar wooden ice cream shop toys without walkers are here and here. Note: This is one of the toys where I put away several smaller pieces that are choking hazards – the toy does say ages 3 and up.
PB Kids Pink Glitter Doll Pram – Sofia's aunt got her the cutest doll stroller. She'll be using this a lot in a few months – she already wants to push it around but needs to get a little stronger with her walking first. The Buddy Stroller by Lovevery is just over $50 and is another nice option.
EverEarth Activity Cube – There are lots of great options for activity cubes out there and my mom found this one on Amazon that we love. More have four sides but this one is a hexagon so offers more activities to choose from. A good toy to have around because it requires zero cleanup.
The Block Set by Lovevery – The Lovevery Play Mat was one of our top baby products and they now have so many different sets that make great gifts. We don't have this, but you definitely can't go wrong with it.
Little Tikes Cozy Coupe – A classic gift that you can't go wrong with. They come in so many colors now – classic red and yellow, pinks and more. We were gifted this one with the fairy decals and a crown but might leave the stickers off.
Step2 Water Table – We can't wait to use this outside this summer. Our nephew has it and it provides lots of entertainment. Little Tikes also makes a good smaller version here.
Busy Board – You can find these in lots of price ranges, but this one came highly recommended in a mom group I'm part of. Another friend said she loves these for when you're out and about at a restaurant when you need something entertaining but quiet handy.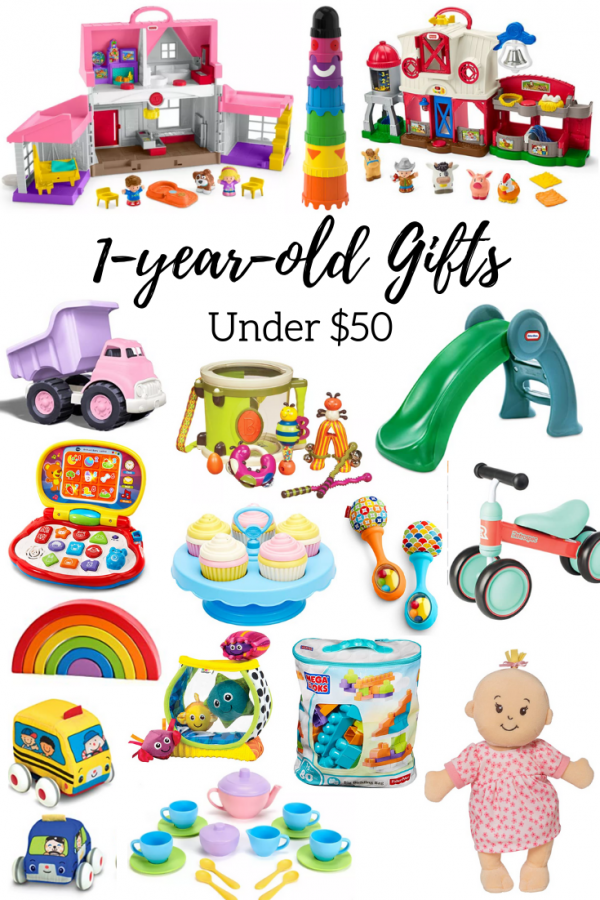 $25-$50
Fisher-Price Little People Farm – Farm animals are a hit in our house – and in an effort to get Sofia to leave her farm animal bath toys where they belong instead of carrying them around the house, I thought a farm would be a good gift. This one came highly recommended from a friend and she loves to put the cowboy down the chute which makes noises (important to note the noises/songs on this aren't annoying like other toys in my opinion!). It folds up for space saving. Also considering getting her this farm trailer and animal set down the road. This is another simple farm set that looks equally as good too.
Fisher-Price Little People Dollhouse – I searched everywhere trying to find age-appropriate dollhouse people and furniture that could go inside a pretty Pottery Barn dollhouse that could grow with her, but finally came to the conclusion that didn't exist. After hearing great things about the barn, I decided a similar concept would be our best bet for a dollhouse.
Retrospec Cricket Balance Bike – We haven't used this quite yet but this balance bike is for 12-24 months and came highly recommended from a friend. It comes in several colors. Another option is this one from Hape – it's more expensive but a wooden balance bike.
Little Tikes Slide – This may take up some room, but if you have the space for it either indoors or outdoors, it's a good gift. I like that this one folds up. A friend also got us the Little Tikes basketball hoop, which Sofia does love but of course isn't old enough to actually use. She throws the ball and says "ball" and loves when you pick her up to put it in the hoop. Another good one: the Little Tikes Swing, which we screwed right into our city deck (we used this well before 1 year and will continue when it's warmer out!).
Under $25
Baby Dolls – It's so cute to see Sofia hug her baby dolls. She has the Melissa & Doug Jenna doll and the Manhattan Toy Wee Baby Stella (we call her Baby LaLa and she now comes everywhere with us). She has gotten the hang of using the magnetic pacifier on Baby LaLa. We also have this bassinet for her.
B. toys Drum and Instrument Set – This is a friend recommendation that we gifted my nephew a year ago and then bought for Sofia. It's a drum filled with instruments that you can nicely put away all together. Big win for small spaces! We also have this instrument set from Manhattan Toys that she likes but I think she will enjoy it even more in a few months (also compact).
Board Books & Sets – Sofia quickly became interested in board books before she turned 1… and now asks us to read over and over and over again. She also loves to play with boxes, so boxed sets are even better, as taking the books out and putting them away is also an activity. Here are a few good sets: The Little Blue Box of Bright and Early Board Books by Dr. Seuss and The Big Box of Bright and Early Books All About Me (Dr. Seuss books about noses, eyes and ears). Other books we love: Pout Pout Fish, Little Blue Truck, Brown Bear, Brown Bear, What Do You See and Chicka Chicka Boom Boom.
VTech Brilliant Baby Laptop – Our friends' daughter had this when they came to visit us and they highly recommended it because it was entertaining yet compact enough to travel with. She loves to open and close it as it plays songs, animal noises, etc.
Green Toys Cupcake and Tea Party Sets – This new-to-me brand makes simple, high quality toys and I'll definitely be coming back for more. The cupcake set (another color scheme here) is one of our top gifts this year – Sofia is constantly playing with them. She knows how to stack all three pieces of each one together and pretends to eat them or give them to you. We haven't opened the tea party set yet but a friend told me her daughters love it.
Green Toys Dump Truck – Another friend recommendation. Her son got lots of use out of this truck both at home and at the beach. We have the pink and purple version but it also comes in red and yellow (most of their trucks seem to come in both color schemes). This is another good set with three different trucks.
Mega Bloks – These are a must for us. We have a set of 80 but only keep 10 or so out at a time right now, though I'm sure as Sofia learns to stack them we'll add more to the bin. She carries one or two around at all times – we find them everywhere.
Lamaze My First Fish Bowl – Sofia loves putting the fish in this soft tank, taking them out and doing it all over again. Melissa & Doug also makes a very similar version here.
Learning Resources Peek-a-Boo Farm – A fun little farm set where your little one can match the animals with colors and whatnot.
Stacking Rainbow – A fun way to get creative with wooden blocks shaped like semi-circles that stack together to become a rainbow and lots of other configurations.
Melissa & Doug Pull-Back Vehicles – Lots of brands make these but my mother-in-law picked these because the wheels seemed more durable if she were to put them in her mouth. She's starting to figure out how to make them go on her own. We like everything from B. toys so I'm sure these are just as good.
Stuffed Animals – Sofia loves her stuffed animals now. We were gifted several from Jellycat between when she was born and now – you can't go wrong with any of them! She also loves this dog and this unicorn. She now sleeps with two lovies, a Jellycat bunny and this doggie.
Under $10
Fisher-Price Maracas – These are actually for babies ages 3 months + but both Sofia and her older cousin still love them.
Ikea Stacking Cups – A very affordable and surprisingly entertaining toy that's a favorite in our house. They stack in and on top of each other and Sofia is able to do that on her own. She also likes to put smaller toys inside the bigger cups. This is another cup set we like.