Blanket scarves are everywhere, and I think I would wear one every day if I could at this time of year. They're so cozy, you can wear them lots of different ways and they come in so many colors at a variety of prices. The one I'm wearing in today's post is under $20! It also came in handy when I was traveling last week – I took it off and used it as a blanket on the plane.
Most days I'm all about comfort and convenience when it comes to style, especially since I commute via public transportation and walking to work during the week. You can usually find me in flats or wedges, and these shoes are so comfy once the leather is nice and worn in (took me a few times of wearing them to really love them). Crossbody bags with enough room to put all of the essentials are also my go-to, and this one is the perfect size.
Also, I'm a big fan of jeans that have stretch to them, and the girl at the store I got the black jeans shown here told me they are actually made from yoga pants material. You can't beat that! They are so soft and stretchy (I recommend sizing down – I went with my usual size but they did stretch out a bit).
If you're on the hunt for the perfect blanket scarf, check out this post with 13 different options, all under $50! And you can shop today's look using the links below. Enjoy!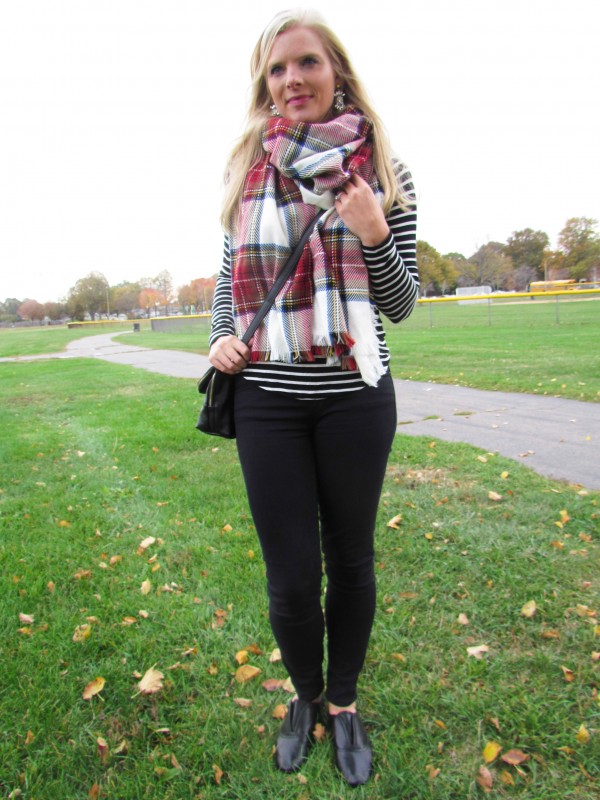 Shop the Look:
Blanket Scarf / Shirt (similar)
Shoes / Bag (similar here + here)