I love anything with buffalo chicken, so I was excited when my husband found a recipe for Buffalo Chicken Stuffed Peppers from CookbookMeals.com. This recipe is so good – and with lean ground chicken and lots of veggies, it fills you up but keeps the meal lighter and healthier than most buffalo chicken recipes. We'll definitely be making this again, but next time I might prep the chicken mixture the night before to make it a quick post-work dinner.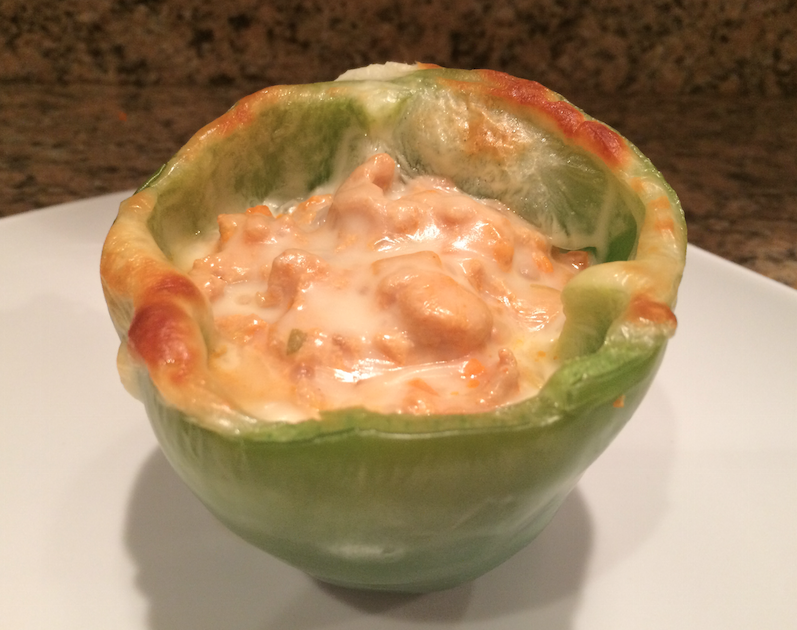 Ingredients:
2 tablespoons extra virgin olive oil
1 carrot, peeled and minced
1 stalk celery, minced
½ onion, minced
1 pound ground chicken breast
¼ package ranch dip mix (I didn't have this, so I used regular ranch dressing, which worked fine)
½ cup buffalo sauce
¼ cup plus 4 teaspoons blue cheese crumbles, divided
nonstick cooking spray
4 green peppers, tops cut off, seeds and ribs removed
6 slices provolone cheese, halved (I used Sargento's reduced-fat provolone slices)
Directions:
Preheat your oven to 375°.
Heat the olive oil in a skillet over medium-high heat.
Once the oil is hot, add the carrot, celery, and onion.
Stir and cook until tender, about 7 minutes.
Push the veggies to one side of the skillet.
Add the chicken to the other side and break up with a wooden spoon.
Sprinkle the ranch mix over the chicken.
Cook the chicken until no longer pink, stirring occasionally.
Mix the veggies into the chicken.
Pour in the buffalo sauce and stir.
Remove the skillet from the heat and add ¼ cup of the blue cheese.
Stir again.
Coat a baking dish with the cooking spray.
Place the peppers in the dish.
Put half a slice of provolone on the bottom of each pepper.
Fill each pepper with the buffalo chicken mixture.
Sprinkle a teaspoon of blue cheese on top of each pepper.
Finish each pepper with a full slice of provolone.
Bake covered for 30 minutes.
Remove the cover and bake until the cheese on top is bubbly and golden brown, about 5-10 more minutes.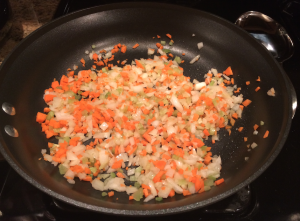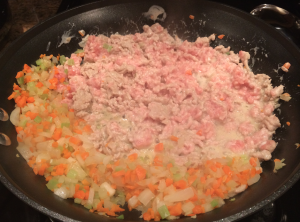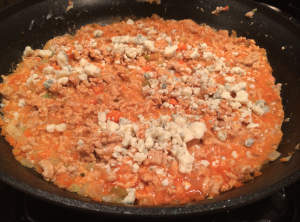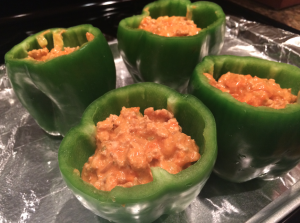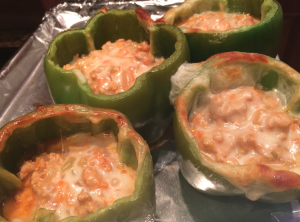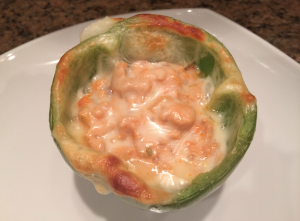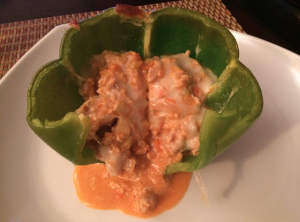 What are your favorite stuffed pepper recipes? Share them below!