In case you missed it, Monday was National Mac and Cheese Day. I could eat mac and cheese any day, whether it's a box of Annie's or homemade cheesy deliciousness. Today I'm sharing a new, healthier spin on mac and cheese that substitutes some of the noodles for cauliflower. I swear you won't even notice the difference and I found it to be much more filling than traditional mac and cheese. It's based off of a recipe I found on Damn Delicious and there are lots of ways you can tweak it to make it your own (see the bottom of the post for some ideas!).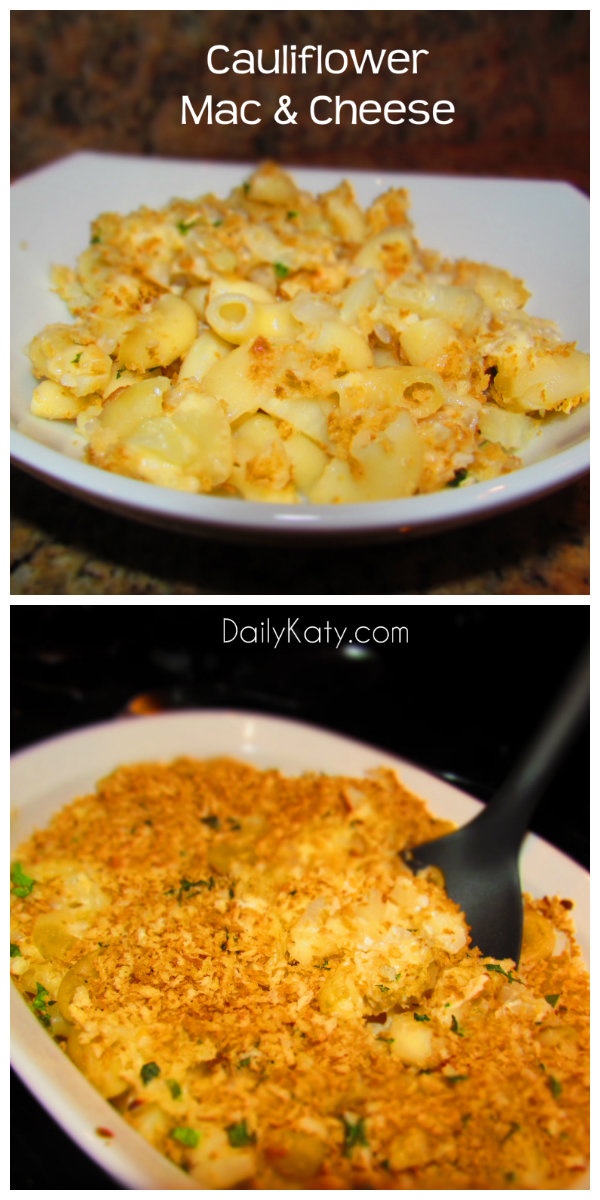 Ingredients
2 tablespoons olive oil, divided
1/3 cup Panko
2 tablespoons chopped fresh parsley leaves
1 cup elbows pasta
2 cups cauliflower florets
3 cloves garlic, minced
1 onion, diced
1/2 cup reduced-fat sour cream
1/4 cup 2% milk, or more, to taste
1 cup shredded gruyere cheese
1/2 cup shredded sharp cheddar cheese
1/4 cup grated Parmesan
Kosher salt and freshly ground black pepper, to taste
Directions
Preheat oven to 375 degrees. Lightly oil a 9-inch baking dish or coat with nonstick spray.
Heat 1 tablespoon olive in a large skillet over medium high heat. Add Panko and cook, stirring, until browned and toasted, about 3 minutes. Stir in parsley; set aside.
In a large pot of boiling salted water, cook pasta according to package instructions. Within the last 3 minutes of cooking time, add cauliflower; drain well.
Heat remaining 1 tablespoon olive oil in the pot. Add garlic and onion, and cook, stirring often, until onions have become translucent, about 3-4 minutes. Stir in pasta, cauliflower, sour cream, milk and cheeses, a handful at a time, until smooth; season with salt and pepper to taste. Add more milk as needed until desired consistency is reached.
Spread pasta mixture into the prepared baking dish. Place into oven and bake until bubbly, about 12-15 minutes.
Serve immediately, sprinkled with Panko, if desired.
Variations
Add Frank's hot sauce before serving (my favorite!).
Take a tip from Michelle Obama's cauliflower mac and cheese recipe and puree the cauliflower to make it blend better with the cheese.
Use any combination of your favorite cheeses (below I used Trader Joe's Swiss and Gruyere along with cheddar cheese).

What's your favorite mac and cheese recipe? Let us know in the comments below!