I recently shared the skinny eggplant spinach rollatini recipe that I made on Valentine's Day, and now I also want to share the recipe for the skinny Italian turkey meatballs that I made that night. Both of these recipes are from Skinnytaste and are delicious and the meatballs are nice and easy because they're made in the slow cooker.
My husband loves homemade Italian meatballs and I was admittedly nervous that he wasn't going to be a fan of these healthier turkey meatballs… but I was wrong – he loved them and we will definitely be making them again. Check out the recipe below!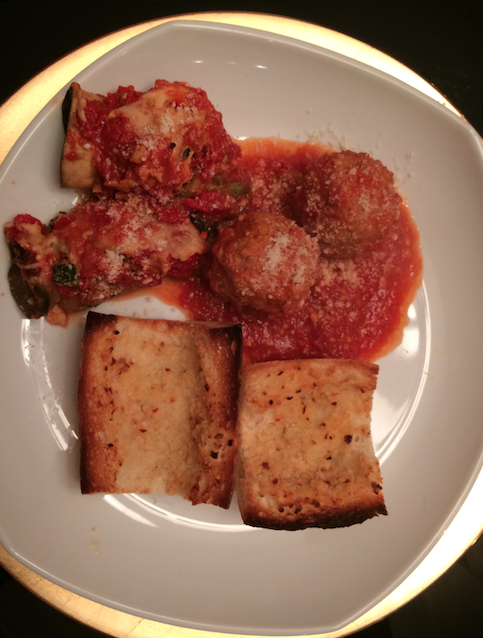 Ingredients:
For the meatballs:
20 oz (1.3 lb) ground turkey breast 93% lean
1/4 cup whole wheat seasoned breadcrumbs
1/4 cup Reggiano Parmigiano cheese, grated
1/4 cup parsley, finely chopped
1 egg
1 large clove garlic, crushed
1 tsp kosher salt + fresh pepper
For the sauce:
1 tsp olive oil
4 cloves garlic, smashed
28 oz cans crushed tomatoes
1 bay leaf
salt and fresh pepper to taste
1/4 cup fresh chopped basil or parsley
Directions:
In a large bowl, combine ground turkey, breadcrumbs, egg, parsley, garlic and cheese. Using clean hands, mix all the ingredients and form small meatballs, about 1/8th cup each.
In a small saute pan, heat olive oil over medium heat. Add garlic and saute until golden, being careful not to burn.
Pour crushed tomatoes into the crock pot with bay leaf. Add garlic and oil.
Drop meatballs into the sauce, cover and set crock pot to low, 4 to 6 hours.
When meatballs are ready, adjust salt and pepper to taste and add fresh chopped basil or parsley.
Serve with ricotta, over pasta or enjoy with French bread. I served it with eggplant spinach rollatini and garlic bread, but it's up to you!
Nutritional Info:
Servings: 6 • Size: 4 meatballs with sauce • Old Points: 5 pt • Points+: 5 pts
Calories: 200.4 • Fat: 8.1 g • Carbs: 12.6 • Fiber: 0.6 • Protein: 17.3 g • Sugar: 4.4
Sodium: 427.5 mg