I do my best to stay as active as possible, and oftentimes that means bringing a gym bag on-the-go with me, stocking with everything I need for during and after my workout. Check out my Fall gym bag essentials below!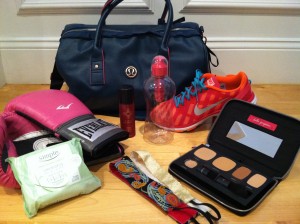 Here's a bit more background on the items currently in my gym bag: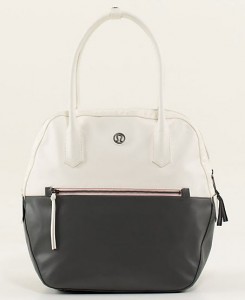 Lululemon Happy Hatha Hour Bag
The bag I currently use that's shown in my image above is no longer available, but lululemon is constantly coming out with cute bags that are perfect for transporting both everyday and workout gear on the go, without having to sacrifice style. The white and black bag shown above is the Happy Hatha Hour Bag ($118, lululemon.com), which, much like most lululemon bags I've purchased, have tons of compartments for all of your essentials. This structured bag is roomy and features mesh pockets on the inside and a zipper pocket on the outside to help keep everything organized (and keep gym clothes separate post-workout). I tend to put things like my phone, which I like to keep very accessible at all times, in the quick-access exterior pocket. The bag is also great for yogis, as it has a removable, stowable mat strap that makes for easy yoga mat transportation. I actually also use my lululemon bag as a carry on bag when I travel, as it has a great interiot padded pocket that's specifically designed to fit a laptop. You can't go wrong with a lululemon bag!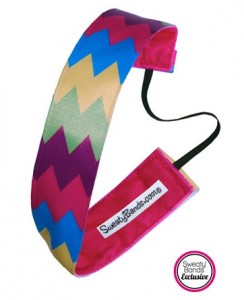 Sweaty Bands
Sweaty Bands ($12-$18, sweatybands.com) have recently become my new best friend at the gym. The purpose of a headband is to keep your hair back, and I've had way too many experiences with headbands falling off my head mid-workout. Sweaty Bands come in more than a thousand colors, patterns and print combinations, and the back of them (the part that sits against your hair) is a fabric that grips and holds your hair during any workout, without slipping, tugging or pulling your hair. They're also stylish, so they can help pull you together for after-workout errands or drinks! You can even have custom Sweaty Bands designed if you are participating in a team event or want them for a certain occasion.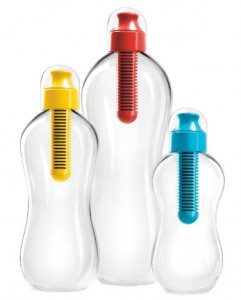 bobble Water Bottle
When you're on the go, it can be a hassle to carry your own bottle of water with you, weighing down your bag. That's where bobble ($10-$13, waterbobble.com) comes in handy. This innovative water bottle – which now comes in several different sizes, colors and varieties – has its own filter that removes chlorine and organic contaminants from municipal tap water, making it taste better, crisp and clean. Better yet, each bobble filter equates to 300 single-serve bottles – so after a year, you'll have removed thousands of plastic bottles from the environment. I love knowing that I'm always drinking clean water, even if it's from the faucet or my gym's water fountain.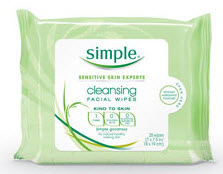 Simple Skincare Cleansing Facial Wipes
I'm incredibly lazy when it comes to my nightly get-ready-for-bed routine, which is actually why I originally purchased the Simple Skincare Cleansing Facial Wipes ($5, Target.com). Now, I use them daily when I'm on-the-go, especially after the gym. They're cool and refreshing and do a great job quickly cleaning my face and getting the makeup off as well. They contain perfect blend of our purest possible skin loving ingredients with an added vitamin, Pro-Vitamin B5, which is known to help restore, soften and smooth.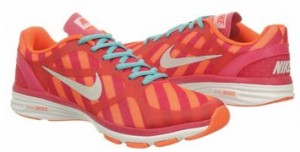 Nike Women's DUAL FUSION TR Sneakers
I love a fun, bright sneaker, and the Nike Women's Dual Fusion TR Sneakers  ($65, FamousFootwear.com) are exactly that! These training shows are equipped with a phylon midsole wiht dual density for lightweight, dynamic cushioning, which I found to be perfect for my daily cross-training and boxing routine. They also have a fabric lining and cushioning footbed. Overall, a great, affordable sneaker choice.

Serge Normant Meta Revive Dry Shampoo
I received a sample of the Serge Normant Meta Revive Dry Shampoo ($25, Birchbox.com) in my Birchbox a few months back and have since been using it quite a bit. I've used lots of different dry shampoos in the past and find that they all have different benefits and drawbacks, but this one is definitely a good option. It's ideal for all hair colors and textures, and the lightweight formula combines strengthening Moroccan cedar extract with amplifying cornstarch for a fresh, volumized finish with no heavy powder residue. I would say that this gives much more volume than dry shampoos I've used in the past.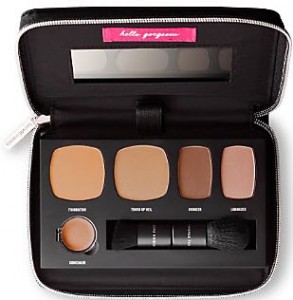 bareMinerals READY to Go Complexion Perfection Palette
As someone who previously swore by the bareMinerals loose powder products for years, I was excited to learn about the new READY makeup products from bareMinerals. The bareMinerals READY to Go Complexion Perfection Palette ($49, BareEscentuals.com) has everything you need for a flawless, radiant complexion with a no-makeup look and feel, and it's all thanks to the company's innovative solid mineral technology. The products included even provide anti-aging benefits, giving you softer, smoother, younger-looking skin. Here are the products that are included:
bareMinerals READY Foundation Broad Spectrum SPF 20
bareMinerals READY Touch Up Veil Broad Spectrum SPF 15
bareMinerals READY Bronzer
bareMinerals READY Luminizer
Correcting Concealer Broad Spectrum SPF 20
I recently started using this daily and love that it can be layered for lighter or heavier coverage, without looking like you have tons of makeup on. It also comes in 8 different shades so you can get the perfect match to your skin tone. It's perfect to carry in your gym bag because it comes in a nice travel case, so you don't have to carry around bulky full-size products. The best part? When you buy these products as a set, the price is only $49 for $93 worth of products.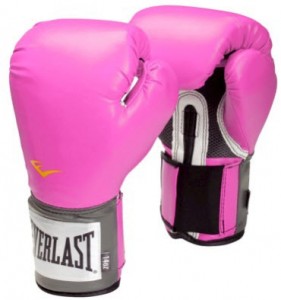 Everlast 12-oz. Boxing Gloves – Pink
As I mentioned before, my husband and I recently took up boxing, which is an awesome workout. I'm currently using these Everlast 12-oz Boxing Gloves in pink ($25, Target.com). They're comfortable, adjustable and ideal for fitness training, martial arts, and of course, boxing.
What are your go-to gym bag essentials? Share them below!