I'm still in post-vacation depression and missing the hot, sunny weather in Hawaii, but now that I'm back in the swing of things and embracing fall while it lasts. Every season I tend to have a few go-to wardrobe staples, and this fall I've been loving great flats, cozy lightweight sweaters and fun vests. So today I'm sharing a combo of exactly that – with a faux fur vest that I picked up last year in the middle of winter and wasn't quite sure how to style at the time, but have since figured out (and now love!).
I've always loved the look of vests, but living in New England, there's such a limited window of time to wear them in. If the beautiful fall weather lasted more than a few weeks, I would wear them as both daily attire and as outerwear. So while that time of year is here, I've been wearing this faux fur vest on repeat – over a nice sweater, paired with a casual shift dress and boots, you name it. As the weather gets chillier, I'm going to try pairing it with heavier sweaters or just wearing my big winter coat over it when I trek to work – we'll see how that goes!
Today's post includes one way I styled the vest for fall: worn over an insanely soft (and affordable!) sweater, which comes in several different colors. I'm not usually a flats gal, as I tend to prefer booties, but these flats are by far my favorite. They also come in a few different colors and also a pointed toe version, which I may have to grab in another shade while they're on sale.
Shop the look using the links below – enjoy!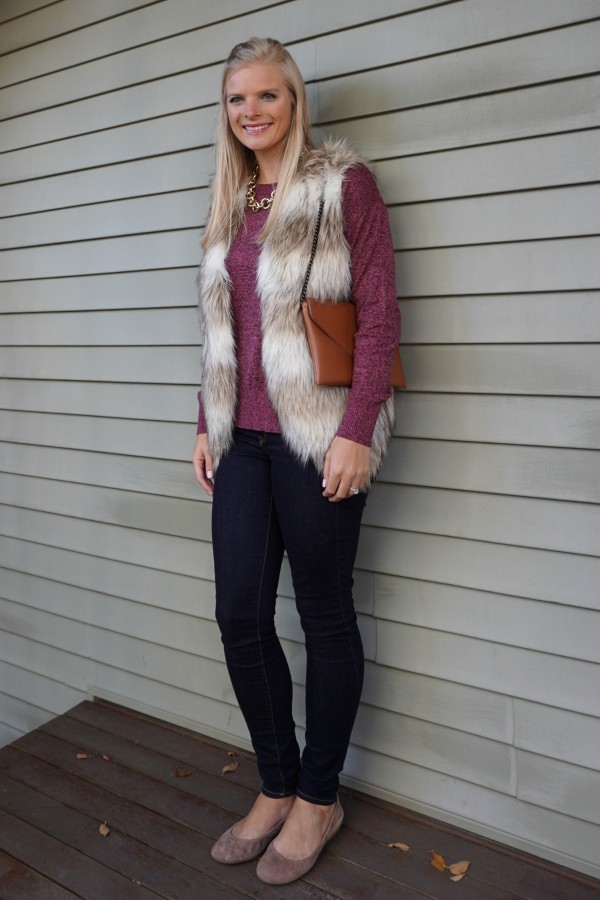 Shop the Look:
Faux Fur Vest / Sweater (on sale) 
Jeans (similar) / Flats (on sale + pointed toe version here)
Necklace (similar) / Earrings (similar)