In addition to blogging here on DailyKaty, I also love making jewelry, which led me to launch Katy Roll Designs about a year ago. The shop currently features a variety of fun and trendy chain necklaces and bracelets, with the most popular being the Katy Necklace ($19.99, katyrolldesigns.etsy.com). The Katy Necklace is available in several different color combinations, including gold, silver and black chain paired with colors like neon pink, blue, white and red.
Over the last year, a few different fashion bloggers tried out the Katy Necklace, and I wanted to share a few of their photos and reviews of the products below as a way of introducing the line to my readers!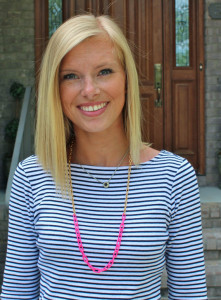 "Katy sent me a beautiful necklace and I was so excited upon receiving it in the mail just a few days ago! I have styled it quite a few ways and the possibilities are endless…. seriously!" – Emily, Blogger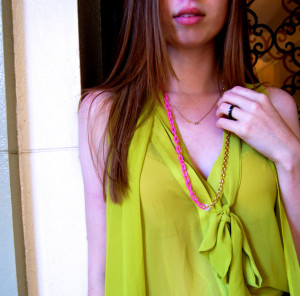 "I also threw in this great necklace c/o Katy Roll Designs for a pop of unexpected color." – Emily, Blogger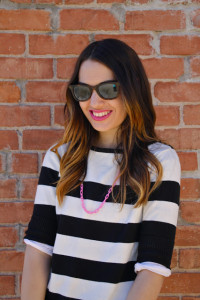 "I teamed up with Katy Roll Designs to share with you all some awesome accessories. Their fun, bright jewelry is the perfect way to add a pop of color to your outfit. Layer the necklaces with multiple chains or wear on its own; the choice is up to you!" – Rin, Blogger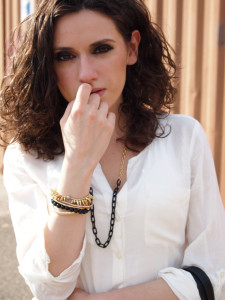 "This necklace from Katy Rolly Designs couldn't be more perfect to finish a monochrome look: I love the combination of gold with black (it comes in more eye-catching colors) and because it is so lightweight it's easy to wear even when it's hot." – Vittoria, Blogger
Now through December 31, you can enter below for a chance to win your very own Katy Necklace in neon pink and silver! You can also get 25% off your order with coupon code DAILYKATY25, now through December 31, 2013.