I spent more than an hour this week reliving our honeymoon in Greece through photos (and daydreaming about going back), and while I can't bring you there, I can share with you a new recipe for Greek Grilled Chicken and a fresh Greek Salad to go with it. Both are great for a nice summer night and are delicious, easy to make and pretty healthy. Check out the recipe below and let me know what you think!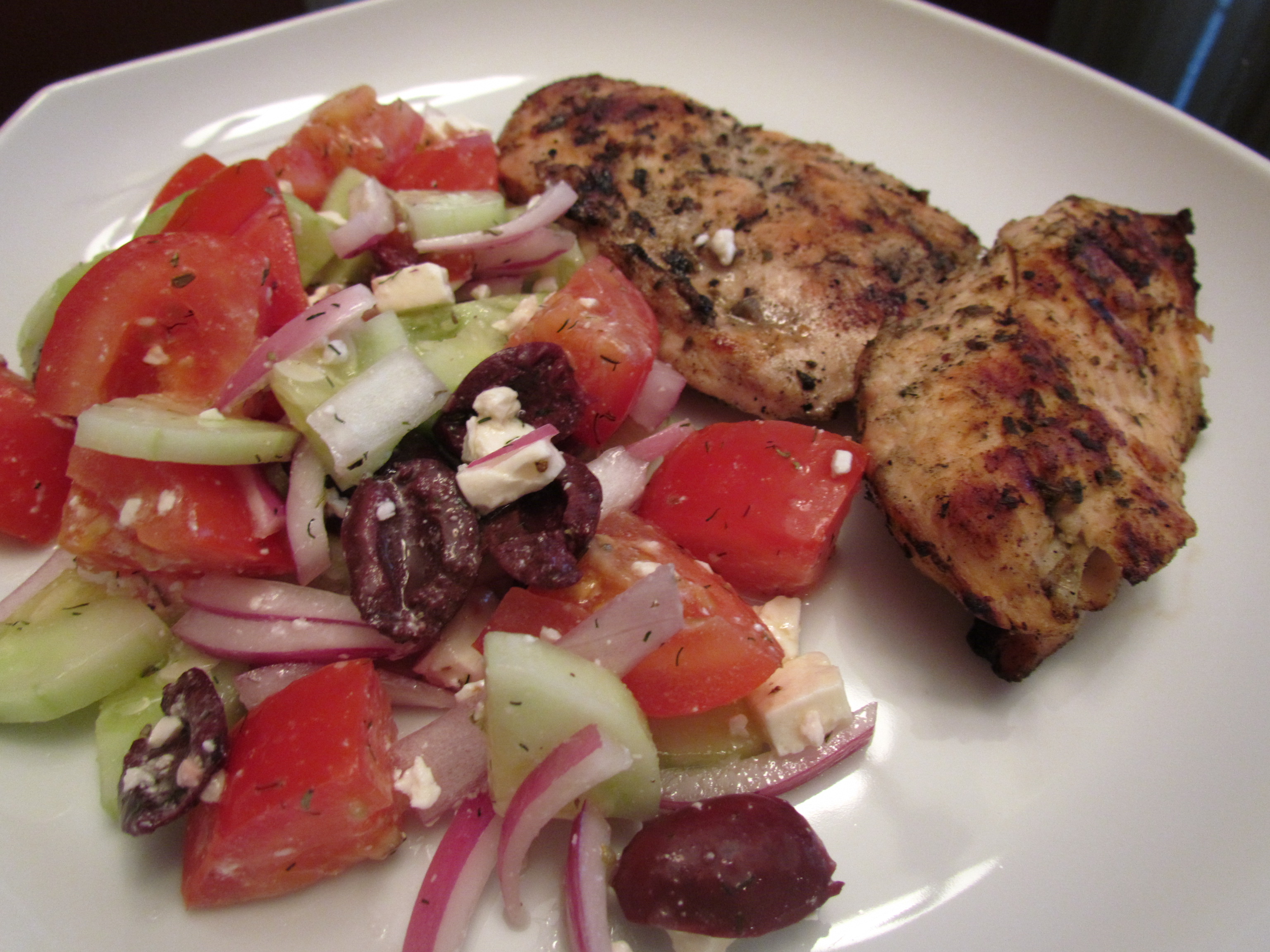 Greek Grilled Chicken
Ingredients
6-8 boneless, skinless chicken breasts

1/2 cup extra virgin olive oil

1/3 cup fresh-squeezed lemon juice

1 tsp. fresh lemon zest or 1/4 tsp. dried lemon zest (or use a little more lemon juice if you don't have lemon zest)

1 tsp. Greek Seasoning

1 tsp. poultry seasoning

1 tsp. dried oregano

black pepper to taste
Directions
Trim all visible fat from chicken breasts, make small crosswise slits about 1/2 inch apart down the length of each chicken breast to help the marinade penetrate the meat. Put chicken in single layer in Ziploc bag.

Combine marinade ingredients and pour over chicken. Marinate in refrigerator 6-8 hours or more.

Preheat grill to medium-hot and grill chicken 20-25 minutes, or until well browned and firm but not hard to the touch. 
Greek Salad
Ingredients
6 Tbsp olive oil
2 Tbsp fresh lemon juice
1/2 teaspoon fresh chopped garlic
1 teaspoon red wine vinegar
1/2 teaspoon dried oregano or 1 teaspoon chopped fresh oregano
1/2 teaspoon dill weed or 1 teaspoon chopped fresh dill
Salt and freshly ground black pepper
3 large plum tomatoes, seeded, coarsely chopped
3/4 cucumber, peeled, seeded, coarsely chopped
1/2 red onion, peeled, chopped
1 bell pepper, seeded, coarsely chopped (I didn't have these but would add next time)
1/2 cup Kalamata olives (more if you love them as much as me!)
A heaping half cup crumbled feta cheese (I used reduced-fat)
Directions
Whisk the olive oil, lemon juice, garlic, vinegar, oregano and dill weed together until blended. Season to taste with salt and freshly ground black pepper. (Can be prepared 3 hours ahead. Let stand at room temperature. Rewhisk before using.)
Combine the tomatoes, cucumber, onion, bell pepper, olives in a bowl. Toss with dressing. Sprinkle cheese over and serve.