I grew up in a family that loved photos, which of course led to our annual holiday photo cards. My mom would carefully select her favorite photo for the card (sometimes more than one), which was either a professional family photo from the year or her favorite from a family vacation. Some years, my brothers and I would even be dragged outside in the cold winter snow to take a photo just for the holiday card.
This tradition has carried on to me, and I love picking out the perfect holiday photo card to send to loved ones. I'm currently working on choosing the card – and photo – that my husband and I will send out this year, and in the meantime wanted to share a few of my favorites being offered this year. This weekend is a great time to buy cards because there are so many great post-Thanksgiving deals going on!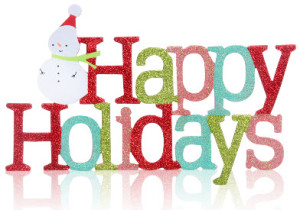 1. Paperless Post's 2013 Tic Tac Toe Card
I've been a fan of Paperless Post for quite some time now, but primarily because of their classic and chic e-cards. My friends and I have used these for everything from bridal showers to holiday yankee swaps, and while there is a cost associated with sending out the cards, it's pretty minimal. The cost also includes the RSVP online tool on the back end, which is why the website is perfect for invitations.
Paperless Post now offers printed cards for their cards, and I'm loving the 2013 Tic Tac Toe card (from $1.05 per card, PaperlessPost.com), shown below, which you can personalize with five photos. They even offer a free custom sample so you can purchase with confidence that you selected the best option.
Paperless Post was kind enough to offer DailyKaty readers with an exclusive discount – 20% off their flat-printed cards with coupon code DAILYKATY20, which is valid through the end of December (limit one per customer).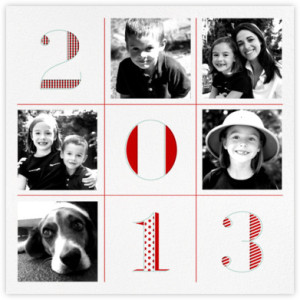 (front)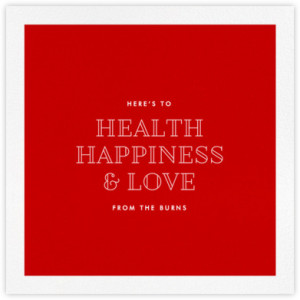 (inside or back)
2. Sweet Treats Paper Boutique's Merry Christmas from the Newlyweds Card
After purchasing many of my paper items (escort cards, signage, programs and more) for my wedding from Etsy sellers, I went looking for holiday photo cards on the site and came across Sweet Treats Paper Boutique. My husband and I got married a few months ago, and the Merry Christmas from the Newlyweds ($62 for 50, SweetTreatsPaper.Etsy.com) card below is a great way to send out your wedding photo as a holiday card (the designer for the shop, Monica, put together a sample card for me to show you!).
Monica is offering DailyKaty readers 20% off any $50+ order with coupon code DAILYKATY20. Check out her shop here, and also follow Sweet Treats Paper Boutique on Facebook.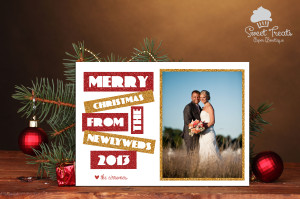 3. Minted's Twisted Pappermint Holiday Ornament
This year, Minted introduced holiday photo cards that double as ornaments, which I think is a really cute idea. I always feel guilty throwing away holiday cards at the end of the season, but with ornament cards, you can hang them on the tree year after year! My favorite ornament card is the Twisted Peppermint Holiday Ornament ($212 for 200, Minted.com). All of the ornament cards come with pre-cut luxe linen ribbons (10″ long) for you to tie to your ornaments.
One great feature that Minted has is the "find it fast" option, where you can upload a photo and instantly see it in all of the holiday photo card options displayed on the screen. It really helps narrow down which ones you like! Now through December 1, use coupon code BFHOL13 to get 20% off all holiday card orders $150+ or 15% off $100+.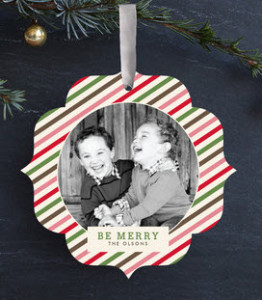 4. Shutterfly's Happiest Memories Christmas Card
Another photo website that offers holiday photo cards is Shutterfly, and the company offers a wide variety of options to choose from. My favorite photo card on this website right now is the Happiest Holidays Christmas Card (starting at $1.27/card, Shutterfly.com), shown below. Now through December 1, you can save 40% off of this card (and up to 50% off all Shutterfly cards), no coupon code needed.