2023 Update! Many of you return to my Derby Day outfit inspiration posts year after year (thank you!). Read on for that reason, but also here are more recent fascinator headband and hat options for this year, many of which are available in lots of color options on Amazon:
It may have snowed here this past weekend, but spring is here and wedding season is coming. One of my girlfriends is having the most fun bridal shower… mainly because it's not a traditional bridal shower, it's a Derby Day party. And aside from horse betting and mint juleps, that means lots of fun outfits!
Every year when the Kentucky Derby comes around I wish I had a reason to get dressed up in a fun dress and hat, but just haven't had a reason to do so. I'm on the hunt for the best outfit and wanted to share all of my finds so far in today's post, all of which you can shop using the links below. No Derby Day party this year? These dresses are also perfect for weddings, bridal and baby showers, Easter, etc. Keep scrolling because today's post has LOTS of options in the links and widgets!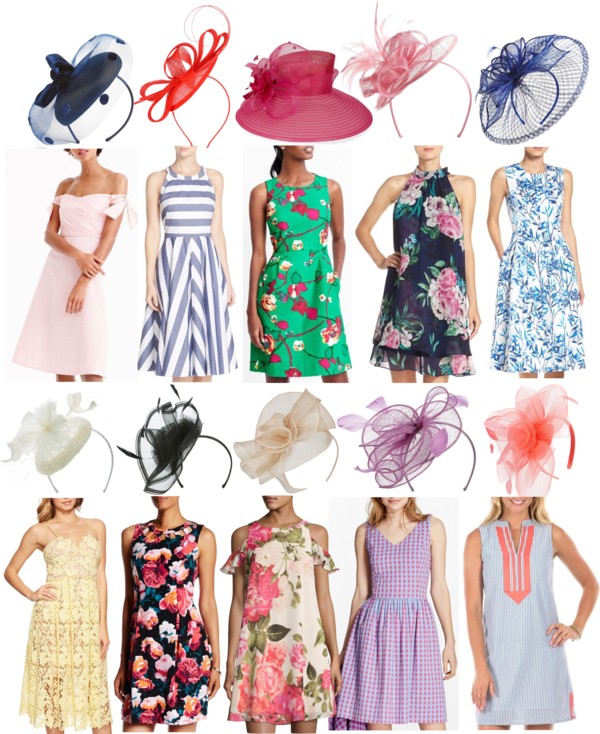 Shop the Looks:
Top Fascinators/Hats: 1 / 2 / 3 / 4 / 5
Top Dresses: 1 / 2 / 3 / 4 / 5
Bottom Fascinators: 1 / 2 / 3 / 4 / 5
Bottom Dresses: 1 / 2 / 3 / 4 / 5
The Dresses:
I love bright colors for Derby Day or other horse race activities – anything floral, lace or striped will work. You can also go preppy with seersucker fabrics in light pinks and blues. My favorite brand for fun floral dresses is Eliza J, which you can find at Nordstrom, Nordstrom Rack and ModCloth. Donna Morgan also makes pretty lace and striped dresses, along with floral options – I love this blue and white striped dress and this yellow lace midi dress. And of course J.Crew and J.Crew Factory have lots of choices when it comes to dresses in colorful prints. Here are even more options:
The Fascinators & Hats:
This is the fun part. When I first started looking, I thought I wanted a giant hat, but then I found about a million fascinator headbands in every color imaginable and think that's the route I'm going now. It took some research, but I found options starting at just $10, but if you really want high quality, you can spend up to $100+. Whether you're going with a fascinator or hat, go for one with a contrasting color to your dress or in a color that's found within the pattern on your dress. If you have a colorful floral dress, I like the idea of picking a headpiece in a color that is more subtle in the print on the dress.
Etsy is a great place to find handmade fascinators. Caprilite is a shop that has them in any color combination you can imagine, all under $20 (shown above). They're based in the UK but ship worldwide. Pippa & Pearl has fascinators, hats, gloves and more. I was also surprised to discover that at this time of year, big retail chains also have good options at affordable prices. Nordstrom's selection has grown over the past few weeks and I even found some super inexpensive fascinators at Target and Amazon. Dillard's, Lord & Taylor, Asos and a site called e4hats.com are also good stores to check out.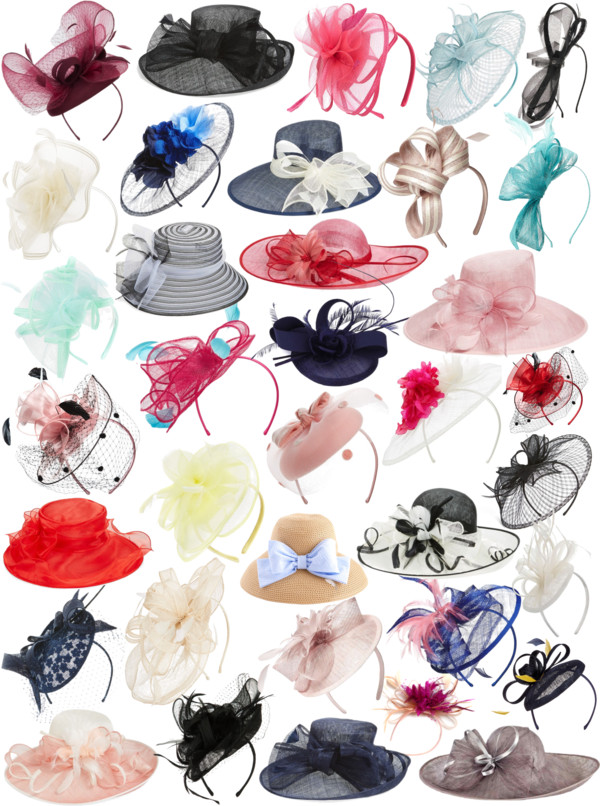 Shop the Looks: