Happy July 4th weekend! We just arrived at our first beach spot of the weekend to spend the day with family in the sunshine. I went on a dip making mission last night and made this one for today. It's a layered Greek dip that starts with hummus, then has a Greek yogurt mixture in the middle and is topped off with lots of veggies and feta. Full disclosure, it tastes better than it looks – layered dips are hard to photograph. This dip is also super easy, so if you need a last-minute appetizer, this is a good option. Full recipe below – hope everyone has a great long weekend!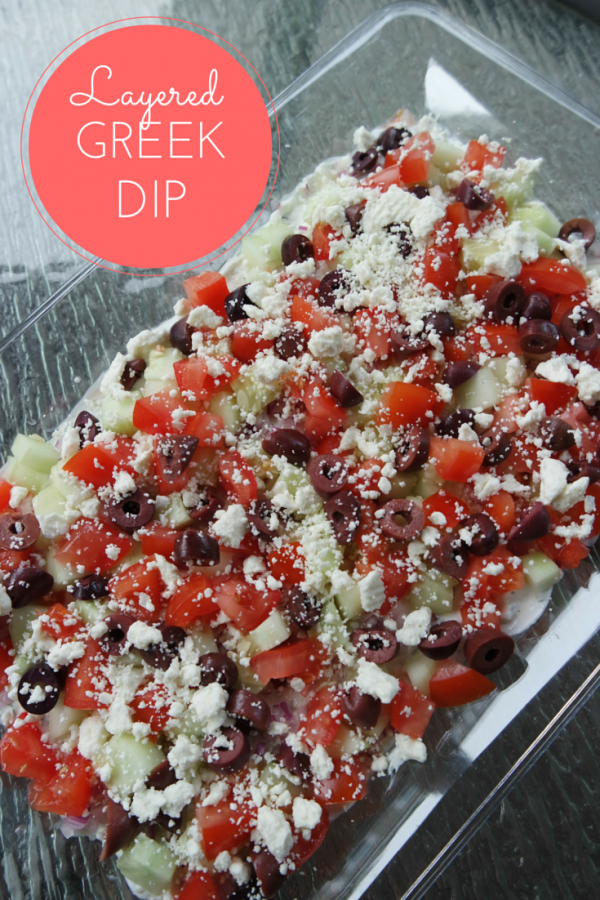 Ingredients:
8 oz hummus
1  1/2 cup non-fat Greek yogurt
6 oz whipped cream cheese
1 clove minced garlic
1 1/2 tsp fresh dill
Juice of 1 lemon
Pinch kosher salt
Pinch ground black pepper
3 tbsp minced red onion
1 cup diced cucumber
1 cup diced tomato
1 cup diced roasted red peppers
1/4 cup crumbled feta cheese
1/4 cup sliced Kalamata olives
Directions:
Mix together the Greek yogurt, cream cheese, garlic, dill, lemon juice, salt and pepper. Set aside.
Spread the hummus across the bottom of  a 8″ x 8″ or 11″ x 7″ glass dish.
Add the Greek yogurt mixture on top of the hummus.
Top with the veggies – red onion, cucumber, tomatoes, roasted red peppers – and end with olives and feta.
Serve with pita chips, tortilla chips or whatever you'd like!