I'm sure it comes as no surprise that I love handbags, especially out-of-my-price-range handbags like those from Louis Vuitton. On the train this morning, I was reading the latest issue of Marie Claire and came across some fun news about Louis Vuitton. One of the designer brand's canvas prints, Damier Canvas, is being launched in five new colors: Mimosa (yellow; shown in the November issue of Marie Claire), Piment (orange; shown below), Cyan, Carmine and Gray. Shown below is the Louis Vuitton Piment Pochette, which retails for $1,550 (photo from MarieClaire.com).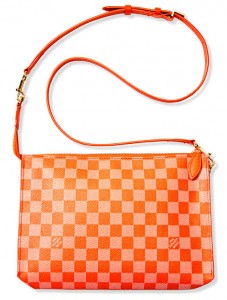 I checked out Louis Vuitton's website and did a few searches online, but haven't been able to find any other news on these new colors. Regardless, I'm loving them!
What do you think? Classic or new colors?