Unless you've been living under a social media rock, you already know that the Nordstrom Anniversary Sale (#Nsale) is finally here. And while on one hand I was sick of hearing about it before it even opened today for Nordstrom cardholders, it actually is a good time to stock up on wardrobe staples that you won't typically find on sale – that's what I use it for.
If you're not a cardholder, head back to this post on July 20th when it opens to everyone. Regardless of when you shop, if you see something you like in your size, grab it – it's likely it will sell out. But it's also worth noting that because of Nordstrom's free shipping/free returns policy, it's worth checking back if something you really want isn't available in your size. You'll see items being sold out and restocked daily until it ends on August 5.
I broke out my favorite items into categories below to make for easy shopping – just click on the small images or links throughout the post (note: these are affiliate links, which means for every item purchased, I earn a small commission). And if there's something in particular you're on the hunt for, leave a comment and I'll help you track it down! This post ended up waaaay longer than expected, so stay tuned for a post for home picks and other finds on Facebook, Twitter & Insta!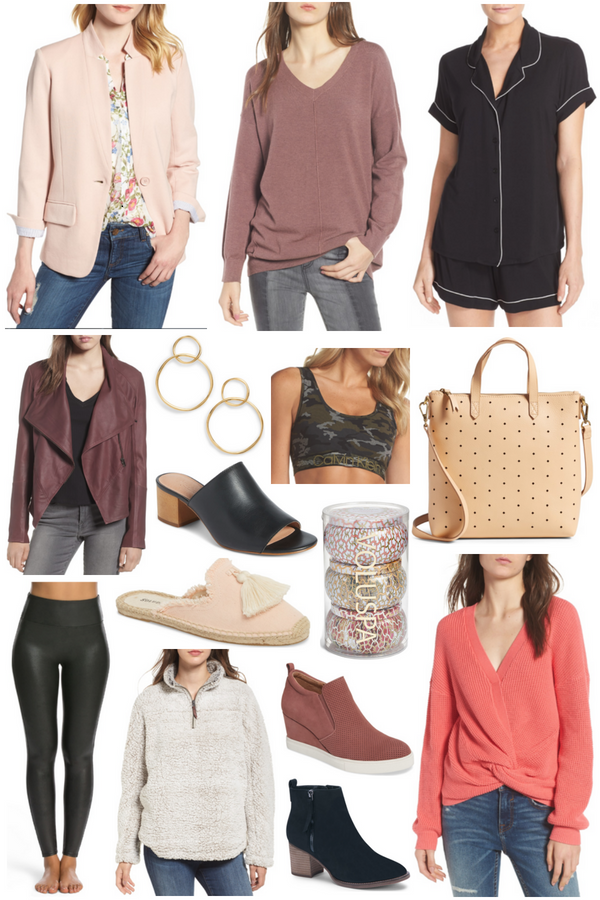 CLOTHING
Spanx Faux Leather Leggings: If there's one thing you buy in this sale, these should be it. I've been wearing this pair for years and have pretty much convinced everyone I know to get a pair too. Last year I also added the moto version to the mix and love them with sneakers and slides.
Athletic & Leisure: Stock up on your favorite Zella leggings but also don't forget to check out sale items from some of my other favorite brands, such as Alo and Beyond Yoga. It can be hard to find simple, high-quality athleisure clothes like these black high-waist leggings that I know I'll wear a ton.
Jeans: If you're on the hunt for a good pair of jeans and have the patience to go through the buy, try on and return process, I suggest you grab several pairs and do an at-home try-on. There are lots of options to choose from! My picks include any Wit & Wisdom Ab-solution jeans (they have stretch in the waist!) or these white distressed jeans that I have in the regular version from a few years back and love.
Bras: Ok, not the most glamorous thing, but if I need a new bra of any kind – sports, underwire, bralette – this is usually when I grab them. A couple years ago I ditched all of my push-up bras in favor of this brand and haven't turned back. This light sports bra comes in camo and black – might have to grab one of these! And this one from Sweaty Betty has great reviews – a few colors are in the sale.
Cozy Cardigans, Sweatshirts & Sweaters: Grab 'em all for fall. I got this one last year and wore it a ton (see here!) – it's back in new colors and will definitely sell out fast (got it in a medium so it paired perfectly with my faux leather leggings). I also love this twist-front sweater that comes in a fun coral and off-white. You'll also want to grab any Barefoot Dreams cardigans you can get your hands on while they're in stock – they are the coziest and sell out quick! Lastly, this pullover is also so soft and was super popular last year.
Sleep & Lounge: My top sleepwear pick is definitely this shirt/shorts set (also long-sleeved/pants version here) – it's been compared to more expensive version, yet is better quality than the Target version I recently found. These joggers would also get a lot of use and this floral shorts and sweatshirt set are cute – the sweatshirt could also be worn with jeans!
OUTERWEAR
There are SO many good coats and jackets in this sale this year… I had to hold back because I really don't need anything. But there are very similar versions to items I have and love, so here are some of my favorite picks – and way more in the widget below:
Suede & Leather Jackets: … and a few really good faux options! First, love this year's Blank NYC suede jacket, which is on sale in 2 neutral fall colors. And at a lower price point, you can grab a faux suede jacket that's more flowy with a draped front – I have this in another color that I got in the fall and love it because it's comfortable and lightweight. One new trend that I love is a leather jacket with a removable hood – makes it so you can dress it up or down. Blank NYC is also my fave brand for faux leather jackets, so this one would probably be my pick for under $65 (several colors available), but you can also go with this real leather option that's on sale for $100 off! Same goes for this one without the hood from the same brand. This flowy faux leather jacket looks super soft and has a similar cut as the suede version I mentioned earlier.
Blazers & Midi Coats: I'm obsessed with knit blazers in particular and there are several affordable, cute options here, here & here. This one is also technically knit but is a bit longer and has a more traditional style to it. For a more traditional option, I love this one, which comes in both black and pink. For longer coats, go for this classic J.Crew find (love the yellow, but there are other colors!) or this one by Leith.
Other: This Patagonia puff jacket will go fast! And I love a good utility jacket in either green or camo (faves here, here & here). And my go-to waxed jacket is almost $150 off – this brand has a great raincoat as well. Last but not least, the zip-up version of the cozy pullover mentioned above will be something you want to live in all fall and winter.
SHOES
Casual Sneaks: If you work in a casual office like me, it's great that there are so many nice looking sneakers out there that are appropriate for lots of occasions. I love these wedge sneakers (several neutral colors available!), these gold slip-ons, and I'm a sucker for any rose gold options.
Booties: This is a great time to grab a new pair of either black or cognac booties that you'll wear with everything when fall hits. I even found myself wearing booties through winter last year, favoring them over tall boots. This brand is always a go-to for comfortable, everyday shoes and these low booties look perfect. I love these waterproof booties – they have a 2 1/2 inch chunky heel and come in lots of neutral colors. And these boots remind me a lot of the Sorel wedges I had my eye on last year.
Other: I'm not a heels gal, but I did spot these block-heel mules that I love that could be worn with a dress or jeans. There are also a few cute pairs of neutral espadrilles, including a slide version with tassels. I'm also a big fan of leopard as a neutral, especially when it comes to shoes, so these slides would be a nice wardrobe staple.
BAGS & ACCESSORIES
Gold Earrings: Maybe this is just because I've been on the hunt for a good pair of gold hoop earrings, but one of my favorite things in this category was the gold earring selection in the sale. These look like a high-quality, yet not-too-pricey option to try out. And gorjana is a go-to for more dainty options like these thin double hoop gold earrings (which also come in silver and rose gold).
Everyday Bags: I don't love a ton of bag options in the sale, but there are a few gems… like this Madewell bag that I have in cognac and use all the time (shown here – the version in the sale has perforated holes for extra detailing). And there's even an expandable Longchamp bag – those are tough to find on sale! This crossbody bag is also one I could see myself using quite a bit, especially in the nude color.
Luggage: I travel pretty frequently and somehow just tried out hard shell suitcases – I'm sold! There's a great set and also individual suitcase options on sale in a variety of colors, such as rose pink and classic black.
BEAUTY & SKINCARE
Sunscreens: I'm all about quality sunscreens made with good ingredients and both of my favorites, Coola and Supergoop!, both have value sets offered in the sale. Supergoop!'s setting mist is also supposed to be a great product.
Skincare Sets: A few of my favorites include value sets with the most popular products from great brands including options from TULA, Tata Harper and SK-II. Also this isn't a set, but this jumbo-sized Elemis face wash is another popular find. I also can't forget the fact that there are a couple different face mask sets, such as this one from Patchology, a brand I've been meaning to try out.
StriVectin Neck Cream: I've been wanting to try this out all year and didn't even think of the potential that it would be included in the sale, so today is my lucky day! It has great reviews and I think the neck and chest areas are so important to take care of as I get older.
Makeup Eraser: I recently discovered these makeup eraser cloths and am obsessed. All you need is water to remove even waterproof mascara. Normally 2 of these would cost you $40, but this 2-pack is only $25!
Makeup Sets: There are lots of makeup sets to choose from, but my favorite has to be the Urban Decay Naked2 Basics set. It has the perfect sized smaller version of the Naked2 eye shadow palette, along with their popular setting spray and eye primer.
Silk Pillowcases: Slip recently sent me their silk pillowcases to try out and they are the best! They're supposed to be way better on your skin than your everyday sheets. I highly recommend grabbing a set!
Lash Serum: While I'm obsessed with my Rodan + Fields Lash Boost, before I used that, I would get a 2-pack of this lash serum every year in the Nsale. It definitely works and this is a great value at nearly $100 off the cost of 2 tubes. (Note: I'm a R+F consultant so feel free to email me at katy @ dailykaty.com to learn more about Lash Boost though!).
Self Tanner: I haven't tried this one out for myself yet, but have heard that this St. Tropez self tanner is one of the best ones out there. This jumbo size is a great deal!
Candles: I always stock up on candle gift sets during this sale, both for myself and to give individually as gifts throughout the year. There are lots of Voluspa sets available in both regular and small sizes, along with an exclusive diptyque 5-pack that you can only get during this sale.