This month's beauty haul brought me lots of new favorite products that I'm excited to share with you all today. From powder foundation that makes your skin look flawless to under eye cream that brightens up any skin tone, there's something for everyone. Read on for my reviews of the seven products below and shop them all using the links below this pic!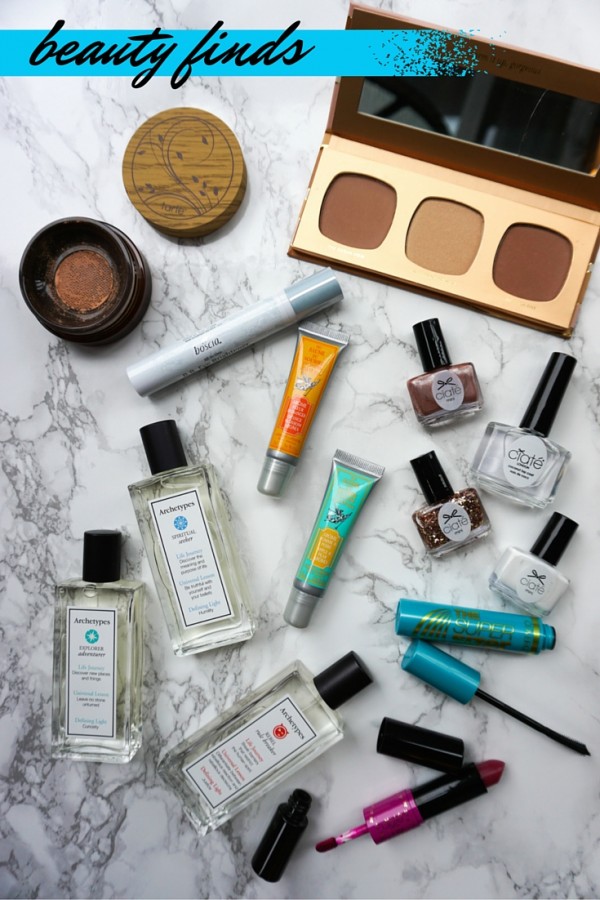 Shop the Post:
Bronzer Palette / Foundation / Lip Glosses
B.B. Eye Brightener / Mascara / Nail Set
Airbrush Foundation… in a weightless powder format. If I go to the gym in the morning, I have a 30 minute window to great ready and out the door, so in the past I've stuck with tinted BB cream for my weekday face makeup. But now that I've tried tarte's Amazonian clay full coverage airbrush foundation, my everyday routine has included foundation. It's so light that it doesn't feel like a foundation, it lasts for 12 hours and covers up my redness with just one layer. The foundation comes in 16 shades and their shade finder makes it easy to pick the right one without even going to a store (I use medium neutral). And I think my skin could actually pass off as being airbrushed!
B.B. Eye Brightener… OK so earlier in this post I said that mascara is my top priority when it comes to makeup, but right behind that is under eye concealer/brightener. I'm a great sleeper, but the older I get, the bigger those bags get. Boscia's All-In-One B.B. Eye Brightener Broad Spectrum SPF 20 conceals, brightens and hydrates that delicate area under and around your eyes, helping to prevent dark circles, puffiness and pigmentation, all while giving your antiaging benefits. I love that it comes in one self-adjusting shade, so you don't even have to test out shades before buying.
Lip glosses… that soften, nourish, protect and repair your lips, which is exactly what I need for the dry, winter weather that's on it's way. I'm loving the Le Couvent des Minimes Smile Lip Balms, which come in four different scents: Apple and Pear, Rose and Berries, Orange Blossom and Citrus. I've been keeping one in my bag and another in my jacket pocket so I always have them handy.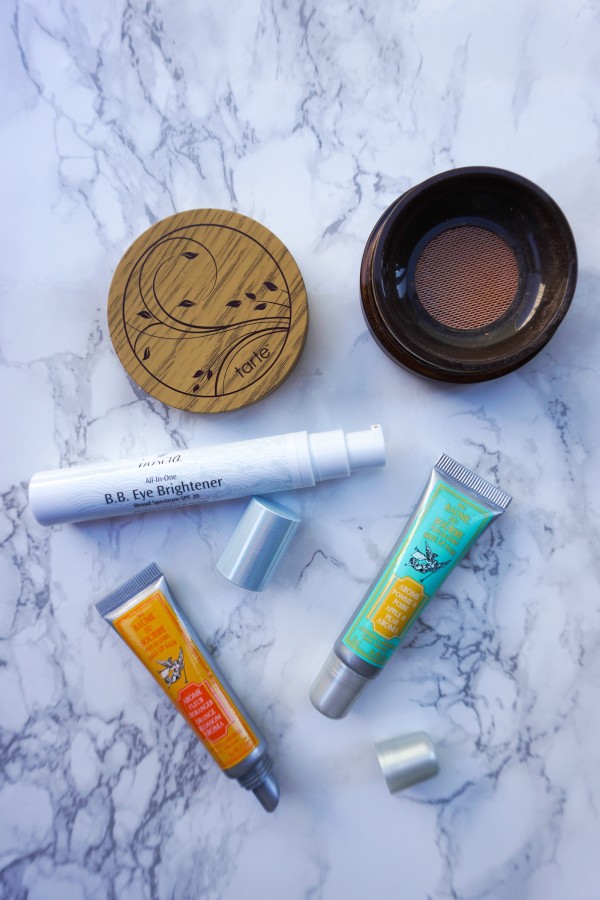 Bronzer set… that gives you just the right amount of color for any occasion, from a subtle, sunkissed glow to a deep tan effect. The bareMinerals California Bronze trio comes with two bronzers – The Ocean View (sheer matte bronze) and The High Dive (tan) – and one luminizer – The Shining Moment (golden champagne). Bronzers and luminizers from bareMinerals have been in my makeup rotation for years and I love how they're all universally flattering. With this palette, you can wear them on their own or mix them together to get the look you want!
Nail polishes… that highlight your tan and smell good – and the Ciate London South Beach Socialite Collection does just that. It comes with four nail polishes – two rose gold shades with glitter and foil finishes, a white and a top coat. I love the look of the white with the rose gold glitter for a statement nail, finished off with the coconut top coat. The top coat has a coconut smell that brings me right to summer months, Hawaii and the beach – and I was surprised that the scent actually lasted beyond when I was applying it.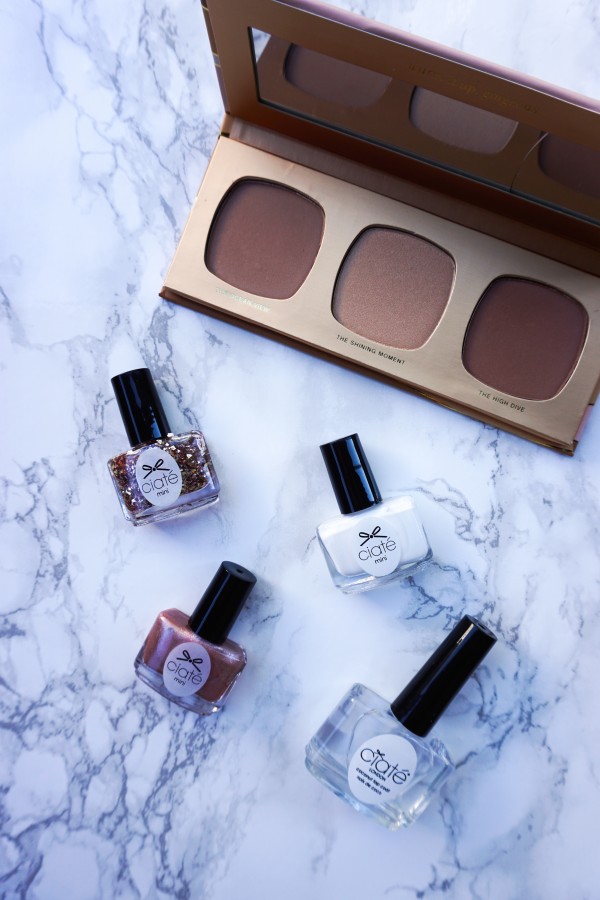 Mascara… a.k.a. the one makeup item that I rarely leave the house without, and that's mainly because I have very blonde eyelashes, so without it I look like I'm either eyelash-less or asleep. I use both drugstore and Sephora-worthy brands and oftentimes find myself layering different types to get the perfect eyelashes, especially if I'm going to dinner or a night out. But for my everyday work week look, I usually stick with just one, and the CoverGirl Super Sizer by LashBlast Mascara is perfect for that. I got so many compliments on day one of using it! The key to getting the maximum impact of this mascara is to twirl the wand as you put it on. Then you just keep layering it on to get the level of volume you want (I used one coat for daytime and three for night).
Two-in-One Lip Color… I love products that do double duty because it means less in my makeup bag. Ciate London's Lip Locked Tint and Balm Lip Duo is also part of the South Beach Socialite Collection and comes in two shades: In the 305 (berry) and SoBe (fuchsia). Start with the semi-matte lip tint then top it with the shea-butter-infused tinted balm. I love how smooth the balm makes my lips, and the tint can be layered on to get the level of color you want. Tip: if your lips are chapped, you can apply the balm first and last so the tint goes on evenly.
Fragrance to go with your personality… after you take a quiz on Archetypes.com to determine your top three archetypes, or "patterns of behavior that explain why you do the things you do and love the things you love." My top archetypes were explorer, creative and visionary, which fits my personality pretty well – especially considering the quiz was only three questions. Shop the 12 fragrances here, then head over to your archetypes' sections of the site, where you'll find curated lifestyle content just for you, from beauty and fashion, to recipes, home decor, travel and more.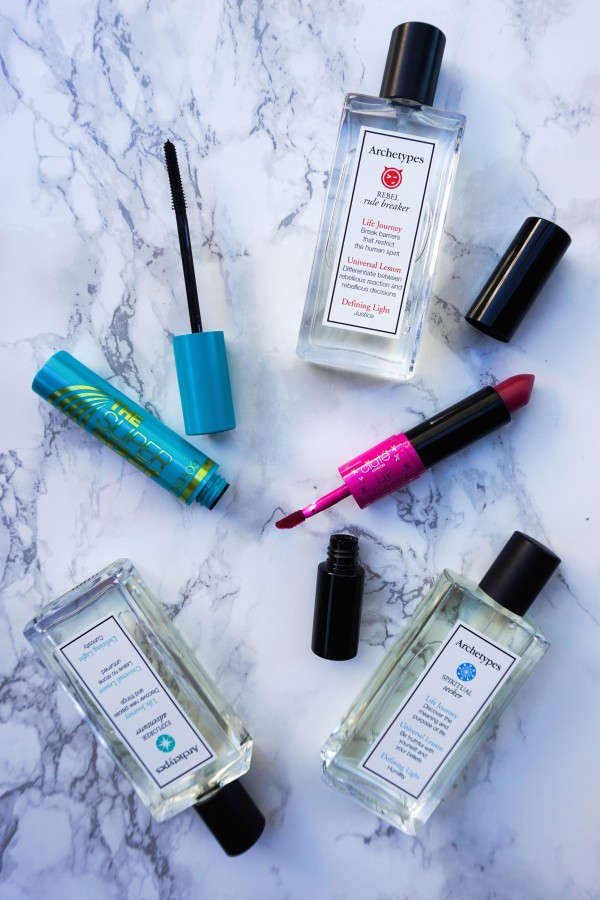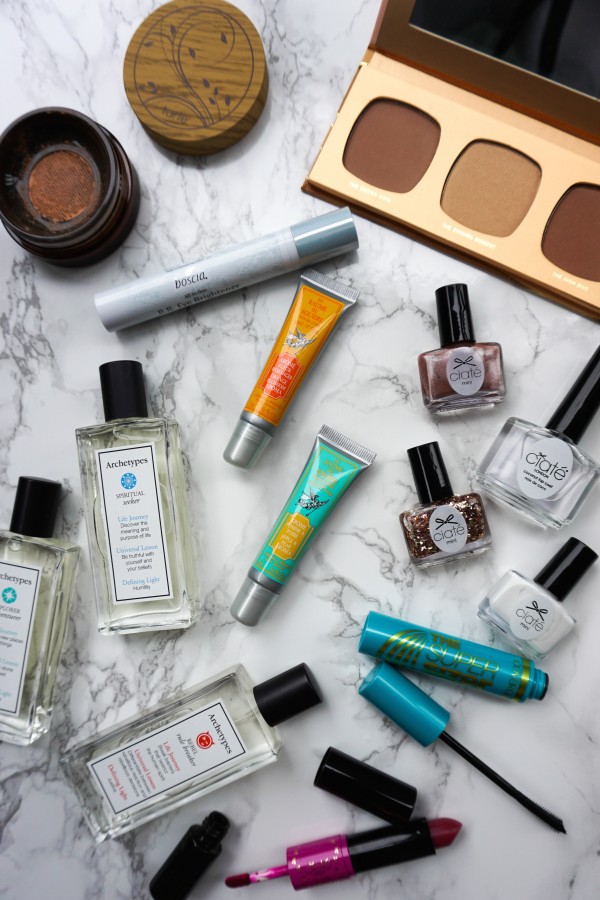 *Samples provided for review; all opinions are my own.*