How crazy is it that Christmas is less than a week away! I was so organized and had most of my gifts purchased before December event started… and then I had a big lull and need to finish up this week. Ornaments are such a good last-minute gift idea – and this year you can take that idea up a notch with all of the beauty, skincare and even home-themed ornaments that come with presents in them! The packaging is so fun and you can either gift them as-is by hanging them on the tree or give them as stocking stuffers.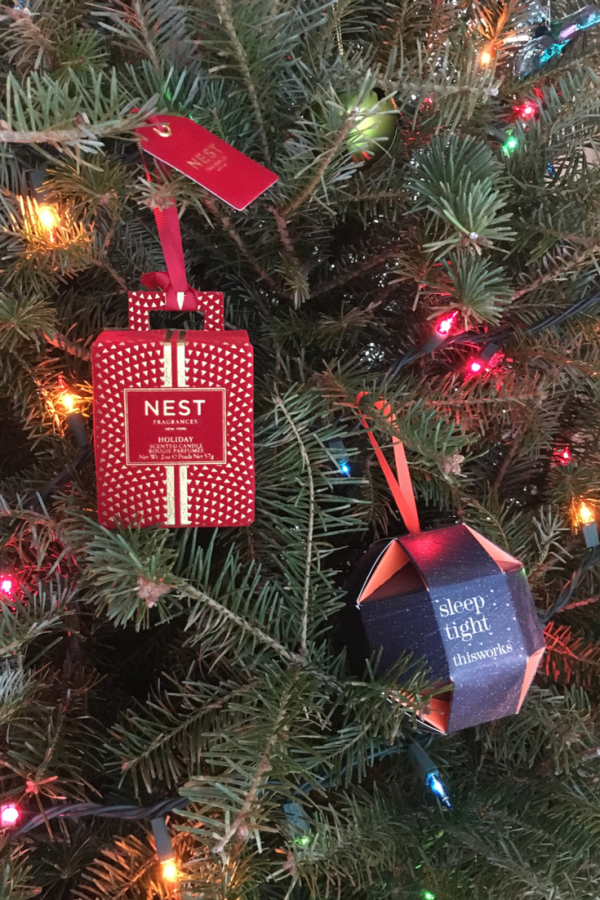 I'm sharing details on some of my favorites below – and you can shop even more at the bottom of this post by scrolling and clicking on the ornaments in the widget. Grab an ornament gift online or at stores like Sephora, Ulta or Target. What are your favorite stocking stuffers or low-cost gift ideas that come in cute packaging?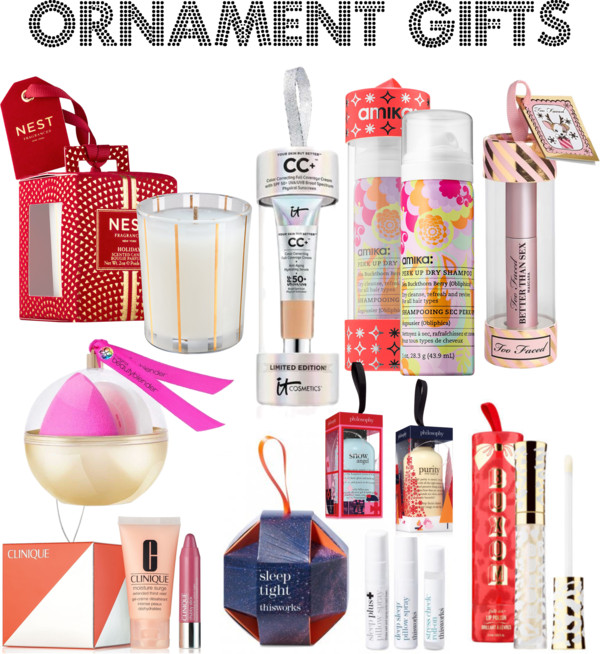 1. Nest Candle: You can't go wrong with a candle from this brand. They'll make your house smell like a luxurious spa. The ornaments come in the best holiday scents that will make you want to go back for a bigger version.
2. IT Cosmetics CC Cream: I tried this out for the first time last week and have been loving it! It's lightweight yet still gives you nice coverage that actually stays put. Extra bonus is the SPF 50.
3. amika Dry Shampoo: I've always heard great things about this but have yet to try it out. Might have to grab this ornament to try it out as a travel size and take it on my next trip!
4. Too Faced Mascara: This has been one of my go-to mascaras for years (I tend to switch them up and layer depending on where I'm heading). It gives you lots of volume and people are obsessed with it.
5. BeautyBlender: Almost New Year, so probably time to either replace yours or grab one for the first time – it's a game changer when it comes to applying things like CC cream or foundation. I just learned the best way to use it is by running under water first so it doesn't absorb all of your makeup!
6. Clinique Merry Moisture Set: This comes with their popular moisturizing lip balm crayon and face lotion. These products are a pretty safe bet for anyone who likes to at least wear a little lip color.
7. thisworks sleep tight: This is perfect for a new mom or someone who needs a good night's sleep. It comes with 3 essential oil products – 2 pillow sprays (one to help you fall asleep, another to keep you asleep) and a de-stressing aromatherapeutic rollerball that will relax you for bedtime.
8. Philosophy Bubble Bath, Shower Gel & Face Washes: You can't go wrong with any of these – they smell so good. They also have some of their popular face lotions in ornament packaging.
9. Buxom Full-On Lip Polish: I always come back to this brand for lip gloss – and this one will give you a nice gloss that also works over your favorite lip color.
Shop more options below:
Thanks to Nest, IT Cosmetics, Buxom and thisworks for sending samples to try out! This post contains affiliate links.