With Halloween just two days away, I wanted to share a few Halloween recipes for you to try out!
1. No-Bake Pumpkin Cheesecake Mini Trifle from Boston-based Just Add Cheese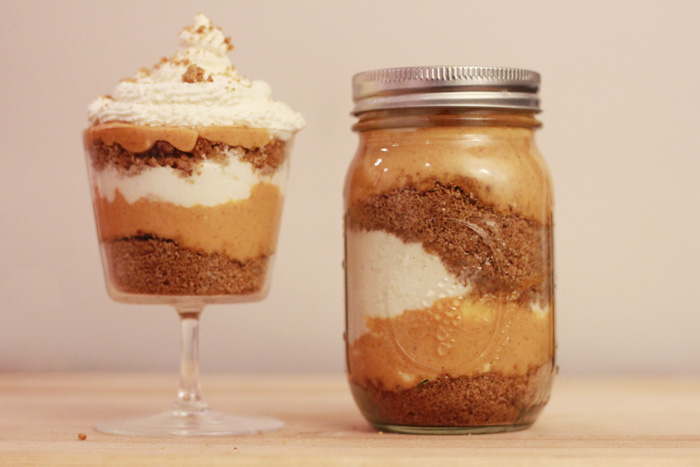 This recipe is quick and easy, but still creative and can be packaged any way you want – whether it's in mini glasses for individual servings on a dessert table or in a mason jar to give as a gift. All you have to do is layer the three creations below!
Crunchy Pecan & Graham Cracker Crust
1.5 cups graham cracker crumbs
3 tbsp brown sugar
1/2 tsp cinnamon
1/2 tsp salt
1/2 cup crushed pecans
4 tbsp unsalted butter, melted and slightly cooled
Combine Graham Cracker crumbs, brown sugar, cinnamon and salt in mixing bowl. Cover with butter, make sure it is evenly moisturized? (sorry mind blank). Crust tastes best when toasted (you can do it by stove top or baking in the oven on 350 for about 5 minutes. So, technically, this recipe is "almost" no bake.)
Pumpkin Cheesecake Layer
8 oz cream cheese
1 can pumpkin puree
1/2 cup sugar
2 tsp pumpkin pie spice
1 tsp vanilla
With a food processor, beat the cream cheese until it's smooth. Then add the pumpkin, vanilla, sugar, and pumpkin pie spice, and mix it all until it's creamy.
Whipped Cream Layer
1 pint heavy whipping cream
1 tsp. vanilla
1/2 tsp. pumpkin spice
1/4 cup sugar
Directions
Whip cream in mixing bowl using a whisk. Doing it by hand will give you the best results. You'll have to whip it hard, and fast, but it's totally worth it. It takes about 10 minutes. It works best if your whisk and bowl are cold; place them in the freezer prior to making the whipped cream. Once the consistency starts becoming whipped, stir in vanilla, pumpkin spice and sugar.
Layer components together and top with crushed graham cracker & pecan crumbs for garnish.
2. Skinny Pumpkin Spiced Snickerdoodles from Skinnytaste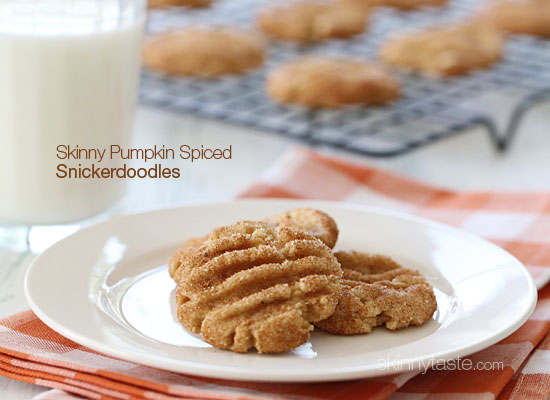 I LOVE Skinnytaste recipes, and this is no exception. You can add pumpkin spice to cookie recipes like this to create a new, fall-inspired flavor.
Servings: 42 • Size: 1 cookie • Old Points: 1 pts • Points+: 1 pts (3 pts+ for 2)
Calories: 51 • Fat: 1 g • Carb: 9.5 g • Fiber: <1 g • Protein: 1 g • Sugar: 6 g
Sodium: 20 mg
Ingredients:
1 3/4 cups King Arthur white whole wheat flour
1/2 tsp baking soda
1/2 tsp cream of tartar
1 cup sugar
1/4 cup butter, softened
1 tbsp agave or honey
1 tsp vanilla
1 large egg
3 tbsp sugar
1 tbsp pumpkin spice
cooking spray
Directions
Preheat oven to 375°F.  Line two baking sheets with Silpat mats and spray with cooking spray.
Combine flour, baking soda, and cream of tartar in a medium bowl, stirring with a whisk.
Combine 1 cup of sugar and butter in a large bowl; beat with a mixer at medium speed until well blended.  Add the agave, vanilla and egg; beat well.  Gradually add the flour mixture to the sugar mixture, beating just until combined.  Cover and chill for 10 minutes.
In a medium bowl, combine 3 tbsp sugar with pumpkin pie spice, stirring with a whisk to combine.  With moist hands, shape dough into 42 (1-inch) balls.  Roll balls in sugar/pumpkin pie spice mixture.
Place balls 2 inches apart onto baking sheets and slightly flatten with a fork.
Bake 375°F for 5-7 minutes (cookies will be slightly soft).  Cool on baking sheets for 2 minutes.  Remove from pans; cool completely on wire racks.  Enjoy!
Makes 42.
3. Ooey Gooey Caramel Pumpkin Blondies from Two Peas and Their Pod & Tasty Kitchen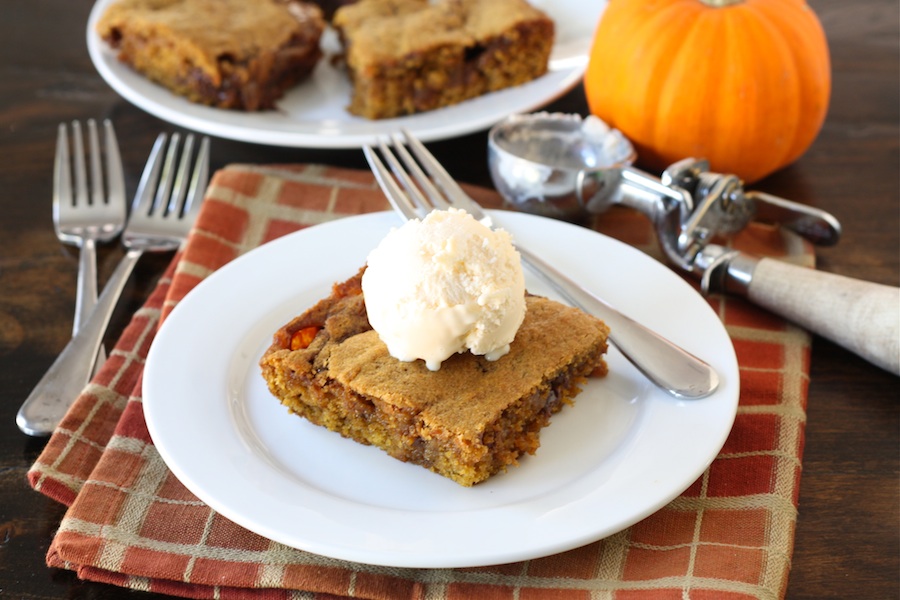 Who doesn't love a blondie brownie? These offer a delicious pumpkin spin on a more traditional dessert, and they are perfect for any gathering with family and friends.
Ingredients
¾ cups Butter, Softened
1 cup Packed Brown Sugar
2 whole Eggs
1 teaspoon Vanilla Extract
1 cup Pumpkin Puree
1 teaspoon Cinnamon
½ teaspoons Nutmeg
1-¾ cup All-purpose Flour
1 teaspoon Baking Soda
¼ teaspoons Salt
½ cups Chopped Walnuts
¼ cups Semi-Sweet Chocolate Chips
14 ounces, weight Caramels, Unwrapped (1 Bag)
¼ cups Heavy Cream
Directions
First, preheat the oven to 350 degrees F and lightly grease a 9×13 pan with cooking spray. Set aside.
Cream together the butter and sugar until light and fluffy.
Stir in the eggs, vanilla, and pumpkin. Mix until combined.
Slowly incorporate the remaining blondie ingredients. Scrape down the sides of the bowl and mix again until you have a smooth batter.
Spread about 2/3 of the batter into the prepared pan.
Sprinkle nuts and chocolate chips evenly over the batter.
Place caramels and heavy cream in a microwave-safe bowl. Heat until the caramel is smooth. You will need to stir the caramel every 20 seconds to prevent it from burning.
Pour melted caramel over the batter and spread gently with a knife so the caramel covers the pan.
Place dollops of the remaining batter over the caramel layer.
Spread the dollops with a knife until the batter evenly covers the pan. It is okay if a little caramel peeks through.
Bake for 25 minutes or until the edges are golden brown and a toothpick comes out clean. Let the blondies cool completely before cutting and serving. Serve blondies with vanilla ice cream or whipped cream.
Do you have a favorite pumpkin recipe? Share it with us below!