I've always been a big fan of pasta and marinara sauce, but I never truly understood what a good sauce was until I met my husband, who happens to be Italian. I can't even remember the last time I had sauce out of a jar, but I also haven't yet tried making the delicious sauce with pork and meatballs that my in-laws make for us from time to time. For a while I've been making my own slow-cooker sauce, but sometimes even that can be too time-consuming when I'm trying to cook up a last-minute dinner.
That's where this simple, 20-minute sauce comes in, which is from Skinnytaste. I usually start out with this recipe and then add to it – anything from onions and pepperoncinis to red pepper flakes and more – depending on what I'm making and what we have in the refrigerator and cabinets. I also make it exactly as described below for recipes like eggplant spinach rollatinis (recipe coming soon!). It's great for any pasta dish and is perfect for dipping things like zucchini and mozzarella sticks.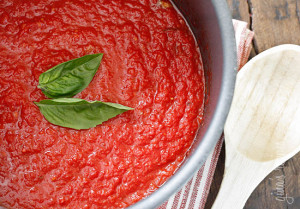 Ingredients:
1 tsp olive oil
2 cloves garlic, smashed
28 oz can crushed tomatoes
1 small bay leaf
1 tsp oregano
2 tbsp chopped fresh basil
salt and fresh pepper to taste
Directions:
In a medium pot, heat olive oil over medium heat. Add garlic and saute until golden, being careful not to burn.
Add crushed tomatoes, salt, pepper, oregano, and bay leaf. Stir and reduce heat to low.
Cover and let simmer about 15 – 20 minutes. Remove from heat and add fresh basil.
What's your favorite pasta sauce recipe? Leave it below!