all have our own hair and beauty routines, but I think it's safe to say that we all strive for a healthy balance of convenience, functionality and style when it comes to our hair. Today, I'm sharing with you some of my favorite products that have very quickly become part of my daily routine – everything from shampoo, conditioner and dry shampoo that keep my hair looking healthy and clean, to styling tools and products that finish it all off.
 1. Batiste Dry Shampoo
If you haven't added dry shampoo to your beauty routine yet, trust me, you need to go get some. You've heard that washing your hair every day isn't good for your hair, but let's face it, hair just doesn't look as good on day two or three. That's where dry shampoo comes in, and right now I'm loving Batiste Dry Shampoo, which helps get rid of oily roots and gives your hair body without any water. On days where I don't do a high-cardio workout before work, I give my roots a few sprays of Batiste Dry Shampoo, give it a few minutes to set, brush it out and my hair is left feeling clean and fresh.
One of the best things about Batiste is that it comes in nine different colors and scents, as well as travel sizes. I know a common complaint with dry shampoos in general is that they leave a white powdery color on darker hair colors, and Batiste solves that problem with their varieties that are made specifically for blonde, medium and brown, and dark and deep browns.
Batiste Dry Shampoos can be purchased at many retailers nationwide, including Ulta and Walgreens for $8 (price can vary depending on the retailer). To learn more about Batiste Dry Shampoo, visit BatisteHair.com and follow the brand on Facebook and Twitter.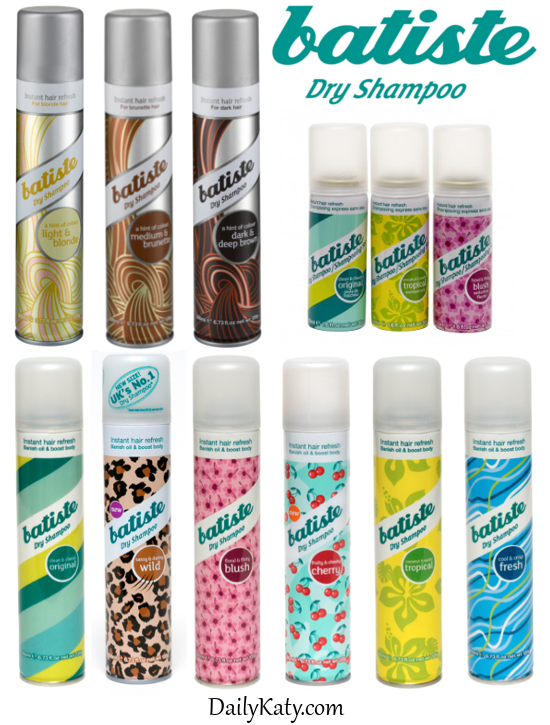 2. KindTies Creaseless Hair Ties
I discovered creaseless hair ties a few years ago and now that's all I use (except for when I am working out). How many times have you found yourself with an ugly hair elastic around your wrist, just in case you might need one throughout the day? Or do you ever want to put your hair up just for a short period of time, but avoid it because you don't want a crease to develop in your hair? If you answered yes to either of those, KindTies' creaseless hair ties are for you. Not only do they solve the problems I mentioned above, they also come in tons of awesome colors and patterns, from florals and metallics, to aztec patterns and solid colors with bows. Shown below are my favorite neutrals, which I particularly love because I have blonde hair. These add a fun touch of metallic and patterns.
KindTies can be purchased for $9 for a set of six hair ties. To check out everything KindTies has to offer (hair ties, headbands and more), visit KindTies.Etsy.com or follow the shop on Facebook.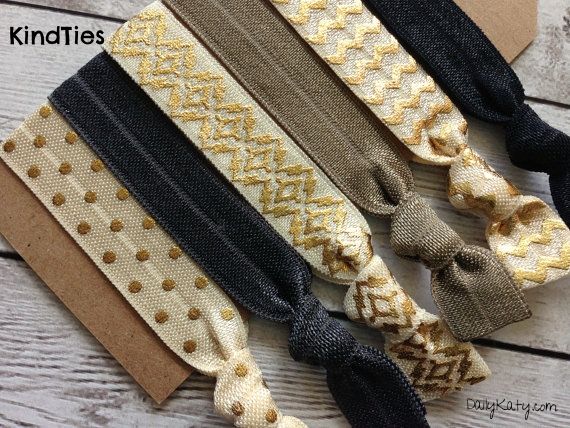 3. The Wrap Up by Sarah Potempa
It took me forever to finally figure out the sock bun and while I finally mastered it, I still look for simpler buns and braids that make getting ready for work quick and painless. I recently discovered The Wrap Up from Sarah Potempa, which is the perfect tool for creating anything from a simple low messy bun to a trendy top know or sophisticated updo – all within minutes. Check out this video to see how the Wrap Up works – it's so easy!
The Wrap Up can be purchased at SarahPotempa.com for $21, and you can also enter the giveaway below for a chance to win one! And to stay updated on the latest from the brand – which offers curling and styling irons, brushes and more – by visiting SarahPotempa.com and following on Facebook, Twitter and Pinterest.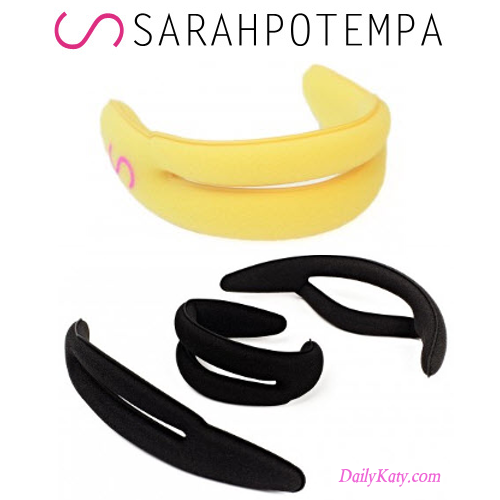 4. Davines LOVE Smoothing Shampoo & Conditioner
While I've been loyal to a few brands over the years, I'm a big fan of switching up my shampoo and conditioner every once in a while because I find that it gives my hair a healthy look and feel. Recently, I had the opportunity to try out Davines LOVE Smoothing Shampoo and Conditioner, which I love. Both are designed for harsh and frizzy hair, and they moisturize and nourish your hair deep down, leaving your hair smooth, soft, silky and shiny.
Davines Love Smoothing Shampoo and Conditioner can be purchased on Birchbox.com or US.Davines.com for $24 and $27.50, and travel sizes are also available for $10 each. For more on Davines, visit US.Davines.com and follow the brand on Facebook, Twitter, Instagram and Pinterest.
5. 12 Benefits Rapid Blowout Argan Oil Blow Dry Spray & Pink Addiction
I love hair products that make make hair look smooth and shiny with very little effort. 12 Benefits, a company with nearly 60 years of professional salon heritage, has two products that I'm happy to have added to my daily routine. The first is their Rapid Blowout Argan Oil Blow Dry Spray, which gives a shiny finish to hair for a perfect blowout. The spray has three, naturally pure ingredients that work together to disperse water from the hair's surface. Pink Addiction uses Keratin amino acids and argan oil to reverse hair deficiencies, giving hair lengths and ends a nice treatment.
12 Benefit's Rapid Blowout Spray can be purchased for $24 and Pink Addiction for $25, both at 12Benefits.com. For more on 12 Benefits, visit 12Benefits.com and follow the brand on Facebook.
Giveaway!
Want to try out some of these products for yourself? Enter the giveaway below for a chance to win a bottle of Batiste Dry Shampoo and The Wrap Up from Sarah Potempa! The giveaway will be open through Monday, July 21, 2014 and is open to U.S. residents.
**While I was not compensated for this post, I did receive products for review from each participating brand. All opinions are 100% my own.