Last week I shared all of my toddler beach essentials and today is a similar post focused on toddler plane travel essentials – what to pack in carry-ons to make your flight as smooth as possible, based on my experiences. Airplane travel has gotten much better now that our daughter is 2 – she will sit still and actually watch a movie, which eliminates the need for lots of activities in a carry-on. Instead, I focus on what she'll ask for or pay attention to most.
Making sure our toddler plane travel items are easily accessible is what I've found to be important, as you don't want to be digging under or above your seat mid-flight. Think about that as you organize – this will really depend on what carry-on bags you have and like to use.
It's worth noting that I don't recommend bringing all the entertainment ideas listed below on the plane; pick a few your toddler will like best! Or better yet, pick one they've never used before – sometimes that added touch makes it that much more appealing.
Here are my picks for toddler plane travel essentials: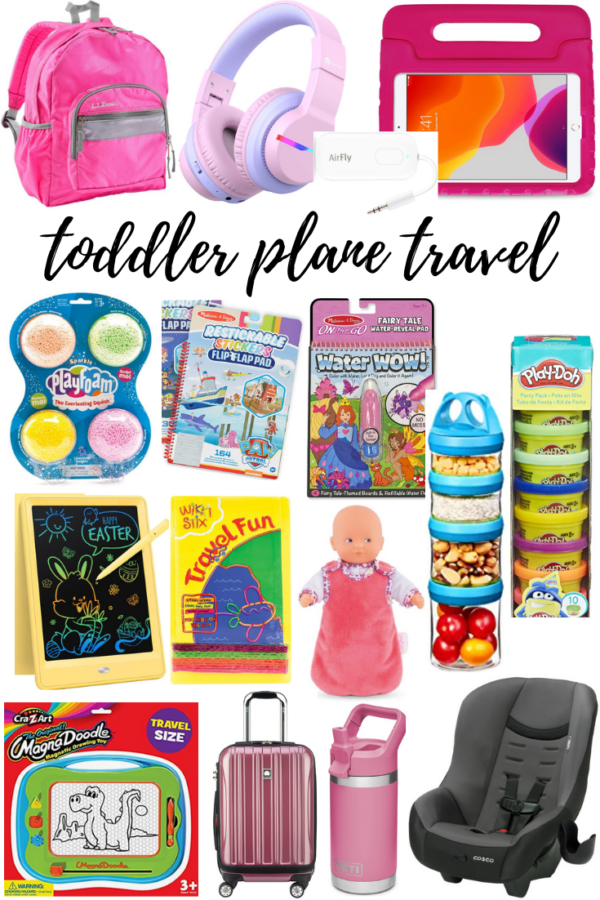 The Essentials:
Kids Backpack – This one from LL Bean is the best, as it's big enough to hold what you need but also a junior size. With the straps tightened, my 2.5-year-old enjoys carrying it herself, or I can throw one strap over my shoulder (both if it's loosened). I don't put a ton in there – only things she really wants – and the rest goes in my backpack or other carry-on bag that I keep at my feet.
iPad + iPad Case – This case is super durable and does a good job keeping an iPad upright on an airplane tray. You won't feel like your toddler is going to break it if they carry it around themselves.
Wireless Headphones + AirFly connector – These are great because they have adjustable volume and can go up to 94dB volume, which can be ideal for canceling out airplane noise. They're a bulkier style but fold up for storage. Before these, we also liked CozyPhones, which are essentially a fleece headband with a cute animal of your picking that has built-in headphones. They're ideal if you think your child may fall asleep while listening and we found them great for age 1-2 in particular. We each have an AirFly connector so you can use wireless headphones on a plane (or any other device you need to plug into).
Yeti Kids Water Bottle – Our go-to for travel because we know it'll keep drinks cold both while en route and once we get there. Fill it up at an airport filtered water stand.
Snack Containers + Pouches – Similar to what we bring to the beach, I'll use 1-2 snack containers depending on what we're bringing. My go-tos are this 2-compartment Bentgo, snack spinner and stacking set – the latter of which I find ideal because it's tall and easy to find in my carry-on bag. I also make sure I have a pouch or 2 on hand.
Cosco Scenera Convertible Car Seat – Not an absolute must, but this affordable, lightweight option is what was recommended to me by many moms for travel and we've used it on recent flights. It helps keep a toddler contained and offers a way to rest their head should they want to take a nap. Even if you opt to check the car seat (it's free!), this is a great car seat option. We pack it in the Chicco car seat travel bag and throw a very light bag inside (recently a beach bag with pull ups and a pool floatie). There's also a more affordable bag here (we have been through a couple of these so far from checking car seats but they work for at least one round-trip).
Delsey Carry-On Suitcase – This is actually my carry-on suitcase but has recently become my daughter's for our week-long trips. The quality is great, especially for the price. It also expands, which is helpful if you decide you want to throw more in it on the way home to decrease what you're carrying around.
Activities:
Melissa and Doug Reusable Stickers – Always entertaining and also stick to the TV screen on airplanes. I prefer the ones that come in a spiral bound booklet format like these because they're easier to flip through in smaller spaces. They also have puffy reusable sticker versions (here, here and here).
MagnaDoodle, My First Crayola Double Doodle Board or Amazon Doodle Tablets: These are all more modern versions of the classic Etch-a-Sketch, where kids can draw and erase as much as they want. We have the Crayola and Amazon versions, and this travel MagnaDoodle also seems like it would be a good option for any bag for a toddler on-the-go.
Mess-Free Coloring Activities – Water Wow! uses a pen that you fill with water (I've filled up the pen with water on the flight but it's really a tiny amount so you may be fine doing it before security). Here's a 3-pack as well. Crayola Color Wonder and Melissa and Doug Color Blast and Magicolor sets come with markers that write clear unless it's on the specific paper they come with. Get Color Wonder replacement markers here and a "stow and go" travel set here.
Coloring Book + Triangular Crayons – While I don't recommend pulling out too many crayons on an actual flight, these are great for the airport and your best bet for not rolling around on a tray. I love these for restaurants too.
Play-Doh Minis, Wikki Stix, or PlayFoam – The Play-Doh minis are great because they're small and it's easy to toss and replace them when they're dirty or dried out. Even 1 tiny tub gives you lots of entertainment! Even better, PlayFoam doesn't dry out, though I'm not sure if you'll need to put it in a ZipLock of sorts for travel. I'll be trying out this simple Wikki Stix travel set for our next trip – I haven't tried them yet!
Favorite Stuffed Animal, Doll and/or Toy – To avoid having to bring 100 things with us, I try to let our toddler pick out a couple things to put in her backpack. Last trip it was her small baby doll (gave it to her leading up to the trip in hopes she would bring it!) and these Paw Patrol figures, which I put in a small zipper bag. Just make sure you don't leave behind any of these! On a past trip, our daughter's baby doll got lost in hotel sheets and I was lucky to find a replacement at a nearby Target.
2 Essentials for When You Arrive:
SlumberPod: We use a Pack n Play or crib at the hotel or rent one from a local vendor if we're staying at an Airbnb. This blackout tent is easy to throw in a suitcase – for a weeklong trip I can fit that and everything our 2-year-old needs in a hardshell carry-on – and takes only a few minutes to assemble. Turn on your sound machine and you can watch tv, have conversations, sleep in, etc. without your toddler waking!
Sound Machine: I like this one for travel for a few reasons. 1) It's relatively flat so it's easy to put in a suitcase. 2) It has lots of sound options, unlike most travel options. 3) You can either use batteries or plug it in.