*This post contains affiliate links.*
I thought we were going to have it easy with the original daycare we signed up for providing all meals and snacks… until it totally shut down in the midst of the pandemic and we had to go with our plan B option. We're now at a daycare we love, aside from it being more expensive and not providing food. And now that we're 9 months in and the added step of packing lunch every morning before work has gotten easier, I thought I'd share my go-to easy foods to pack for daycare.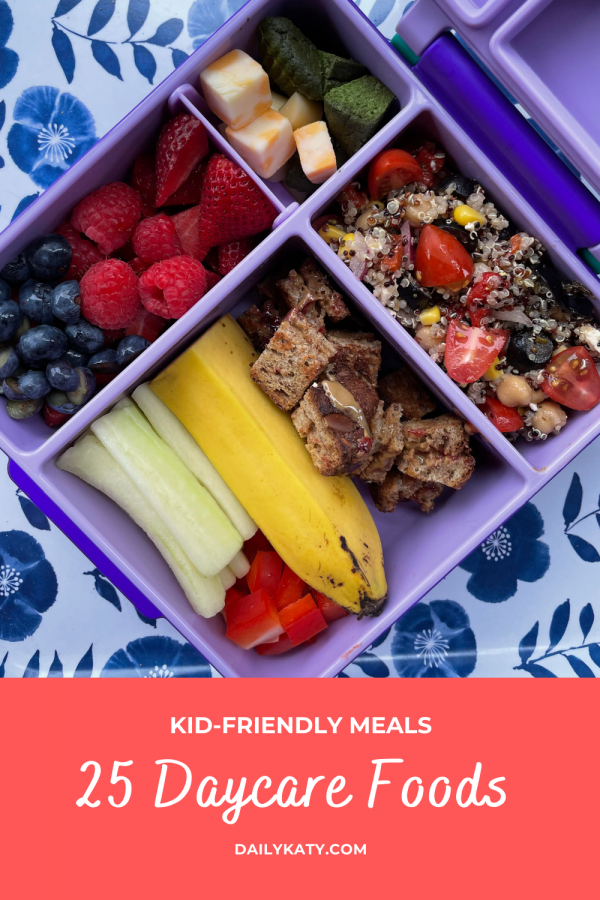 Most of my ideas have come from friends or my sister-in-law, but I also use resources like Feeding Littles Toolkits (Breakfast, Lunch, Dinner), Inspiralized Kids, Baby Foodie and Yummy Toddler Food. Right now we've reached a phase where Sofia usually likes whatever we're eating, so that's a big win for sending leftovers to school too! With leftovers, one skillet/pan dinners have become favorites for this reason.
Keep in mind that Sofia is now just over 18 months, but she's been eating most of below since we fully introduced solids to her. She goes through phases where she loves one thing and refuses another, but in general these are her favorites so far. And with that, here are 25 easy foods to pack for daycare – and scroll down for what we pack them in!
Foods for Daycare
Snacks:
Dairy:
Yogurt pouches (Trader Joe's, Stonyfield, etc. – anything organic and ideally with whole milk) – used to spoon feed yogurt at home when she was younger, but now it's a pouch on the 8 a.m. walk for breakfast (and she has another "breakfast" at 9:30 with school)
String cheese or any cubed cheese – string cheese chopped up in smaller pieces for easy snacking, though now I try to buy the snack-sized version if I can find it
Protein:
Egg muffins – put anything in them but I usually do broccoli, ham and cheese; make ahead and freeze
Earth's Best Baked Frozen Chicken Nuggets – cook and put in Thermos/hot section
Earth's Best Frozen Mini Meatballs (or Trader Joe's meatballs) – love these!
Grilled chicken – good option in the summer when we have leftovers!
Edamame – buy either frozen or in a package that's easy to pull out a few and microwave in the morning; good healthy snack
Chickpea Sunflower Salad – love this for my own lunches on toast with tomato and avocado and also works for kids (I put the sunflower seeds and onions in a food processor)
Fruits & Veggies:
Fruit salad – whatever we have on hand but usually at least some berries
Avocado – put lemon on it in a snack-size Ziplock bag so it doesn't discolor, or as a toasted sandwich
Banana – cut in half and leave peel on so it doesn't get gross
Spinach Banana Oat Blender Muffins – big hit; make ahead and freeze; I usually bake for 22ish mins and use these silicone baking cups (no scrubbing!)
Dr. Praeger's Frozen Spinach or Kale Bites – they also have broccoli nuggets and make great veggie burgers for the whole fam!
Frozen peas – so easy; defrost in a cup of hot water, dry off and add to chicken nuggets or meatballs
Cucumbers and/or chopped tomatoes – skinned and sliced into sticks or cubes
Other:
Mac and cheese with veggies – good way to sneak in veggies like chopped broccoli or peas; keep the microwavable Annie's on hand for when you're short on time!
Sunbutter and jelly (or mashed raspberries) sandwich
Hummus toast sandwich – sometimes just do half an english muffin toasted for this!
Healthy Breakfast Bars with Jam – these are apparently for toddlers but my husband and I love them too; make with sunbutter to send to school
Southwest Chicken Orzo Salad – an old favorite recipe of mine; can cut up the veggies and chicken smaller for kids as needed
Greek Orzo Salad from Trader Joe's (or homemade)
Mediterranean Quinoa Salad – I made a version of this (will share the full recipe soon!)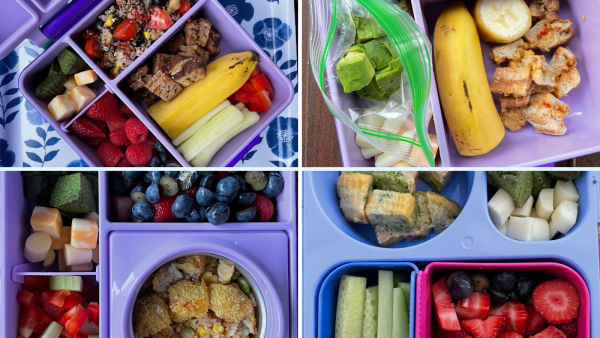 What to Pack In
Lunch Box:
Backpack:
Skip Hop Backpack – started with this one, and while we still use it for other things, we swapped it out for below when she had to bring a blanket and more snacks every day
L.L. Bean Junior Backpack – love this one, especially in neon pink, and she'll grow with it (also comes in prints)
Water Cups: