*This post contains affiliate links.*
Every season I find myself feeling overwhelmed that Sofia seems to need so many new items of clothing, whether she's outgrown or stained most of what she has, or the New England weather makes them no longer seasonally appropriate. Then I place a few orders and her grandmothers give her outfits and suddenly we have too much! I'm trying to be much better at strategically planning, buying and asking for things she really needs – and so far it's working!
What is a Toddler Capsule Wardrobe?
The concept of a capsule wardrobe is pretty simple – you limit the number of items you have in your wardrobe and ensure items can be paired in different ways. For adults, it's more about investing in higher quality, versatile pieces. I have a hard time fully doing this for kids, but the planning process still helps map out what's needed. Seeing a full toddler girl summer capsule wardrobe in one place helped me avoid overbuying and also identified gaps.
Over time, I've figured out which stores are best for which staples – for example, I buy a 4-pack of these black leggings in every size for every season (also in 2-pack), and these cotton dresses (also available in long-sleeve) are the best (worn with bloomers, biker shorts or leggings). And neutral 2-piece sets like this one can be worn with other items too.
How to Get Started:
Below is a great starting point and includes exact items from Sofia's closet. However, note that we do have several colors/prints of many of these because she's always getting messy at daycare and staining clothes. I also usually wait for a good sale to do a bulk order once I know what I want.
Shop my picks for our toddler girl summer capsule wardrobe underneath the pic below, along with a widget with more options you can go through to customize your own toddler capsule wardrobe!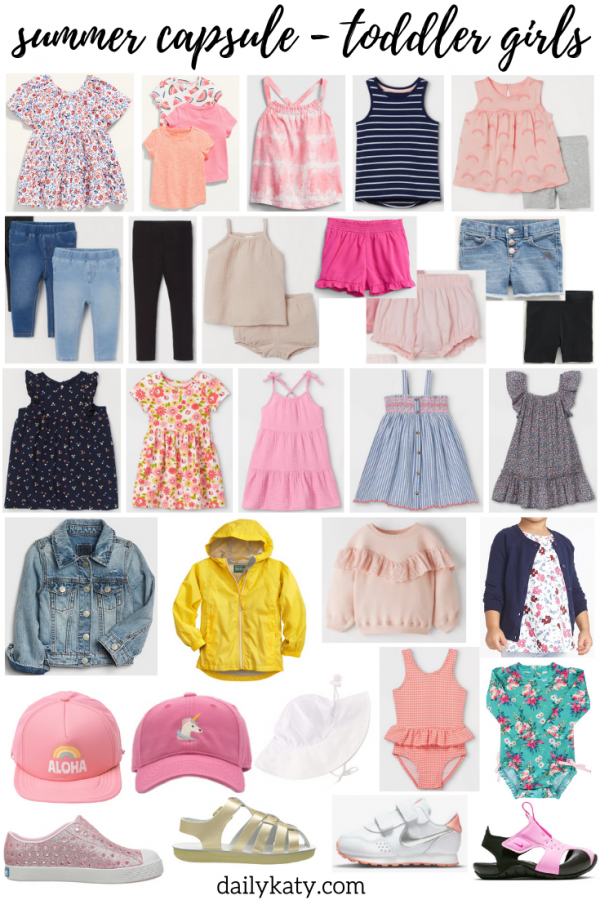 SHOP THE LOOKS:
Tops – One / Two / Three / Four / Five (set)
Bottoms & Sets – One / Two / Three / Four / Five / Six / Seven
Dresses – One / Two / Three / Four / Five
Outerwear & Sweatshirts – One / Two / Three / Four
Hats & Swimwear – One / Two / Three / Four / Five
Shoes – One / Two / Three / Four
More Toddler Capsule Wardrobe Tips:
Dresses are tempting to overbuy because they're so cute. Stick with a couple fancier options and opt for cotton or others that you can dress up or down and wear more.
Bathing suits get harder when you reach official toddler sizes because most brands ditch the diaper snaps. Something to keep in mind – and why I love Ruffle Butts!
Pick things that grow with them – for example, roll up the sleeves of a sweatshirt, or buy cotton dresses a little big and start with biker shorts underneath and switch to leggings as the dresses get shorter on them in the fall.
It always feels like we have too many pairs of shoes, but oftentimes it's because different brands run slightly differently with sizing. Be strategic about what you actually need – and in this case it's not always best to buy super far ahead.
Bottoms are where you can keep things very minimalistic. Go for long pants or shorts in denim/jegging material, black, pink and a couple fun pairs with florals in colors you know you have multiple tops for.