We had big plans to get Sofia on a beach vacation before my maternity leave ended back in March, which of course didn't happen due to the pandemic. But fortunately, summer weather started early this year and we've been able to get her to the beach quite a bit.
We've figured out how to effectively spend a day at the beach with exactly what we need, as we are usually walking from our house and don't want to lug too much stuff. We did also spend time on the beach on Cape Cod, Nantucket and in New Hampshire so I'm throwing in a couple bonus items if you're driving and/or have a few extra hands for carrying.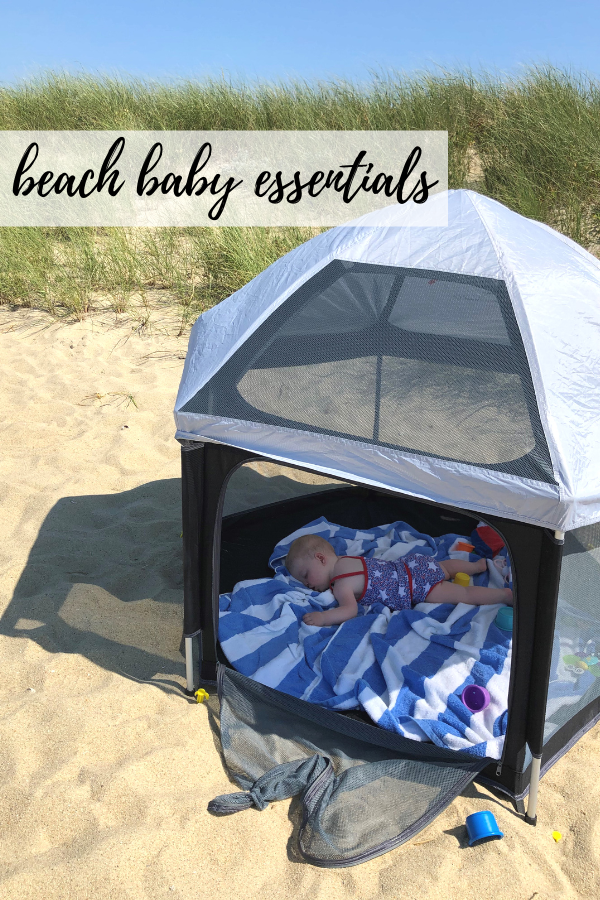 If we're walking to the beach, we use our everyday stroller that has a big storage basket underneath to wheel most of our beach baby essentials. That fits our beach bag, RTIC cooler and a few miscellaneous items like our HydroFlask water bottles perfectly. Then we each carry a backpack beach chair filled with our towels and anything else that didn't fit and one of us will push the stroller while the other carries the tent bag. I've also carried her in our LilleBaby in front with a beach chair on my back.
Sofia doesn't need much at the beach right now – for some context, she's been 6-8 months during the summer months. We only need a few small toys right now, so I fully realize by next summer we're going to need to bring more entertainment with us. (I'm also laughing at myself for how long this list is, but I swear we are able to carry/wheel what we need and you don't need all of it at once!)
And with that, here are our beach baby essentials: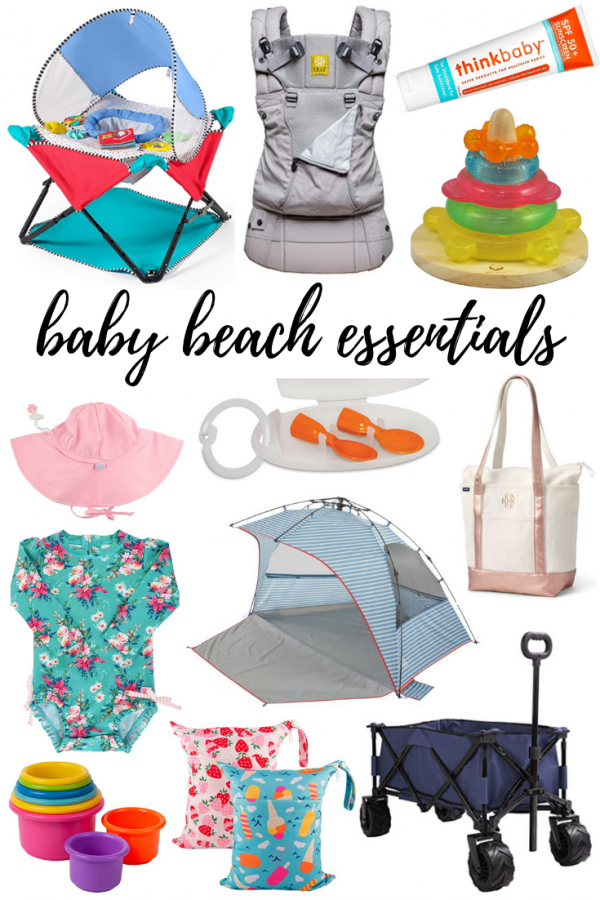 Shop the Post:
Summer Pop 'n Jump / LilleBaby Carrier / ThinkBaby Sunscreen
Green Sprouts Teething Tower / RuffleButts Hat & Bathing Suit
Infantino Spoons / Sun Tent / Lands End Beach Bag
First Years Stacking Cups / Wet Bags / Beach Wagon
Sun Protecting Tents: We have two tent options that we use and love (one is currently at my mom's and we have the other here in the city, but both are great). They each come in a bag that's easy and not bulky – ideal for carrying. Word of advice: stay away from tents that fold into a circle – they are impossible!
California Beach Co.'s Pop N' Go Playpen is our current favorite (everyone stops us on the beach to ask about it when they see Sofia snoozing or independently playing in it!). It's less of an open tent (though it does have a door you can zip shut) and more of a playpen. I love that it's all mesh on the sides so it lets air flow through. And the sun protecting canopy on top is removable so you can take it off and just use it as a way to contain your child once they are on the move. I have a friend who uses hers inside when it's not beach weather. You can buy their mattress for it or lay an oversized towel inside (mattress/sheet combo is much better if you have a crawler!). Similar options are available from Summer (also smaller size), born free and Baby Delight.
L.L. Bean's sun tent is a more traditional tent style but it's easy to put together/take apart, has lots of room inside and the way the front is designed creates a good amount of shade even outside the tent itself. We also got a little mallet to hammer in the pegs. I wish I got the matching folding lounge chairs for inside, but that's for another day. For a similar, less expensive option, this one on Amazon had been on my radar for a while and came highly recommended. We'll use this style tent for years.
Stroller: As I mentioned above, we just use our everyday stroller when we're walking from our house (once we get to the beach we carry it to our spot because it's not great for your stroller to be in a lot of sand with the salt if it's not meant to be). We have a less expensive stroller at my mom's house that serves the same purpose that we wheel right onto the beach because there's usually a lot of wet sand that makes that easy. Extra bonus if your stroller has a back that lays almost flat for naps. The first (and only) time we've got her to actually nap at the beach was in this one after walking around a bit (though when we move to the burbs I have my eye on a Bumbleride Indie or Baby Jogger City Mini GT2. When Sofia was smaller, we used the bassinet attachment on our stroller and would take that out and put it right in the tent.
Wagon: We have this collapsible wagon to help us wheel whatever we need when the time comes that we need to bring more toys and entertainment for the baby. For a wagon/stroller combo, my sister-in-law has an 18-month-old and just splurged on the Veer wagon and loves it (bigger kids like to ride in a wagon and it also holds quite a bit – including a second child, even one in an infant car seat with an attachment). Other wagons your kid can ride in are the Keenz and Evenflo.
LilleBaby All Seasons Carrier: This carrier was key on Nantucket, as we walked a bit on the sand and our strolled wouldn't have worked for that. It's nice to be hands free while carrying the baby in this. I know several friends who use theirs (or similar styles) as a way to get their babies to nap on the beach too. Sometimes I'll carry Sofia in front and then have my backpack beach chair on at the same time. Not all carriers are suitable for infants without an insert, but this one is.
Activity Center for Baby: The Summer Pop 'n Jump activity center is perfect for entertaining the baby at the beach and it's easy to store and carry the way it folds up and goes in a bag. We like that it has a shade attachment too. If Sofia had been born closer to summer, I had my eye on this Fisher-Price Baby Dome. And when we had planned on traveling to Florida when she was 3 months old, we were considering buying/shipping this super affordable Fisher-Price bouncer right to the hotel to use somewhere in the shade.
Beach Bags: I'm a big fan of Lands' End beach bags as I find you can get a good sale and they have so many different styles you can personalize with names, colors, etc. Large is great for a big beach bag and we like the medium for Sofia's toys, diaper stuff, etc. Some weeks it becomes her temporary summer diaper bag (love the rose gold or any of the basic colors).
Diaper Bag Basics: I try to only bring what we really need. A wet pouch with diapers and wipes (and another empty wet bag for bathing suit, etc.), burp cloths (an extra goes in the cooler to wipe her down if it's hot) and a bunch of toys that are easy to wash the sand off of like these stacking cups or this rattle. One of our tricks is to put a few of her cold teething toys in a ziplock and then in the cooler so they stay nice and chilled. Now that she's eating solids and sitting up, I also throw in a pouch and this screw-on spoon that makes feeding on-the-go easy. And then we'll either bring a bottle in the cooler or I'll pack my favorite nursing cover (love how loose it is so it's not too hot and claustrophobic).
Sunscreen: Big fan of ThinkBaby sunscreen and I also recently started using Babo Botanicals Clear Zinc Sunscreen for myself, which is also supposed to be baby safe. I usually apply a layer on both of us before we head to the beach and then keep her in the shade and with a hat on, reapplying as necessary.
Sun Protection Hats: We struck out on a few of the sun hats we originally bought because for some reason the ones with velcro on the straps weren't big enough. But we love sun hats from Hanna Andersson, Ruffle Butts and i play – they all have ties (the latter of which is a more traditional beach hat that protects their neck more). And Bitty Brah makes the best regular hats with a drawstring that come in infant, toddler and adult sizes. I was skeptical that she'd actually wear a regular hat and this one stays on her head.
Bathing Suits: My big must-have for baby bathing suits is either two pieces or snaps for the diaper. And while that's meant missing out on some very cute ones (ahem, H&M), I'll gladly skip the taking off a wet bathing suit on a squirmy baby thing every diaper change. Favorite places to buy from are babyGap, Ruffle Butts, Tea Collection and Hanna Andersson.
Cooler & Koozies: Not for baby, but important for mom and dad. If we're walking and want to fit the cooler in the stroller, we use this one from RTIC. If we're driving or don't have much to carry, we'll use the bigger Yeti. We always bring our HydroFlask water bottles and any of the following: Yeti tumbler or koozies for beers and HydroFlask wine glasses for rose.
Clip-On Umbrella: This umbrella is something we actually haven't used recently but I think it's great if you have an infant who isn't mobile yet. You can clip it onto anything to create instant shade.