Life was apparently really busy after we got back from our amazing trip to Hawaii (more to come on that in my upcoming travel guides!), and now all of a sudden a month flew by and the holidays and almost winter are here. The temps aren't too bad yet here in New England, but I'm still dreaming of Hawaii and plotting our next warm-weather getaway.
Whether you have a trip booked or are lucky enough to live where the sun is always shining, today's post includes some of my beach destination essentials, including cover ups, sunglasses, bikinis and my favorite sunscreen (yes, it's possible to have a favorite).  Shop the items in the pics using the links below (minus those palm trees – you'll have to head to Maui for those)!
Taking it all in at the Grand Hyatt Kauai's beach in Poipu… Loving that my P.J. Salvage romper is not only perfect for lounging around at home, but also makes a great beach cover up because of its super soft, lightweight material.
P.J. Salvage Wanderlust Challe Romper (c/o)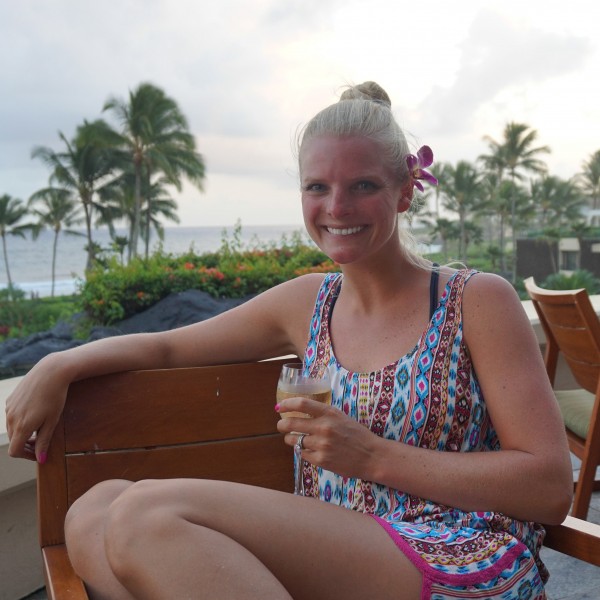 Enjoying a post-beach/pool drink on the deck at sunset. Other than when I was in just a bikini on a beach chair or in the water, I wore this romper from morning to night! The sun sets early at this time of year in Hawaii, we we stayed in our bathing suits for it almost every night.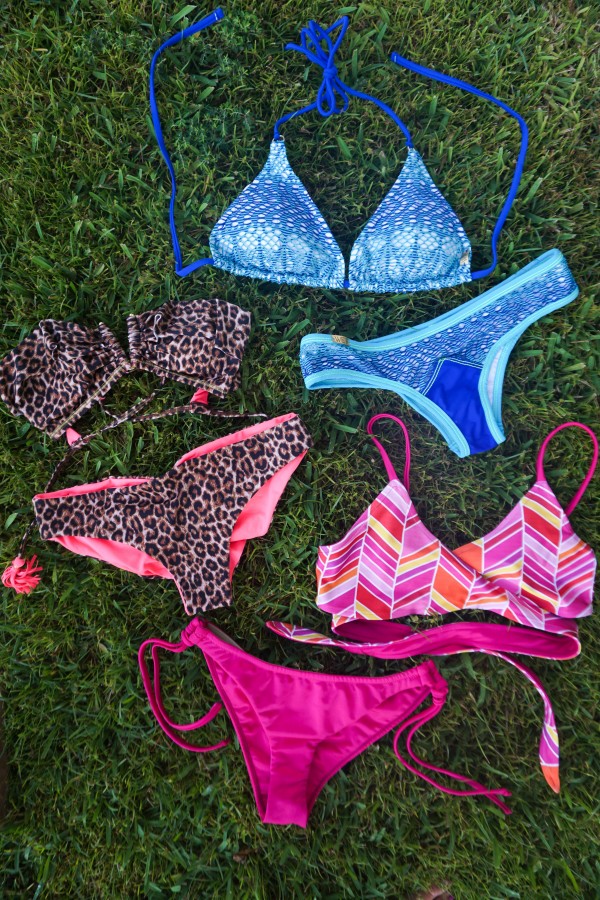 Just a few of my favorite bikinis I brought along with me (all c/o)… Each one of these is perfect in their own way: the leopard print Malai bikini has literally the best fitting bottoms I've ever tried (size up for this one – top and bottom run small). I love the colors and crocheting in the blue WET Swimwear bikini. And Mi-Ola bikinis are perfect if you're active, whether you're surfing or jumping off a boat for a swim, because the bottoms have gripper elastic to hold them on.
Leopard: Malai Neon Leopard Bandeau Bikini from Cabana Chic Swimwear
Blue: WET Swimwear Faith Top & Bottoms
Pink: Mi-Ola Reversible Wrap Top & Double String Bottoms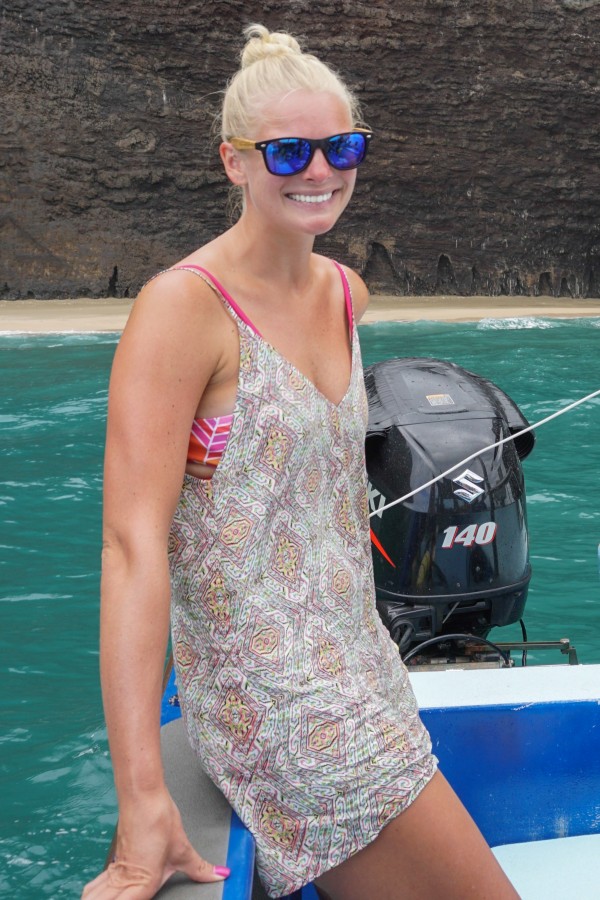 Cruising along the Napili Coast by boat in Kauai… This romper is super lightweight and comfortable over a bikini and now I'm wishing I got it in all of the patterns!
Romper (on sale!) / c/o Woodzee Sunglasses
c/o Mi-Ola Reversible Wrap Top & Double String Bottoms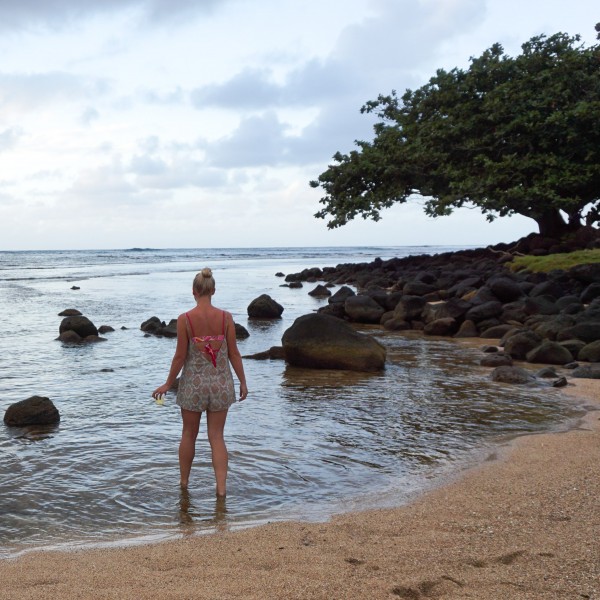 Waiting for sunset and toasting to an amazing trip at the St. Regis Princeville in Kauai! You can see the low back of the romper here, which I love, along with the wrapped back on the Mi-Ola bikini. And this resort is a must for sunsets, views and basically everything else.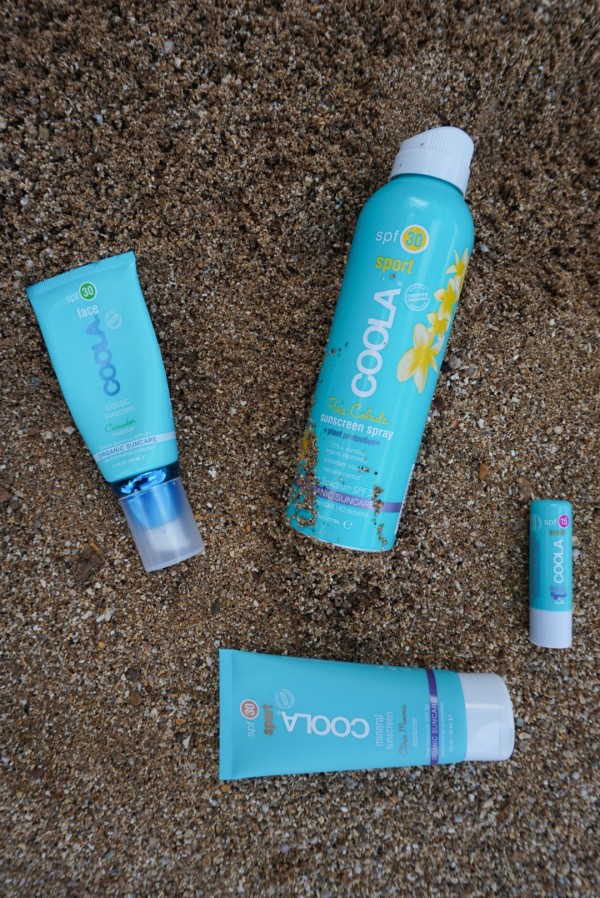 My favorite sunscreens – which I never thought I'd say – but these smell so good and don't leave your skin all oily and gross! The spray sunscreen is my favorite because it smells like pina colada. And the face sunscreen is lightweight, dries quickly and is refreshing with its cucumber scent.
Coola Sport Continuous Spray SPF 30,
Face Mineral Sunscreen SPF 30,
Mineral Sport Sunscreen SPF 35+ and
Liplux Sport Lip Treatment SPF 30 (all c/o)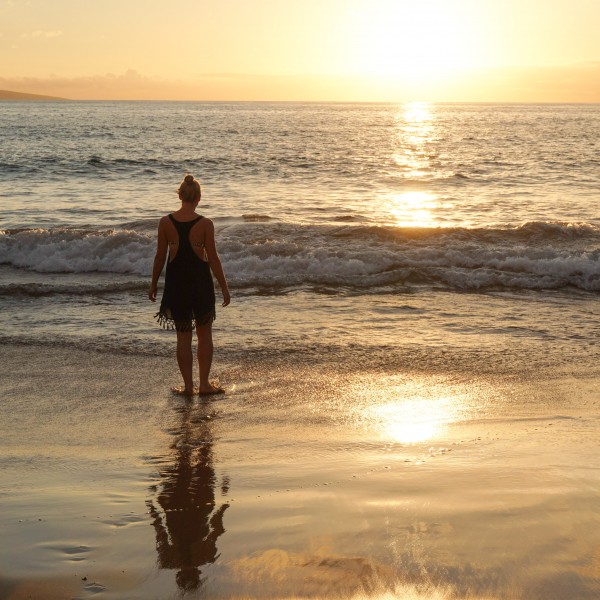 Another day, another cover up worn for sunset on the beach… This time at the Fairmont Kea Lani in Wailea, Maui. If only I could end every day like this!
Fringe Cover Up (sold out – similar here + here)
What are your favorite beach travel style essentials? Let us know in the comments below! And come back over to the blog – and Fit and Fab Living – to read more about my trip to Maui and Kauai, as well as lots more about hotel recommendations, sights to see, etc. Stay tuned!