My husband is going to laugh at me when he sees this post, but that's OK. I've been walking around listening to podcasts to and from work, while I do laundry, get my nails done, you get the point… all the while acting like podcasts are a new thing. News flash: they're not. But I'm just now getting into them and I'm slightly obsessed. Who knew there were so many good ones out there on literally any topic you type in the search field?! And with my less-than-15-minute commute, it's hard to get into a book or mag, so I love that I can listen to podcasts door-to-door.
So here goes the start of a new blog series… with my favorite podcasts and episodes. I'd love to get recommendations from all of you in the comments so I can continue trying new ones out!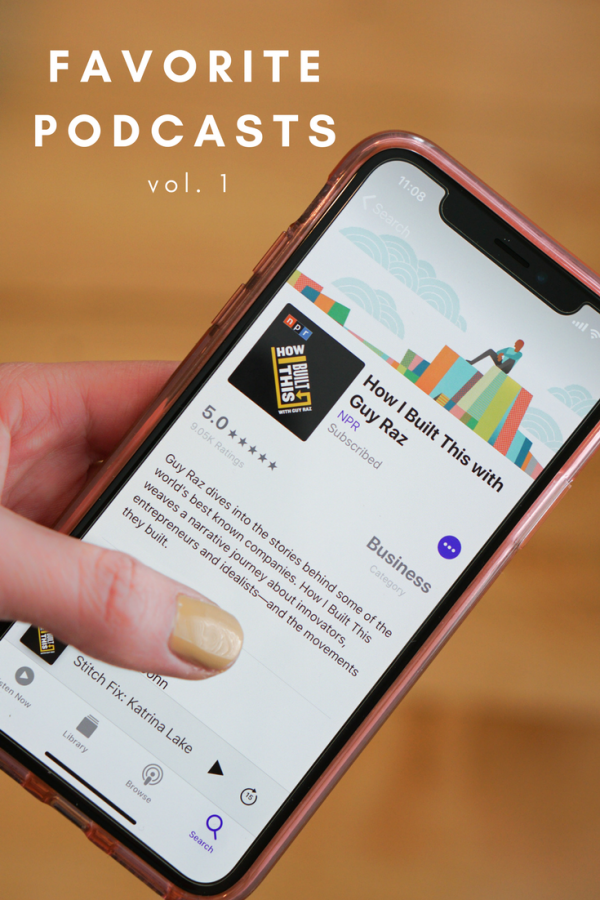 NPR's How I Built This with Guy Raz – Stitch Fix: Katrina Lake (April 2, 2018):
I love this podcast so you can't really go wrong with any episode – scroll back to old episodes and you'll find stories about how brands like Kate Spade, Patagonia, Framebridge and even Instagram came to be the successful brands they are today. This is a great, more recent episode about how Katrina Lake came up with the idea for Stitch Fix, her online personal shopping service that uses technology to curate boxes of clothing just for you based on your preferences. As someone who has tried – and enjoyed – this service before, this was particularly interesting and inspiring. The company went from Katrina testing out the idea with 20 friends and acquaintances to where it is today with over two million customers and a billion dollars of annual revenue.
Skimm'd from the Couch – Sara Blakely: Founder and CEO of Spanx – Episode 008:
This is another girl boss success story, this time with another company I personally love, Spanx. I practically live in the brand's faux leather leggings – you'll find four different colors/styles on constant rotation in my closet. In the podcast, she tells the brand's story, talking about what made them so unique in the marketplace: the fact that all of their products are essentially inventions, not just a new version of something that already exists. I loved this quote from Sara: "Sell the problem you're solving, not the product." She also encourages women starting businesses to think about what they got out of each failure, because there's always something.
Bachelor Party by The Ringer – Reflecting on 'Laguna Beach' and 'The Hills' With Creator Adam DiVello Plus His New Show 'Music City' (Ep. 13)
If you watch the Bachelor/Bachelorette, this podcast is a must while it's airing – host Juliet Litman recaps each episode and has lots of guests from Bachelor Nation chatting about it with her. But I've quickly discovered that I also love her off-season podcasts… this one bringing me back to high school and college with Adam DiVello, creator of "Laguna Beach" and "The Hills," which resulted in my Lauren Conrad obsession. I've been meaning to watch his new show, "Music City," and going back in time with him in this podcast made me want to check it out even more – especially because it's based in Nashville. What I found cool was that he mentioned that "Laguna Beach" was really a reality version of "The OC" – and "Music City" has a similar approach where the idea for the show came from doing a reality version of "Nashville," which I also love.
Young Adulting by Grace Atwood & Becca Freeman – Ep 3: Advice/ Passions, Promotions + More
I've been a longtime follower of Grace's – her blog, TheStripe.com, is one of the few that I read a few times a week. She's so real, I love her style and we love the same kinds of books. After she got me hooked on the YA series "The Thousandth Floor" (more to come on that in my next book review!), I was excited to hear she was launching a podcast where she'd be talking about "bad books and good advice" with her former Baublebar coworker and friend, Becca Freeman. Admittedly, I listened to episode 1 and 3 – I want to read the books before listening to the book episodes! Episode 3 gives some good advice about turning hobbies into careers, including the benefits and drawbacks. Read more about this episode in Grace's latest blog post.