I love fresh tomatoes in pretty much anything, especially when they're combined with balsamic vinegar in a good bruschetta. With vacations, weddings and general busy schedules that come with summer, we've fallen off the healthy eating bandwagon in our house and are making our way back. Grilled chicken can be so boring, so while I was thinking of side dishes to make it more exciting, I remembered I had seen bruschetta-topped chicken while scrolling through Pinterest and decided to make my own version. If you already have a bruschetta recipe, you can use that too!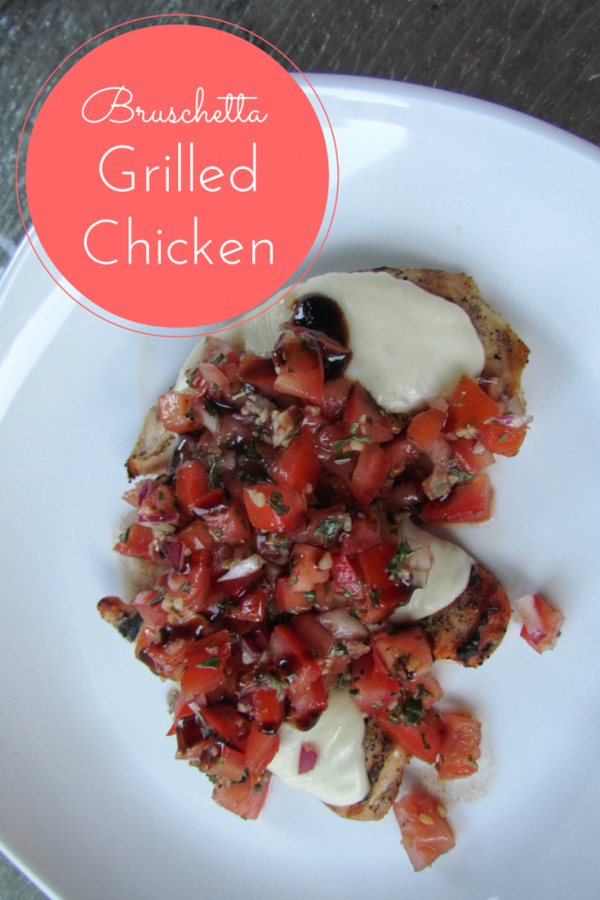 Ingredients:
3 large chicken breasts, sliced lengthwise to make thin cutlets (or 6 thin chicken breasts)
5 medium vine ripe tomatoes (or 2 pints cherry tomatoes), diced
1/2 medium red onion, diced
2 tbsp basil, chopped
3 cloves garlic, minced
1 tbsp olive oil
4 oz part-skim mozzarella, sliced
1 tbsp balsamic vinegar
Balsamic glaze, as desired
Salt and pepper
Directions:
Preheat oven to 400 degrees. Heat up grill and spray with non-stick spray.
Combine tomatoes, red onion, garlic, garlic, basil, balsamic vinegar and olive oil together, along with some salt and pepper. Set aside in the refrigerator (this can be done up to one day in advance).
Season chicken with salt and pepper. Grill until cooked through, approximately 2 minutes on each side, but make sure to not overcook.
Place cooked chicken on a baking sheet lined with foil and place slice of mozzarella on top of each. Bake until melted, approximately 6 to 8 minutes.
Cover chicken with bruschetta mixture, drizzle with balsamic glaze and enjoy the remaining bruschetta with crispy slices of bread.