I love Cinco de Mayo, mainly because I love Mexican food, along with the occasional skinny and/or fruity margarita. My husband and I went to our favorite local Mexican restaurant for some food and margs on Sunday, but on actual Cinco de Mayo, I tried out a new recipe from Cooking Classy, Chicken Fajita Stuffed Peppers.
I made a few tweaks but basically stuck to the original recipe. After making it, I realized that I had essentially made exactly what I order when I get a burrito bowl for take-out Mexican: chicken, fajita veggies, black beans, corn, pico de gallo, brown rice, guac, cheese and sour cream (only the peppers were the "bowl" in this case). So with that said… feel free to play around with the recipe to include your favorite Mexican ingredients!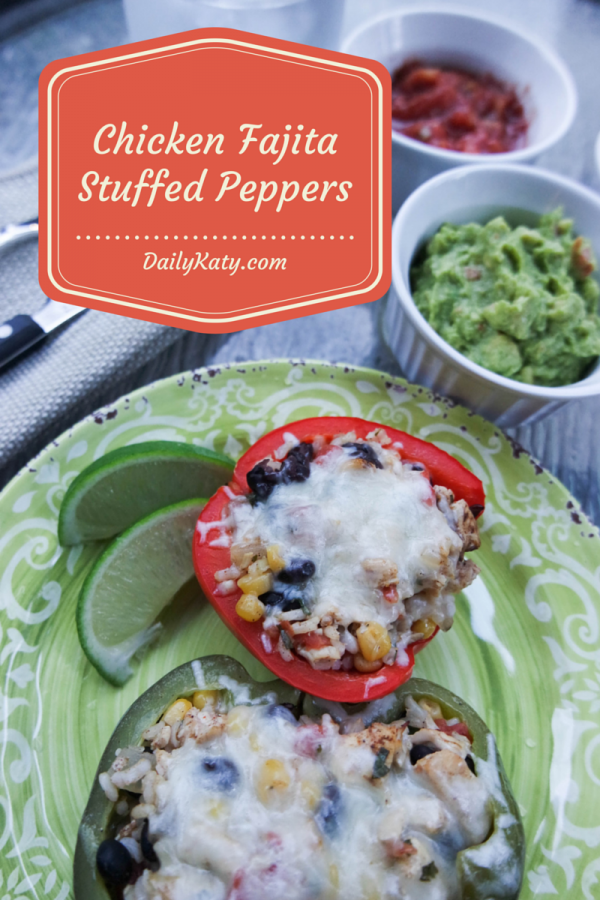 Ingredients
3/4 cup dry brown rice (2 cups cooked)
5 red, yellow, orange or green bell peppers
1 medium yellow onion, chopped (1 1/2 cups)
2 cloves garlic, minced
2 Tbsp canola oil, divided
1 lb chicken, diced into 3/4-inch pieces
2 Tbsp Mexican chili powder (or combo of chili powder, ground cumin and a little paprika)
Salt and ground black pepper
1 (10 oz) can tomatoes with green chiles
1 cup canned black beans, drained and rinsed
1 cup canned corn, drained and rinsed
3 Tbsp fresh cilantro, plus more for garnish
1 Tbsp fresh lime juice
2/3 cup shredded monterey jack cheese
Sour cream
Guacamole (I used the guac my grocery store makes, but here is my homemade guac recipe)
Jalapenos, seeded and chopped (optional, depends on how hot you want it!)
Mexican style hot sauce (such as Tapatio or Cholula, optional)
Directions
Cook brown rice as directed on packaging. While that cooks, preheat oven to 375 degrees and start cooking the filling and boiling the peppers.
Boil water in a large pot of water. Slice peppers in half, top to bottom, remove seeds, then immerse them in the boiling water for 4-5 minutes (until tender). Drain and place in baking pans with insides facing up.
In a deep skillet or non-stick pan, hear 1 Tbsp oil, add onions and saute for about 5 minutes. Add garlic and saute about 30 seconds more, then move the mixture to a bowl.
Add the remaining 1 Tbsp oil to the skillet, add chicken and cover it with 1 Tbsp of the Mexican chili powder and season with salt and pepper. Cook, stirring occasionally, until cooked through, about 5 minutes. Remove from the skillet and chop the chicken into smaller pieces.
Reduce heat to medium-low, put the chicken back in the skillet and add in the tomatoes, onion/garlic mixture, black beans, corn, cooked brown rice, remaining chili powder, cilantro, lime juice and season with salt and pepper. Optional: mix in cheese if you would like the mixture to stick together more in the pepper (or if you simply want it to be cheesier!). Cook until the mixture is heated through.
Fill each pepper half with the mixture (pack it tight enough so it stays put but isn't overflowing into the baking sheet). Pour water into the bottom of the baking dishes (about 1/8-inch, avoid getting any in the peppers).
over baking dishes with foil and bake 30 – 35 minutes, until peppers are soft. Remove from oven, top each pepper with cheese then return to oven to bake until cheese has melted (about 3 minutes).
Serve warm topped with more cilantro, sour cream, guacamole and hot sauce if desired.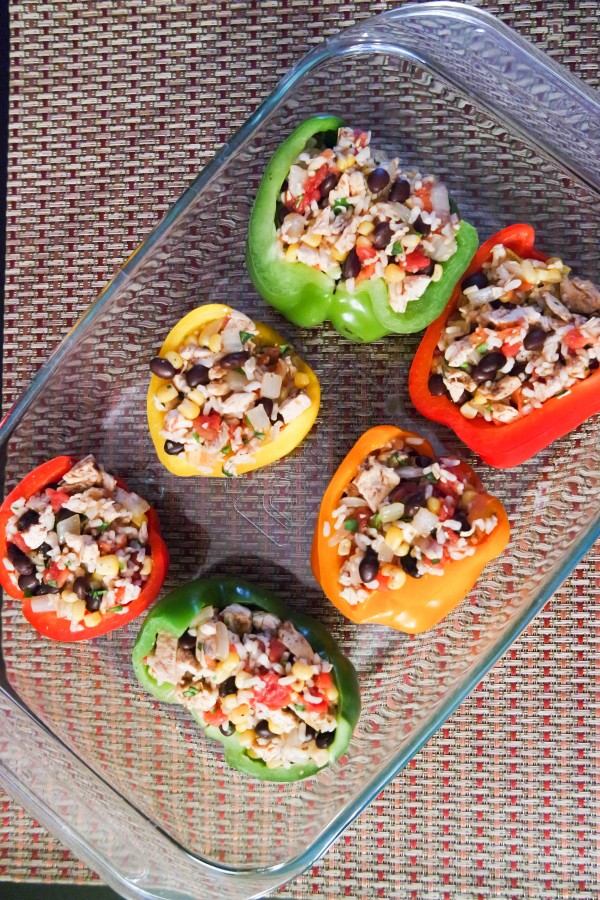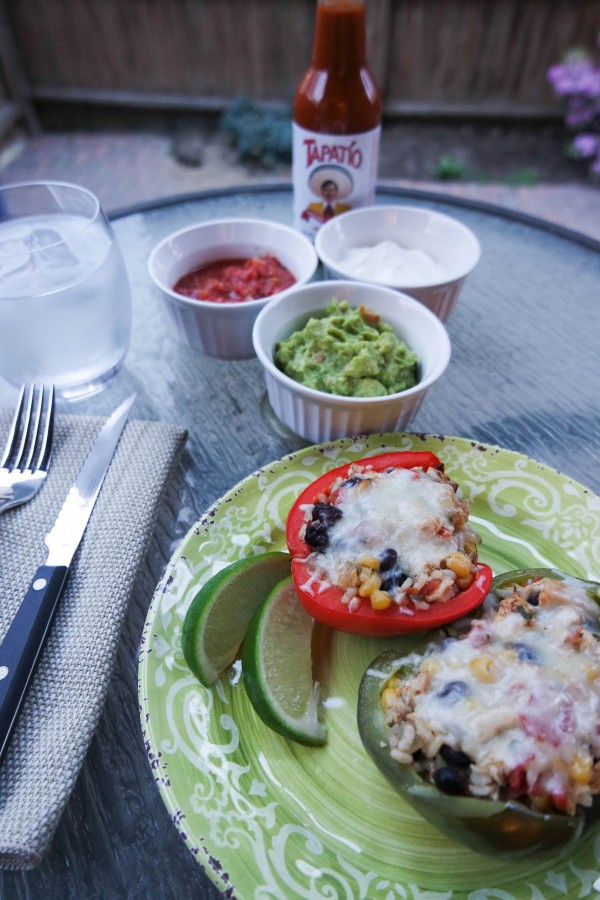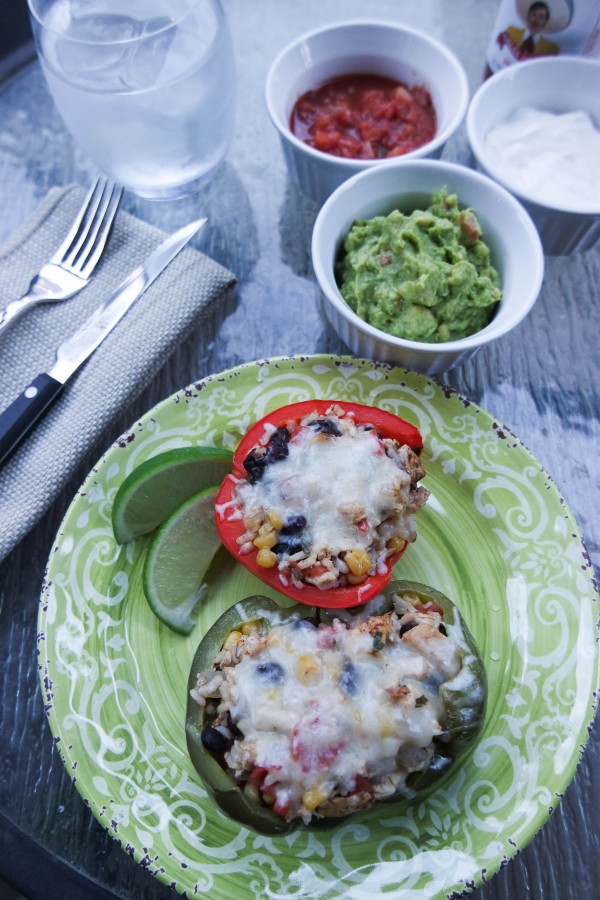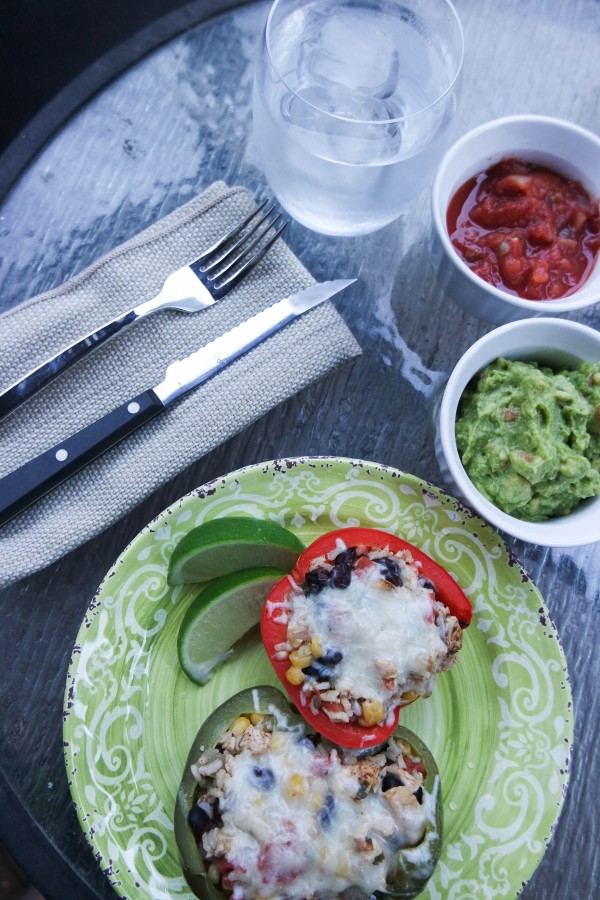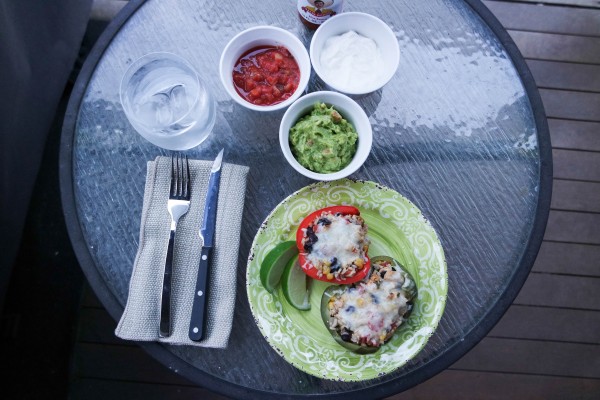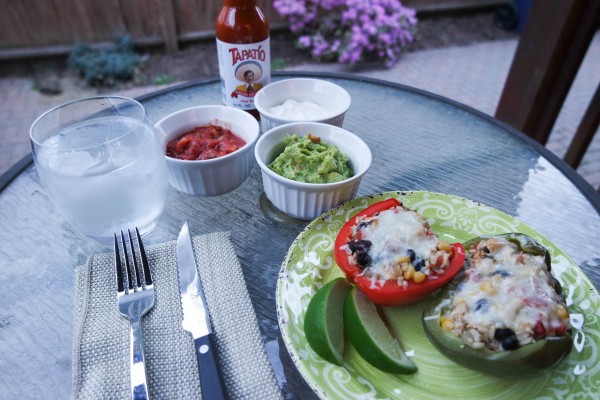 What are your favorite Mexican recipes? Let us know in the comments below!