I absolutely love a good, fresh guacamole. When you think about it, guacamole is so simple – and is actually quite healthy if you make it fresh. In honor of National Guacamole Day, November 14, 2013, I wanted to share my go-to guacamole recipe, which is one of my favorite dips or toppings for many different occasions. This recipe is a cross between a SimplyRecipes.com recipe and a recipe my sister-in-law shared with me.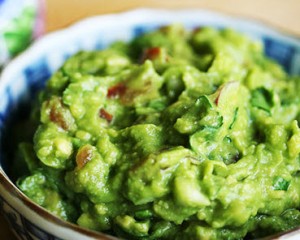 Yields 4 servings. Serve with tortilla chips or with any Mexican-style meal.
Ingredients:
3 ripe avocados – peeled, pitted and mashed
1/2 cup diced red onion
2 roma (plum) tomatoes, diced
1-2 serrano chiles, stems and seeds removed, minced (optional)
2 tablespoons cilantro leaves, finely chopped
1 lime, juiced
1 teaspoon minced garlic
1 teaspoon salt
Dash of black pepper
Directions:
Cut avocados in half. Remove seed. Scoop out avacado from the peel, put in a mixing bowl.
Mash the avocado so that it's still a little chunky.
Add in the chopped onion, cilantro, lime juice, garlic, salt and pepper; stir together.
If desired, add in half of one chili pepper to start (you can add in more if you'd like it hotter).
Cover and refrigerate, ideally overnight, but at least 1 hour will do.
Chop the tomatoes and add to the guacamole when ready to serve (chilling tomatoes hurts their flavor).
Enjoy with tortilla chips or your meal of choice!