Admittedly, I was skeptical of the sonic skincare products, but was excited to finally try one out, the FOREO LUNA mini. After just one use, I understood what all of the hype was about. I had never experienced such smooth skin on my face after a quick and simple wash in the shower with my daily face wash.
After using my Luna Mini for a couple of weeks, here are my favorite things about the product:
Colorful, compact and easy to take on-the-go
Results in clearer, brighter and healthier-looking skin
Takes just one minute in the shower to use
Fully rechargeable for up to 300 beauty treatments per USB charge
Waterproof so you can use it in the shower
No need for any replacement brush heads
Deep, yet gentle cleansing that frees skin of dirt, oil and makeup residue
Cleanses pres of blemist-causing impurities
Leaves skin feeling smooth after just one use
Comes with a 2-Year Limited Warranty and a 10-Year Quality Guarantee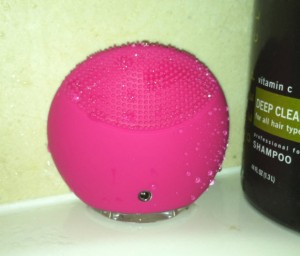 To use the LUNA mini, all you have to do is apply your cleanser of choice, wet the LUNA mini, turn it on to your desired speed level and press it against your face to cleanse for approximately one minute.
The LUNA mini uses T-Sonic technology, which is described as "a radical new approach to cleansing that is both deeper and gentler at the same time. By channeling transdermal sonic pulsations across the skin's surfact, the LUNA mini will will transform the look and feel of the skin within just 3 days. It works by cleaning pores of impurities to reduce the causes of blemishes, while smoothing and refining your skin's texture for incredible results."
Another great thing about the LUNA mini is that using it is really like getting a mini facial every time – and it's great for any skin type. The LUNA mini cleanses deeper than other sonic brushes, and uses 1,300 nonabrasic touch-points that are coated with smooth silicone. The touch-points are specially configured into 3 zones, which is what allows it to accomodate any skin type.
The Luna Mini comes in several different colors, including Petal Pink, Turquoise Blue, Magenta (shown in my photos), Purple and Cool Gray. You can purchase yours today for $139 on FOREO.com, or through a variety of online retailers.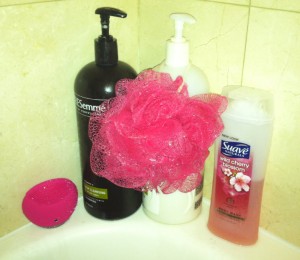 ** I purchased my LUNA mini at a discounted price through BzzAgent, a word-of-mouth product review company. All opinions about the LUNA mini are my own.