In case you haven't heard about Hailo yet, it's a great taxi service that allows you to order cabs from your smartphone and actually see where they are. Hailo is available in several different cities, Boston being one of them. Here are a few great things about Hailo:
It's easy. I HATE hailing cabs, and with Hailo, I can get a Boston taxi easily with the Hailo app.
No need for cash. Another thing I hate about cabs is the need to have cash (which you technically don't need in Boston, but cab drivers still prefer it). With Hailo, you automatically pay with your debit or credit card that's on file with your account.
It's safe. Hailo works with Boston's licensed and trustworthy taxi drivers, and approves each driver individually.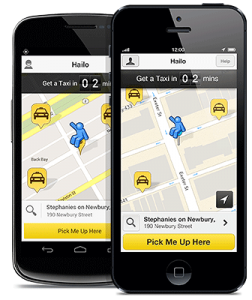 To celebrate Hailo's 1-year anniversary in Boston, the company is saying "thank you" to Bostonians in a few different ways:
Free Kickass Cupcake
Today, November 13, Hailo will be at the following locations, where you can get FREE Kickass Cupcakes when you show your Hailo app.
Brookline, Coolidge Corner Courtyard Marriott, 11AM-12:30PM
Cambridge, Tech Square, 1PM-3:15PM
Boston, Dewey Square, 3:30PM-5:30PM
Two Free Hailo rides
Take a ride to the Kickass Cupcakes truck, or anywhere you need to go today (11/13) and Thursday (11/14), with two $15 credits! Use codes HAILODAY1 and HAILODAY2 to take advantage. Some of Hailo's drivers will have a special surprise waiting for you in their cabs too (not sure what it is, but sounds fun!).
HAILO arrives in Brookline!
Today, Hailo has also announced the launch of Hailo in Brookline. Brookline taxi drivers are now available to come to you with just two taps of your smartphone.
London Taxi Cab in Boston
This week, there will be a special Hailo-wrapped London taxi cab rolling through Boston's streets. Share your pictures on Twitter with #HAILODAY and tag  @HailoBoston.
I might just have to take a Hailo home today or tomorrow – just because. You can download the Hailo app here. Enjoy!