Fall is in full force here in New England, and I've been trying to get outside and enjoy it while it lasts, especially on the weekends. I love this time of year, but it goes by way too fast! In September last year, I kept seeing a beautiful sunflower field pop up on my Instagram, so this year I decided to check it out and also pick up some fresh produce for the week at the farm it's part of. It was worth the hour-long drive – although I will admit that while the pics are pretty, IRL it was basically a giant sunflower field with people taking selfies everywhere! Definitely a great spot for a photo opp and a taste of fall.
I love floral patterns with jewel tones in them for fall, and I found exactly that in this dress. Long sleeved dresses are great transitional pieces because you can swap out your footwear from sandals to flats, then onto booties and tall boots as the temps drop. I'm very picky when it comes to flats, and the ones I'm wearing here have been my go-to since I got them last year (they're still available and on sale here!).
I'm heading out to San Francisco tomorrow to visit a friend and am looking forward to relaxing and enjoying weather in the high 60s for a long weekend. Colder weather is going to be here before we know it! For more fall looks and my travels, follow along on Instagram (@dailykatyblog), and let us know what your favorite transitional fall staples are in the comments below.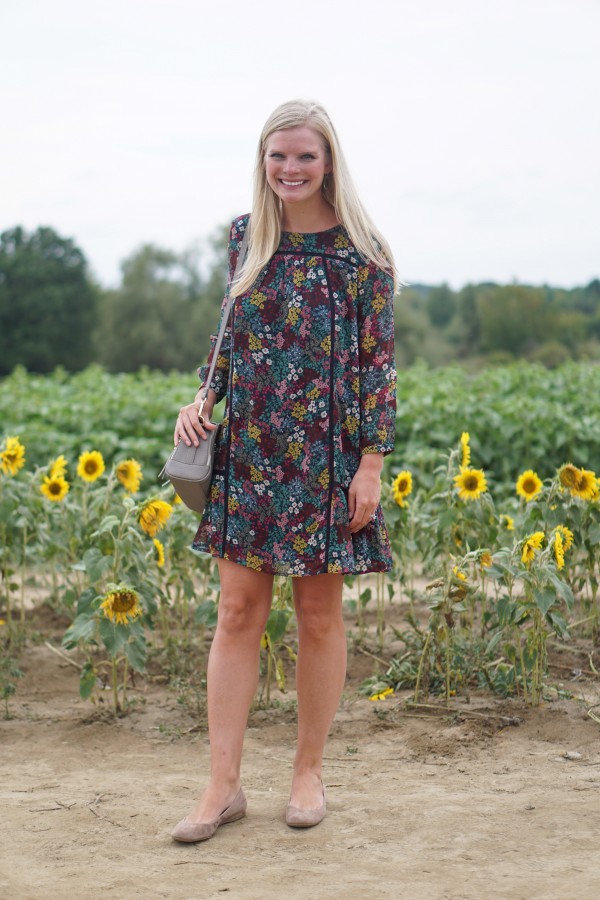 Shop the Look:
Dress (also here, on sale!) / Shoes (on sale)
Earrings (on sale) / Bag (also similar)