Every New Year, I find myself on the hunt for the perfect daily planner, specifically one that will keep me organized but is also fun and personal. I also love a good notebook, mainly because I am the queen of "to do" lists and Post-Its. Without them, I'd never get anything done.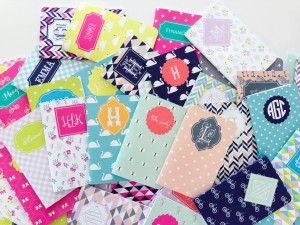 This brings me to May Designs, an awesome company that was started by Mica May, a logo designer that describes herself as a "notebook junkie," who began designing them for herself after she just couldn't find the perfect one. Her friends and clients loved what she came up with, started making requests, and May Designs was born.
There are lots of different types of May Books – everything from planners and notebooks to address books and wedding diaries. The first step to picking out a May Book is to decide on a pattern, which I think is the hardest part because there are so many great ones to choose from (chevrons, polka dots, ikats and more – all in fun, vibrant colors). Here are some of the patterns to choose from – and be sure to select which one you like best at the bottom of this post to enter the giveaway!
After you pick the cover design, you get to customize it even further with the background shape, typographic style, monogram color and monogram text. I liked how the selection tool gave recommendations for the best monogram colors based on the cover design I picked. And then the final step is to select the type of book, and again, there are lots of different options! Here are all of the types of May Books offered:
2014 Monthly Agenda: Months + Weeks (Jan to Dec)
2014 Monthly Agenda: Months + Dots (Jan to Dec)
Weekly Agenda: Non-dated Weeks (40 weeks only)
Address Book
Budget Journal
Meal Planner
Calorie + Exercise Journal
Kids Coloring Book
Kids Handwriting Book
Wedding Diary
Bump Diary
Baby Diary
Lines
Dot Grid
Graph
Blank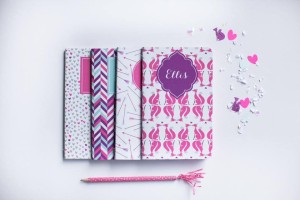 It was honestly so hard to pick out my first May Book because there are so many designs and types. I ultimately went with "Mermaid Orange" for the design, and then used my initials with the "Classic Monogram." For the inside, I opted for what is probably the most standard option, the 2014 Monthly Agenda with Months and Weeks, mainly because I wanted to use it as a planner for DailyKaty. As you'll see, this option has calendars for each month, then weekly spreads that you can use for planning out each specific day. Check it out below!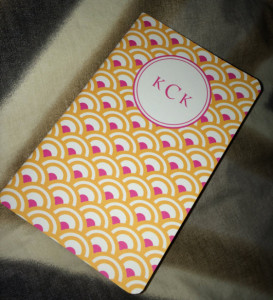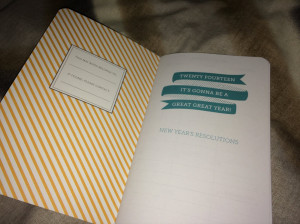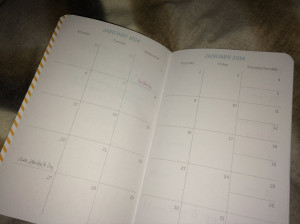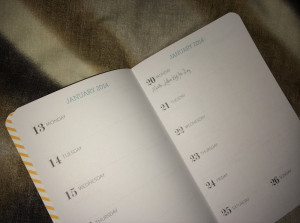 This week, May Designs launched a few limited edition patterns with Stella & Dot, which I'm loving. Too bad they weren't available when I picked mine out… might have to buy one now! Below is one of the Stella & Dot patterns: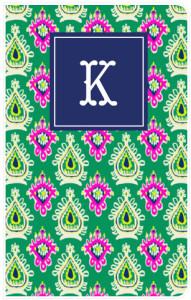 Each May Book is 5×8" in size and come standard with 80 pages, with some of the agendas having additional pages. They come with soft canvas covers and are all individually stitched down the spine for an eco-friendly binding solution. May Books range from $14-$22, depending on the type of book (prices start at $14 for a plain notebook, then add $5 for a monogram, and another $3 to customize the inside pages). You can check out May Designs on Facebook, Twitter, Pinterest and Instagram – and of course at MayDesigns.com.
If you love a good notebook or planner as much as I do, enter the giveaway below for a chance to win one for yourself! The giveaway is open now through February 17, 2014.
**While I was not compensated for this post, May Designs provided me with a free May Book for review, and will also be providing the giveaway prize. All opinions are my own.