I do have a full registry guide in the works, but also thought it would be helpful to look back at the past three months of baby Sofia's life and share the products we've used (and loved) most. Living in a city condo, we tried to keep it to a minimum, but quickly found that no matter what you do, these babies have a ton of stuff!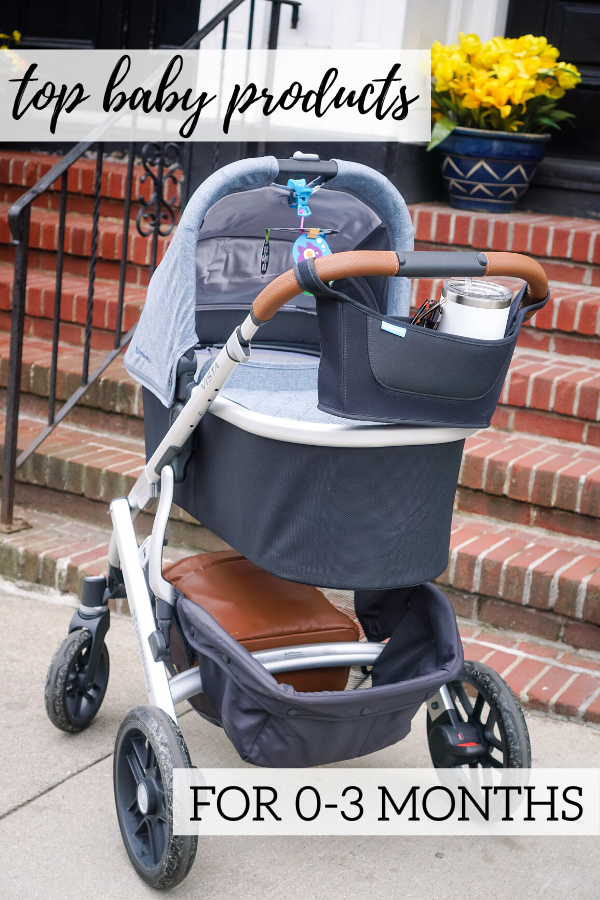 Full disclosure: this post ended up including way more than I thought, so I broke it out into categories – keep scrolling! And with that, here are my most use baby products for 0-3 months. I'd love to hear what your favorites are or were in the comments!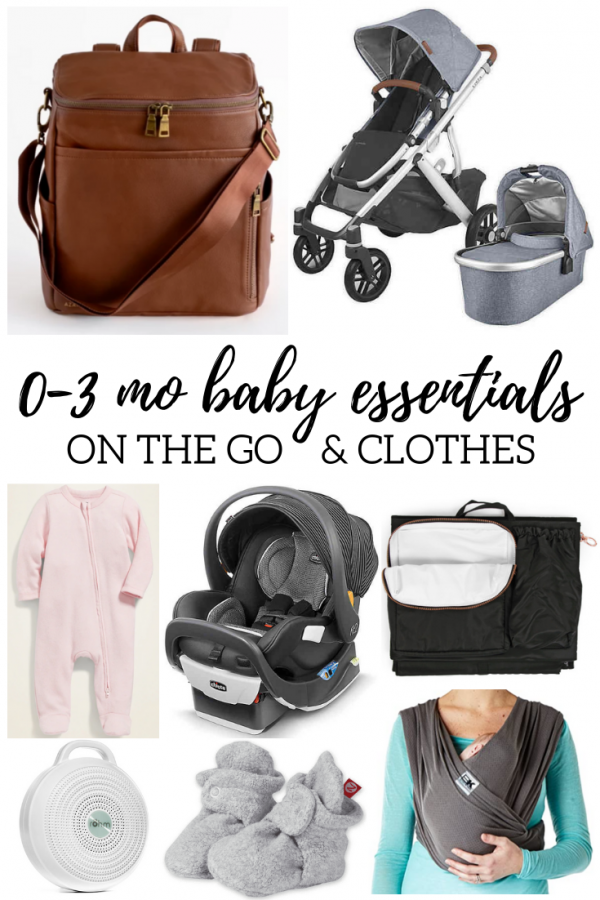 Shop the Post:
Azaria Diaper Bag / Stroller & Bassinet
Old Navy Pajamas / Car Seat / Bag Organizer
Sound Machine / Zutano Booties / Baby K'tan Wrap
ON THE GO:
Stroller – This stroller is everywhere in the city and for good reason – it's good for all the bumpy sidewalks, etc. Plus if you get the second seat and ride on stand you can put a second or even third child in it. Definitely worth the investment. Right now we use the stroller with our car seat clicked in as the seat via the adapter (easiest when we are already putting her in the car seat or even if we are going to a restaurant where we want her to be sitting more upright in the car seat) or with the bassinet the stroller comes with (mainly for longer walks). On walks, I like to attach this simple $10 mobile she loves to look at. We also use the stroller's bassinet in the house for naps upstairs (you can also buy this stand if you want it to be your primary bassinet – ours is just on the floor).
Car Seat – This car seat has two rear-facing stages for infant and toddler and we got an adapter so it clicks right into our stroller. Once we get to the second stage of the car seat, the brand recommends you leave it in the car because at that point she will be pretty heavy to lift in and out with the car seat and will be in our regular stroller seat anyway.
Portable White Noise Machine – This is one of those very random things that quickly became my top recommended product for new moms. It came highly recommended by several moms and is truly a lifesaver for getting our little one calm in the car or asleep during naps, especially while on the go. It's so good that I considered getting the bigger version even though she does well with the Hatch Baby Rest Sound Machine at night.
Azaria Backpack Diaper Bag – Most of my friends have this backpack diaper bag (or this very similar brand, Fawn Design, which makes a smaller size too) so this was an easy pick for me. I like that it's a neutral leathery material and it seems to be the perfect size for exactly what I need everyday, with mesh pockets around a larger area on the inside and other pockets on the outside. Inside the diaper bag I keep all of the essentials, including a compact travel changing pad/set (mine is sold out but options here & here). I can't speak to the quality of these, but I have seen knock-off versions of these bags for under $40 on Amazon here. I did also get an MZ Wallace bag with the ToteSavvy insert as a bigger diaper bag or when I need a second bag. I plan to also use this bag when I go back to work as it'll fit my laptop, pump, etc. easily.
Baby K'tan Baby Wrap Carrier – Even though we have a regular baby carrier that can accommodate a newborn, my sister-in-law suggested I try out her Baby K'tan for the early stages, especially around the house. I was at first intimidated by the thought of putting the baby in a carrier by myself or even having her attached to me, but there were days when this was a lifesaver because I at least had my hands free when she wanted to be held. This is so easy to use – no buckles or anything – and has a few different modes and videos to show you what to do.
CLOTHES & ACCESSORIES:
Zutano Booties – Ditch the socks and get these! We really only put socks on baby in her sleep sack right now and have these in a few different colors in fleece. I bought the cotton version in the next size up for spring and will probably be purchasing a few more colors too! They have two buttons to make them stay on perfectly (other brands have velcro which in my opinion doesn't work as well).
Pajamas – I'll do a full post with our go-to basics for baby clothes, but for the first months at home, baby girl has done a lot of PJ wearing. We love these super soft Old Navy PJs and the Hanna Andersson baby footie PJs most. We also put these plain white short-sleeved onesies under most things like PJs, sweatshirts, her sleep sack, etc. A note on PJs… buy a few you love but don't go overboard because everyone seems to gift pajamas in small sizes once the baby arrives!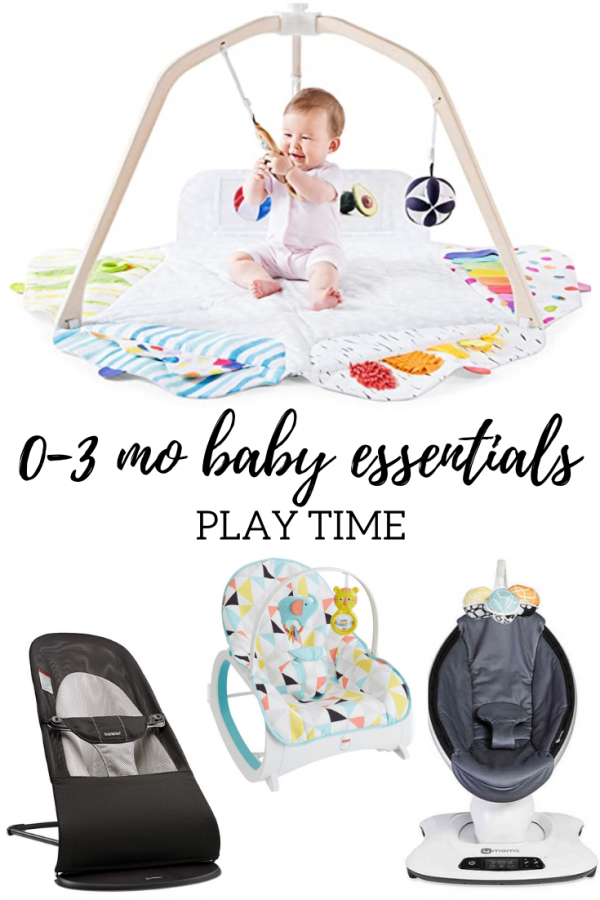 Shop the Post:
Lovevery Play Mat / Baby Bjorn Bouncer
Fisher Price Infant-to-Toddler Rocker / 4Moms Mamaroo
PLAY TIME:
The Play Gym by Lovevery – This play gym will grow with your baby and also looks nice in your living room. It comes with a whole booklet of developmental activities to do with it, divided up by age. In the early months, it's used as a regular play mat with toys above and also for tummy time and looking at the section with black and white cards. Sofia loves even just laying on her back and looking up at the toys.
4Moms Mamaroo – I wasn't convinced we needed this but ultimately am so happy we had it. I've heard babies either love it or hate it and ours uses it every day. We use it instead of a swing, as it has multiple modes to rock your baby and play sounds/music. Extra bonus: it looks much nicer in your living room than most swings. Sofia loves to look up at the black and white balls above her while she's rocking. It's also very easy to wash.
Fisher Price Infant-to-Toddler Rocker – There are a million different versions of this vibrating seat, but we have this one. I didn't think we really needed it if she liked the Baby Bjorn bouncer but found that she fit better in this one earlier and liked the vibration. It's also a great second seat to have around because it's so affordable – my sister-in-law had used her on the beach last summer. We had considered getting this even simpler version to send to the hotel when we were planning on going to Florida with a 3-month-old.
Baby Bjorn Bouncer – We started using this more around 2 months, though I realized after the fact that we probably would have liked it reclined all the way earlier. We got the toy bar to attach to it, which she loves to play with while she kicks and bounces. This is on the pricier side, but it'll last until age 2 and looks nice in your living room.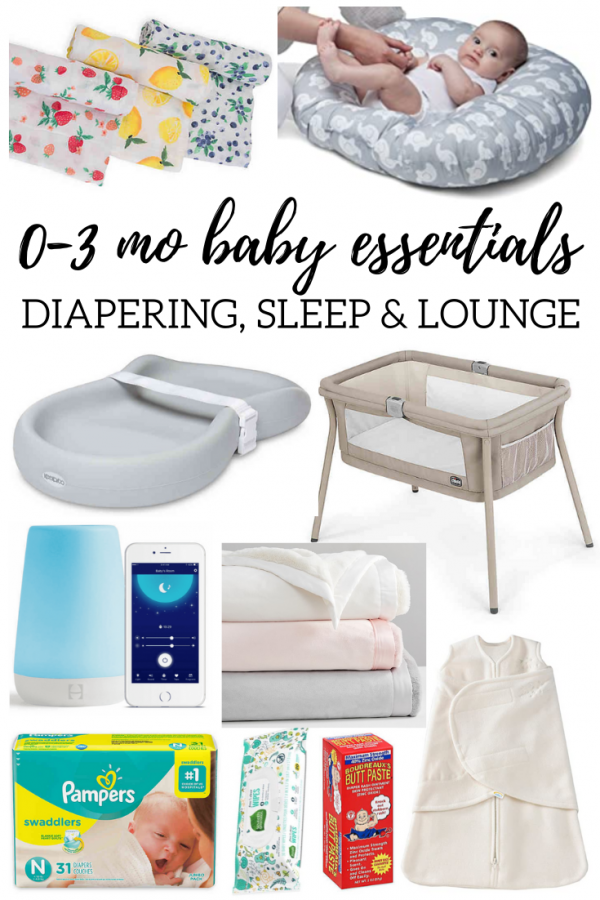 Shop the Post:
Little Unicorn Swaddles / Boppy Lounger
Keekaroo Changing Pad / Bassinet
Hatch Baby Rest Sound Machine / PB Blankets
Pampers Swaddlers Diapers / Seventh Generation Wipes
Bodreaux's Butt Paste / Halo SleepSack Swaddle
SLEEP & LOUNGE:
Bassinet – Given that babies only sleep in bassinets for a short period of time, we opted for one that was simple and also easy to transport/carry around the condo and didn't take up a ton of room (#cityliving). This one has been perfect – and you can also get it with a canopy/toys here and now in an even smaller version here. While we haven't actually taken it anywhere, we easily could have (I have a friend who used hers all over her house) because the legs pop right off and it folds right in half into an easy-to-transport bag. We used these sheets and waterproof pad, but they also make these sheets just for this bassinet (I couldn't find any when we got ours).
Halo SleepSack Swaddle – We first tried these sleep sacks with a built-in velcro swaddle because they were fleece (baby was born in winter and our condo tends to be chilly) and luckily they worked so we never tried anything else. We used both the micro-fleece and plushy dot velboa versions in the newborn size until she was about 2 months old before sizing up to small (newborn sizing says it goes to 3 months but the height limit is 23 inches which she reached first). Our pediatrician recommended she sleep in a t-shirt onesie underneath if we were using the fleece sleep sack or a long-sleeve t-shirt onesie with the cotton version. We also put socks on her. When she gets bigger, we'll transition her out of the swaddle into the regular sleep sack.
Blankets & Swaddles – Having a newborn in the winter means a blanket is always necessary when going out and about in the stroller or car seat. Our favorites are these from Restoration Hardware Baby and Pottery Barn Kids, both of which can be personalized with a name or monogram. We loved the hospital swaddles for the first days home and then only swaddled her at night with the Halo SleepSack Swaddle. But I still love swaddles for other things like using them as a lightweight blanket or for tummy time. Copper Pearl (available on Amazon) makes the softest cotton swaddles and I love Little Unicorn for the muslin type. This personalized name swaddle I got on Etsy is similar to Copper Pearl and makes a great gift and/or photo prop.
Boppy Lounger & SnuggleMe Organic Lounger – We've been using the Boppy Newborn Lounger since day one. It's just a nicely designed pillow with an indent where baby's bum goes that you can use for newborns up to 16 lbs or when they start to roll over. It's so convenient for when you just need to put them down somewhere. My mother-in-law also sent us this activity gym that we sometimes put over it now that she's a little older. They also come in lots of prints but it doesn't really matter if you're getting a cover, which is super helpful for spit up situations – I have this pretty floral and another gender neutral gray. As another place to put baby down, we have the SnuggleMe Organic, but keep in mind people used to use these and DockATots to sleep in but it's not recommended as safe for unsupervised naps.
Hatch Baby Rest Sound Machine – We use this sound machine at night and she's been a good overnight sleeper from early on, so no complaints here. Since we're in our room, we started off with the ocean sound and no night light, but once we move her into her crib it may be time to switch it to the white noise. You control everything with your phone and I like that you can store specific settings so you don't have to remember over and over again.
DIAPERING:
Seventh Generation Wipes & Pampers Swaddlers Diapers – The obvious one… of course diapers and wipes were used the most. We've been lucky because any brand seems to work for us (we got a lot to try at our shower), but decided Seventh Generation wipes and Pampers Swaddlers diapers are our picks. The wipes are thick and the diapers are absorbent and have a yellow/blue line that shows if she's peed or not.
Bodreaux's Butt Paste – On the diapering note, Butt Paste is one of those things that sounds ridiculous and then you become a parent and realize how genius it is. No idea how it does what it does, but this magically makes diaper rashes disappear. You can also get a bigger tub here.
Keekaroo Changing Pad – A not-so-exciting baby product but something that came highly recommended by friends and that we use often. Skip the pretty changing pads with covers and get this to save yourself the chaotic laundry that comes with blowouts and spit ups on the changing station. With this one you just wipe it off. Since we have two floors, we use the changing station on our playard as a second area to change her (I also store extra diapers and wipes inside it).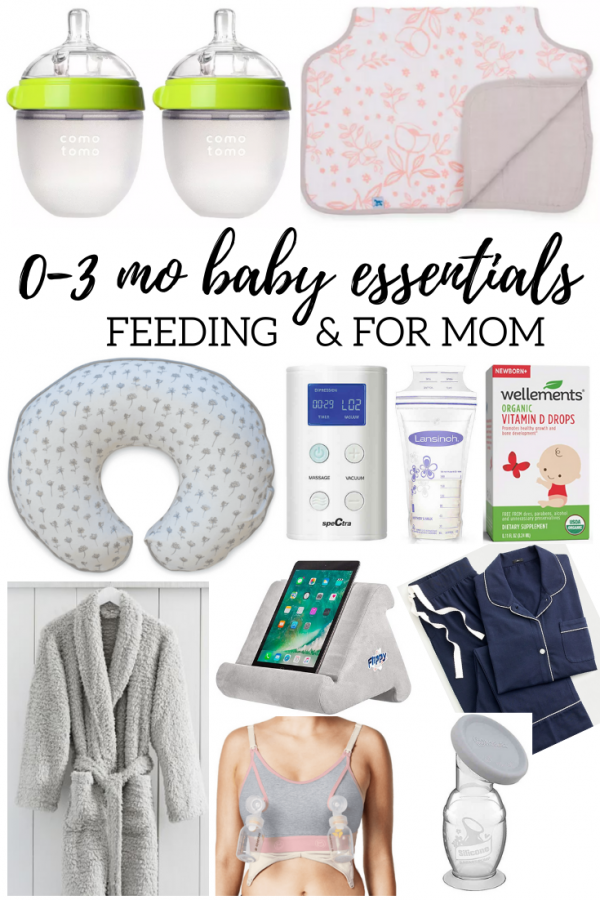 Shop the Post:
Comotomo Bottles / Little Unicorn Burp Cloth
Boppy Pillow & Cover / Spectra Breast Pump
Lansinoh Breast Milk Bags / Wellements Vitamin D Drops
Pottery Barn Robe / Flippy / J.Crew PJs
Bravado Breast Pump Bra / Haaka
FEEDING:
Boppy Pillow – This has been a staple since day 1. The pillow allows you to lay your baby in a comfortable position for breastfeeding. I have this nice looking/neutral floral cover and this water-resistant cover under it. Once they're older you can also use the pillow for tummy time and propping them up to sit.
Burp Cloths – So necessary, have them everywhere. Get these big ones or just a set of cloth diapers, both are nice and cheap. But also get a few nicer ones like this big one from Little Unicorn (also here & here) or the Aden and Anais Burpy Bibs that have a button so they can also turn into a full bib (or cape) for your kid.
Spectra 9 Plus Pump, Bravado Pumping Bra & Lansinoh Storage Bags – I got my pump for free through insurance and opted for the Spectra 9 Plus because it's small, chargeable and this brand is medical grade so it works well. Having this Bravado pumping bra that clips right onto my regular nursing bras and tanks (Amazon and H&M) was a game changer as it made the process way easier and more hands-free. I pump once a day in the mornings and either my husband gives it as a bottle before bed or it's frozen for when I go back to work in these Lansinoh Storage bags. I also researched and found the perfect size bin (shallow large) to store the bags in the freezer here.
Comotomo Bottles – Bottles are tricky because you never know which ones your baby will like. This was the second brand we tried which came highly recommended by several people. They are so easy to clean and are designed in a way that makes going between breastfeeding and bottle feeding easier than other bottles.
Haaka – Watch a video tutorial on how to use this (I was intimidated by it at first) and you'll be happy to have it if you are breastfeeding. It's a silicone manual pump that attaches to the side you aren't feeding on to capture milk to later freeze or give in a bottle.
Vitamin D Drops – If you're breastfeeding, your pediatrician will recommend that you give your baby a drop of Vitamin D daily. We've been using these from Wellements – they're organic and free from dyes, parabens and preservatives.
FOR MOM:
Flippy – Probably the least necessary item on this list, but I love this thing that props up my phone or Kindle while I'm feeding the baby in her daybed (we have that instead of a glider or rocker). I would imagine it would be just as convenient on an end table next to a glider.
Bathrobe & Pajamas – I lived in a few pairs of the J.Crew cotton pajamas (also here & here at J.Crew Factory) because they're not only comfortable but also button up so easy for feeding baby in. In the early weeks I was also keeping my super cozy bathrobe by my bed for when I got up in the middle at night… and then I'd end up using it throughout the day too.