This recipe for stuffed shells, which is adapted from a Cooking Light recipe, is much healthier than the traditional Italian version, but still has great flavor. I prepped this meal on Sunday night when I had some time on my hands, and then put it in the oven for about 25 minutes when we got home from work on Monday, which made for a stress-free, post-work dinner. Instead of ricotta, these shells are filled with artichoke hearts, spinach, cream cheese and feta, and the sauce is simple yet delicious, with a spiciness that comes from pepperoncinis. One thing to note is that the texture of the shell filling is pretty different than the Italian, ricotta-filled version, which surprised my husband.
Check out the full recipe and photos below!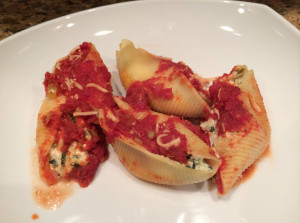 Ingredients:
1 teaspoon dried oregano
1/4 cup chopped pepperoncini peppers
28 ounces crushed tomatoes
8 ounces no-salt-added tomato sauce
1 cup (4 oz) shredded mozzarella cheese, divided (you can substitute this for provolone if you prefer)
1 cup (4 oz) crumbled reduced-fat feta cheese
1/2 cup (4 oz) fat-free cream cheese, softened
1/4 teaspoon ground black pepper
9 ounces frozen artichoke hearts, thawed and chopped
5 ounces frozen chopped spinach, thawed, drained and squeezed dry
2 garlic cloves, minced
20 (or so) cooked jumbo shell pasta (about 8 ounces uncooked pasta)
cooking spray
Directions:
Preheat oven to 375° (skip this step if you are prepping this for another day)
Combine first 4 ingredients in a medium saucepan; place over medium heat, cook 12 minutes or until slightly thick, stirring occasionally; remove from heat and set aside
Combine 1/2 cup mozzarella and the next 6 ingredients (through garlic) in a medium bowl
Spoon or pipe about 1 1/2 tablespoons into each pasta shell (tip: use a large ziplock bag and cut a corner in the side for easy piping)
Place stuffed shells in a 13 x 9-inch baking dish coated with cooking spray
Spoon tomato mixture over shells; sprinkle with remaining 1/2 cup provolone
Bake at 375° for 25 minutes or until thoroughly heated and cheese melts.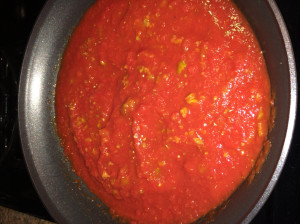 The sauce is so easy to make!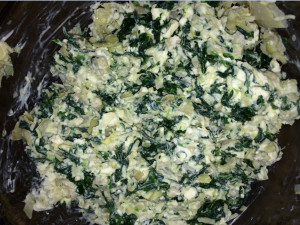 Combine ingredients together for the shell filling.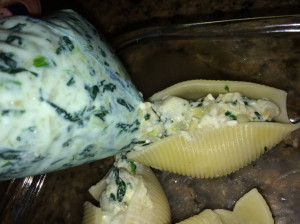 Cut the corner of a Ziploc bag to help pipe the filling into the shells.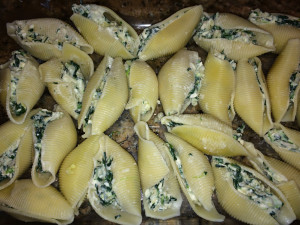 Here are the shells all filled. Not the prettiest, but pretty good for my first time!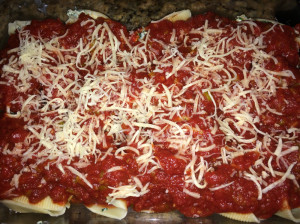 Pour the sauce over the shells and add mozzarella to the top.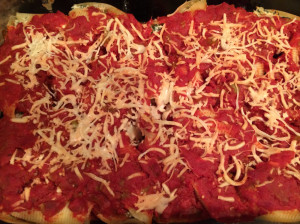 Take it out of the oven and enjoy! Note that the cheese on top doesn't appear fully melted because I chose to use reduced-fat shredded mozzarella. It's one of the downfalls to using regular cheese.