This week, my husband and I wanted to try out one of our wedding gifts, the Emile Henry Pizza Stone ($50, EmileHenryUSA.com). We quickly discovered that it's pretty awesome because it can make brick-oven style pizzas in both the oven and on the grill. It heats up quickly, cleans easily and makes it super easy to make whatever type of pizza you want.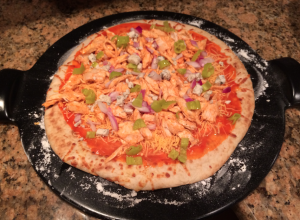 I love any kind of pizza, but I really love buffalo chicken pizza. We had a good amount of the ingredients for this already in our refrigerator, so it was quick and easy. Check out the recipe below! I didn't include specific measurements, mainly because we really didn't measure anything and went with what we thought seemed best at the time. The best thing about pizza making is you really can't go wrong!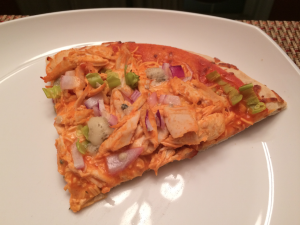 Ingredients:
1 Boboli Thin Pizza Crust (or any prepackaged pizza crust or flatbread)
Olive Oil
Flour
Cooked, shredded chicken breast (we do this using our slow cooker – put chicken in, cover with water,  cook on high for 4 hours and shred)
Frank's Hot Sauce
Fat-free ranch dressing (substitute this for blue cheese if you prefer)
Blue cheese crumbles
Peperoncinis, chopped
Red onions, chopped
Shredded cheese (any kind you like – we used monterey jack, cheddar and a few others combined)
Directions:
Preheat oven to 450 degrees
Lightly dust the pizza stone with flour, remove crust from packaging and brush with olive oil
Mix together hot sauce and ranch (more hot sauce than ranch) and spread over crust
Mix chicken in a bowl with hot sauce to ensure that it's completely covered; add to the pizza
Spread the remaining ingredients on top – peperoncinis, red onions, cheese, blue cheese crumbles and whatever else you like!
Bake in the oven for 8-10 minutes (or more if you like your pizza crust on the crispy side, which we do), until crust is golden brown
What are your favorite pizza toppings? Leave them below!