How many times have you bought a dress for a special occasion and worn it only once, retiring it to the back of the closet but not wanting to give it away? For me, that's happened far too many times. With all of the weddings we go to these days, I was thrilled when I discovered Rent the Runway a few years ago, as I can now rent designer dresses at affordable prices without breaking the bank or letting dresses pile up in my closet.
According to co-founders Jennifer Hyman and Jennifer Fleiss, who met at Harvard Business School, "Rent the Runway is a company with a mission – to democratize fashion and empower women to feel beautiful every day. We work directly with over 170 designers to provide access to rent dresses, accessories, and more for just a fraction of the price."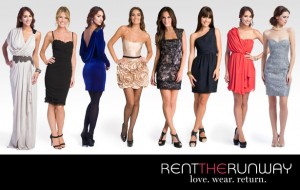 Here's how it works:
FIND THE DRESS: Search through Rent the Runway's large portfolio of dresses of all types, which are categorized in many ways to ensure you can easily search for specific designers, prices, styles, lengths, trends and occasions. New dresses are frequently added, and every so often I log onto the website to browse and add dresses to "My Hearts," or my favorites, for future reference.
RESERVE THE DRESS: Once you find a style you love for an upcoming occasion or event, go ahead and book the rental for either a 4-day or 8-day rental period (the 8-day rental period costs a bit more). Rent the Runway suggests having the rental arrive 1-2 days before your event, which is what I usually do. In addition to dresses, you can also rent handbags, jewelry, and even items like Spanx and Fashion Tape, all to perfect your look with one-stop shopping.
WEAR THE DRESS: All dress orders are guaranteed to arrive by 8 p.m. on your selected delivery date (though in my experience it's never been that late). Go ahead and enjoy your special occasion in your (basically) new dress! Don't like the dress or changed your mind? No problem. You can return it and only pay the shipping cost.
RETURN THE DRESS: Returning the dress the day after your day/night out is easy. All you have to do is slip the dress into the pre-paid envelope that's provided and bring it to the closest UPS drop. They take care of the dry cleaning!
REVIEW THE DRESS: I personally rely heavily on reviews of the dresses, and I know my friends do as well. Be sure to post a review after you've worn the dress so that other people can have a better sense of the fit, quality and style.
Even better, the company recently launched Rent the Runway PRO, which allows you to pay $29.95/year for free shipping, free insurance and a free birthday dress (valued at $50) for an entire year! That means you save $14.95 each order with insurance and shipping alone. I couldn't resist and signed up this week. What a deal!
A few more things a love about Rent the Runway:
Amazing customer service and fit experts to help select the best dress for you
Free second size offered with each order to encourage the best fit
$5 insurance covers any stains or tears, so you can wear the dresses worry-free
A Rent the Runway app is now available for iPhone, which offers even more great features
Plus-size dresses are also now offered
Pre-worn dresses can also be purchased at discounted prices
Sign up today at RentTheRunway.com and you'll get $25 off your first order! And check out a few of my favorite dress rentals below!