Today's post is one I've been wanting to share for a while, as it's all about my new skincare routine that has really made a positive impact on me. Ever since I started using skincare of any type, I've been all about convenience, especially at night, as I tend to get tired and lazy. I've tried out (and loved) many products over the years, but over time switched from one brand or product to another.
Enter Rodan + Fields, from the doctors behind Proactiv, and my redness and wrinkles are nearly gone and I don't even feel the need to wear tinted moisturizer or foundation anymore. The line was originally sold at department stores – and was the #1 skincare line at Nordstrom – until the founders decided to shift the distribution and marketing strategy to direct selling. Read on for my experience with this skincare line and enter the giveaways at the end!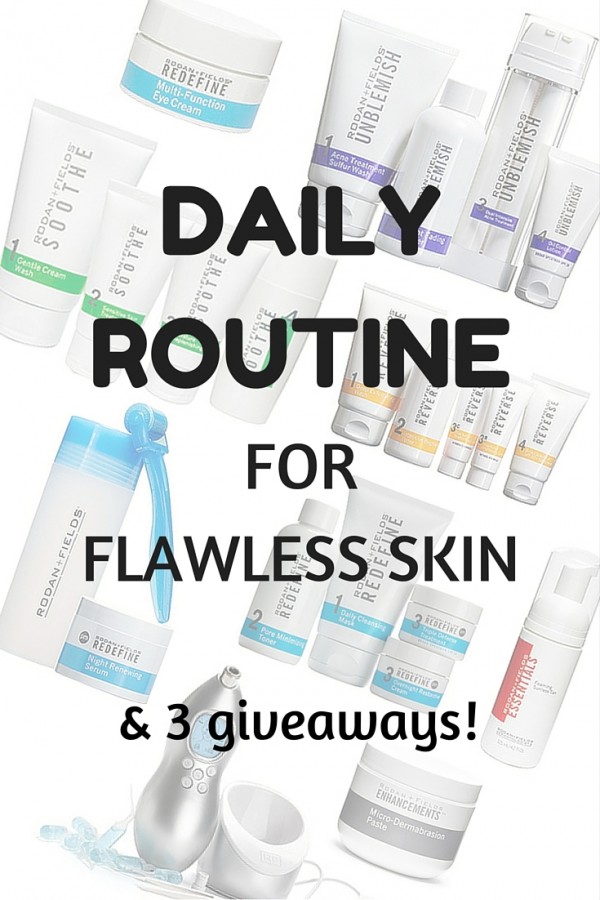 Rodan + Fields was intriguing to me for two reasons: the before/after pics of real results and the 60 day money back guarantee (even if the bottles are empty!). So I took the solution tool quiz, figured out which products were right for me (SOOTHE regiment for redness/sensitivity, along with the REDEFINE Overnight Restorative Cream and Multi-Function Eye Cream for wrinkles/anti-aging), and went ahead and placed an order. This may sound like a lengthy routine for 2x/day, but after I got used to it, the step-by-step system really didn't bother me.

Trying out Rodan + Fields was a bit of an experiment for me, as I had never documented how products worked with before/after pics. I also stopped using other skincare products to truly see what the R+F results were. Honestly, I was not expecting to be as impressed as I was. After 1.5 weeks, my before/after pic clearly showed reduced redness (one of my friends said it looked like "night and day"!). I also quickly noticed the lines on my forehead and around my eyes become much less noticeable.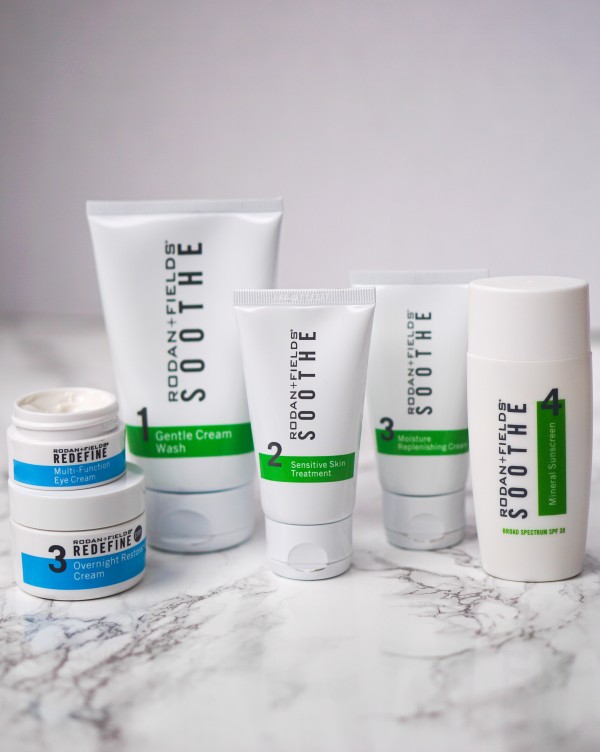 One of the things I love most about Rodan + Fields is that it's not a one-size-fits-all product line. There are four different regimens – SOOTHE (redness/sensitivity), REDEFINE (wrinkles, firmness, anti-aging), REVERSE (brown spots, dullness, discoloration) and UNBLEMISH (acne/post-acne marks) – and you can use combinations to address more than one skin concern. All you have to do is take a quick quiz via the solution tool to reveal which regimen(s) are best for you. From there, you can add on things like the REDEFINE Macro Exfoliator, Acute Care for Expression Lines or AMP MD Roller.

Becoming a R+F consultant was also not something I saw myself doing, but once I had such a great experience with the products myself and learned about the promotions going on for new consultants, I was sold. I saw one of my high school friends making enough income to stay home with her kids a few more days a week and I realized that even though I don't consider myself a sales person, I could stand behind and spread the word about quality products. Plus it doesn't hurt to get the products for myself as discounted as possible! If this is of interest to you, comment or email me at katyc.rodanandfields@gmail.com and I can give you more info. Right now, you can earn double your initial investment back. And much like blogging, there's a great community to connect with via Facebook, events, etc.
Note: As a blogger, I want to make sure that I'm sharing the latest and greatest in the skincare world with you, so don't worry, I won't be posting about Rodan + Fields every week! I'm always looking forward to testing out new products and will continue to do so, adding them to my skincare routine here and there where it makes sense. Plus I know we are all looking for products for different uses, at different price points, etc.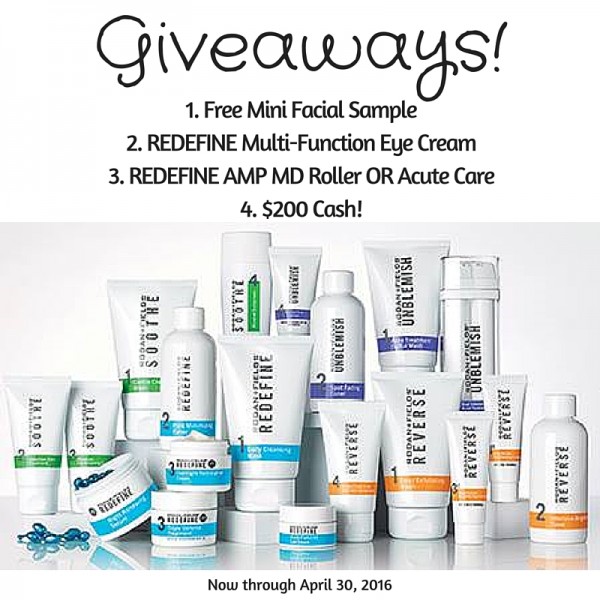 Giveaway! Like I said, I wasn't hooked on these products until I tried them myself, so I wanted to give me readers the chance to win Rodan + Fields' popular REDEFINE Multi-Function Eye Cream ($60 value), which sells out on the reg. AND as one of the entries, you can fill out a quick survey and I'll send you a FREE mini facial sample (note: if you opt into this, I'll follow up via email for some feedback). Giveaway open to U.S. residents only from now until April 30, 2016 and free mini facial samples available while supplies last.
Bonus Giveaway! Here's where it gets even better. For anyone who makes a purchase of $100+ through my Rodan + Fields site and signs up as a preferred customer will be entered to win your choice of the REDEFINE AMP MD System ($200 value) or Acute Care for Expression Lines ($210 value) on me! Being a preferred customer will also get you 10% off and free shipping from there on out. Find out which regimen is for you with the solution tool (quick survey). Note: the 60 day money back guarantee will not apply on this giveaway item. Giveaway open to U.S. residents only from now until May 31, 2016.
Bonus Offer for New Consultants! This is for those of you who want to go all in and become my business partner as a side- or even full-time gig! Sign on as a consultant here with the $395, $695 or $995 starter kit and I'll personally give you $200 cash back after 60 days. Rodan + Fields also has a promotion going on right now where you can get double your initial investment back. Email me at katyc.rodanandfields@gmail.com for more details on this offer and to redeem the offer once you're signed on. Happy to answer any and all questions!
**This post is not in any way sponsored, but since you can only purchase these products through a consultant, the links will take you to my page, where I make sales commissions.**