Wedding is season is in full swing right now for me – and by that I mean this weekend will be the fourth I'm going to in six weekends! While that's left us with little free time on the weekends, I love any excuse to get dressed up and celebrate with friends and family. Usually, I either use Rent the Runway or buy dresses for specific events, but this year I bought a few different dresses at the beginning of the season that I knew I'd wear more than once and dressed them up for weddings.
I went with this yellow floral dress for a Labor Day Weekend wedding at a barn near the ocean for my husband's cousin's wedding. When I first spotted this dress online, I knew I had to have it. I typically gravitate toward a-line dresses that are tight at the waist but then go out from there to give room to breathe (and eat!), but for some reason this one was an exception because even though it was flowy, it still had enough shape to it. Plus it was fun to dance around in!
Since I wore this dress for a wedding, I dressed it up with cognac suede lace up block heels (similar here) and a nude bag. More recently, I put a jean jacket on top of it and went with flats. And if you love the yellow floral print but not this particular dress, you're in luck, because it also comes in a few different styles (scroll down to shop those – they're all on sale!).
I know fall is technically here, but we're just starting to feel it, so I know many of you are still enjoying the summer heat! Shop this look using the links below, whether you have weddings coming up, are heading on vacation or want to save it for next spring or summer.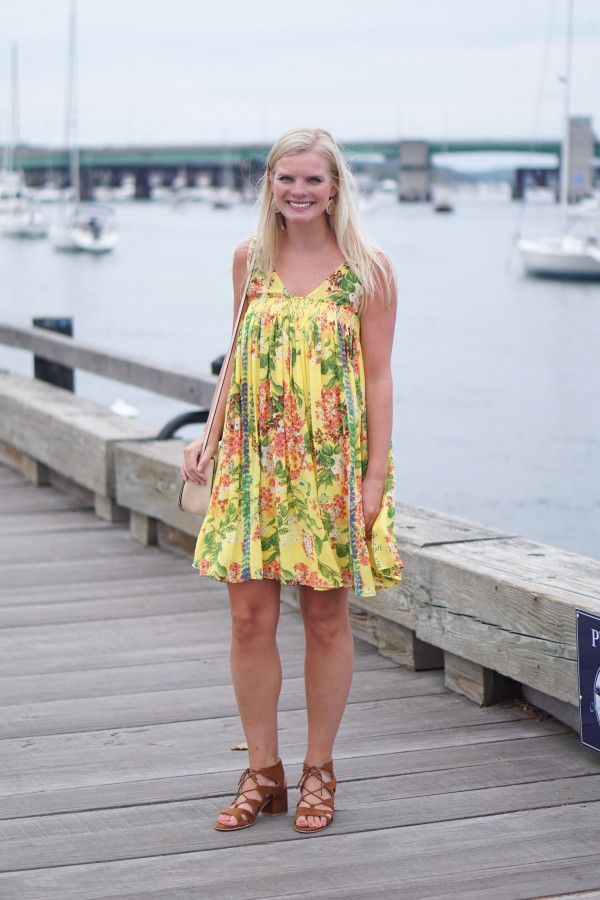 Shop the Look:
Dress (more sizes here) / Similar Sandals
Similar Bag / Similar Earrings