I fully realize a 3-month-old baby has no idea what Easter is, but she still needs an Easter basket! I have such good memories of the Easter basket hunts my mom would put together for me every year (I was an only child for many years!), where each plastic egg had a clue to the next one and after a very long winding path I'd get to my hidden basket.
While Sofia won't be hunting for eggs or baskets, I wanted to start off the tradition of Easter right with a proper Basket, made easy with easy, affordable Easter gifts on Amazon – perfect for last-minute Prime shopping.
For babies – especially those like our baby who just started playing with toys and wants to put everything in her mouth – this carrot teether is highly rated and this bunny toy is a fun version of her other favorite toy, the Winkel. You can get board books like Peter Rabbit for under $5 and my friend said her daughter loves these shaker musical eggs still from last year. Top it off with a stuffed animal or cute PJs and you're good to go with a basket full of Easter gifts on Amazon!
The only thing not from Amazon is the basket itself, as I wanted to get her a Pottery Barn Kids Easter basket with a monogrammed liner that we'll use every year. They are on sale right now – grab yours now! I got the small white basket with the pink gingham liner and hot pink name stitching. Also love these seersucker options.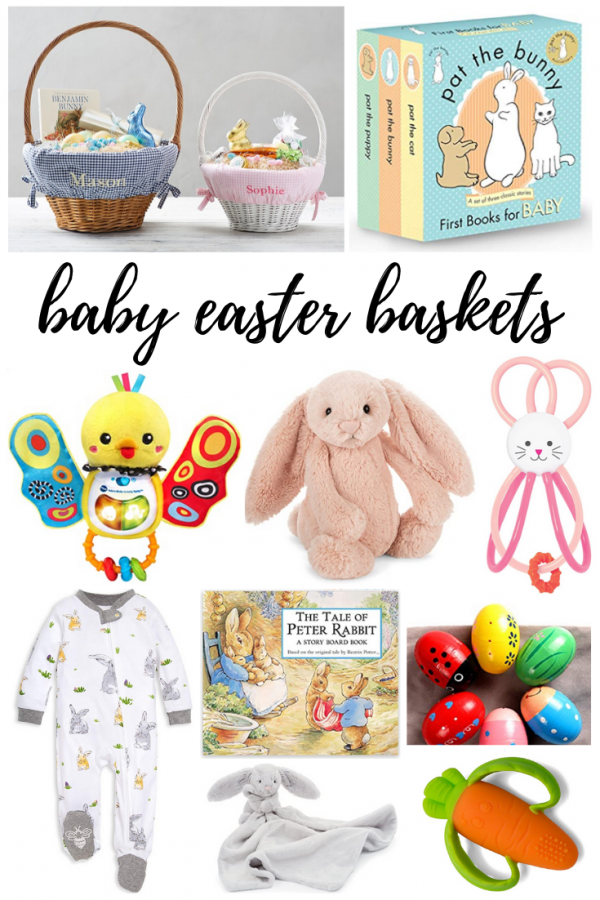 Shop the Gifts
Easter Basket & Liner (more here) / Pat the Bunny Set
Chick Toy / Pink Bunny (& other colors) / Bunny Toy
Bunny PJs / Peter Rabbit Book / Musical Eggs
Bunny Lovie (& this plush rattle) / Carrot Teether