This summer has been SO busy with weddings, travel, birthdays, you name it. But my absolute favorite thing to do is head to the beach, which is exactly what my husband, puppy and I did this past weekend to celebrate my husband's 30th birthday. We took the 90-minute ferry from Boston to Provincetown, Cape Cod and had a nice weekend with great weather, food and lots of relaxation.
Today, I'm sharing my beach bag "essentials" that I brought along with me this weekend – check them out below and pick some up for yourself for your end-of-summer beach days and Labor Day Weekend celebrations! If you're lucky enough to live somewhere that you can enjoy the beach beyond actual summer months, I envy you. 🙂
1. Cinda B Beach Bag II
The perfect beach bag is hard to come by. You need one that is big enough to fit all essentials – towels, books, sunglasses, sunscreen, etc. – but you also need it to have compartments so everything doesn't get lost in the bag. And then it's just as important to have a bag that's made of the right material to withstand sand and water at the beach. That's where cinda b comes in. Cinda b's Beach Bag II is but stylish and practical.
The Beach Bag II has so much room, along with six large exterior pockets (perfect for cell phones, snacks and books) and a zippered pocket inside (great for things like keys and money). I picked the beach-inspired Neptune pattern, but there are lots of other great ones to choose from here. The best thing about the fabric on cinda b bags is that they're all water and stain resistant, "outdoors friendly," durable and machine washable.
You can purchase cinda b's Beach Bag II on cindab.com for $129. To learn more about cinda b, follow the brand on Facebook, Twitter, Instagram and Pinterest.
2. Coola Suncare
Wearing sunscreen has never been my favorite thing, but I know it's so important so I suck it up and use it anyway. I recently tried out a few products from Coola Suncare and I can honestly say that I was totally OK with wearing them! The Sport SPF 30 Citrus Mimosa Sunscreen Spray and Face SPF 30 Cucumber Moisturizer will definitely be regulars in my beach bag from here on out. They smell so good and my skin feels like it can breathe while still getting the sun protection I need. The continuous spray goes on nice and clear, is made with 97% organic ingredients like cucumber, algae and strawberry extracts and is water resistant. The face moisturizer is super sheer, hypoallergenic and the cucumber scent actually feels refreshing. Both help fight aging with the antioxidants they're infused with.
You can purchase the spray here ($32) and the face lotion here ($32). And to learn more about Coola Suncare, visit CoolaSuncare.com and follow the brand on Facebook, Twitter, Instagram and Pinterest.
3. Hayden Reis Wristlet
When I have a big bag, I find myself putting smaller wristlets or bags inside of it to help keep me organized. That's why I love this Teal & Blue Stripe Wristlet from Hayden Reis. It's water resistant and is the perfect place to store miscellaneous items you don't want to get wet or sandy at the beach.
In addition to the Wristlets, Hayden Reis offers lots of fun, bright products that are perfect for both the beach and everyday use. To buy one of the Wristlets ($32 each), click here, and to shop other products and stay up on the latest from Hayden Reis, visit haydenreis.com and follow the brand on Facebook, Twitter, Instagram and Pinterest.
4. Mi Ola Bikini
Earlier this year, I was searching for a simple bikini with a perfect fit – and I found that in a swimwear brand I hadn't previously heard of, Mi Ola. The brand's founder, Helena, traded her NYC, high-fashion lifestyle for a laid back, Costa Rica surf life. According to Helena, as a surfer, she had a hard time finding "well-made, chic, sexy bikinis that stayed on," which led to her launching Mi Ola. In addition to providing great fit and functionality, these bikinis are even made with fabric that is UPF 50+ to protect you from the sun – and it doesn't fade or stretch out after lots of use.
I tried out the Ring Back Top and Ring Bottom, both in Fuchsia, and it's already become one of my favorite bikinis for so many reasons. The shape of the top gives lots of support without any crazy padding and is very flattering. The bottoms have a special gripper elastic on the inside that ensure that it stays put, whether you're surfing or jumping into the water. And while sometimes rings on bikini bottoms can be a bit uncomfortable, these ones are positions on the sides and are even molded to fit your curves. These are brazilian bottoms with ruching is of course very flattering as well.
To buy the bikini shown in this post, find the top here ($95) and bottom here ($85) on mi-ola.com. You can also follow the brand on Facebook, Twitter, Instagram and Pinterest.
5. Turkish Towel
I've been on the hunt for a Turkish towel all summer and finally got one. These towels are more like lightweight blankets and I think they're perfect for the beach. They don't take up much room in your beach bag and are so soft (they get even softer the more you wash them). I found this Turkish towel on Amazon here ($21.45), but you can also get them from stores like Serena and Lily, Bed Bath & Beyond, and Gilt.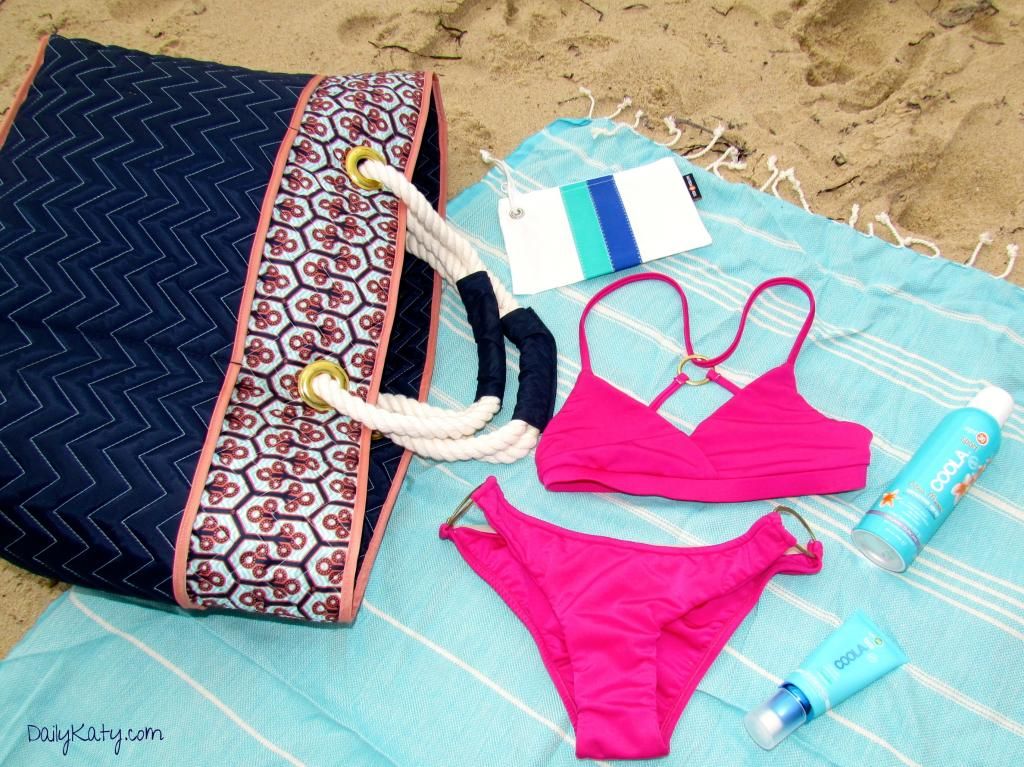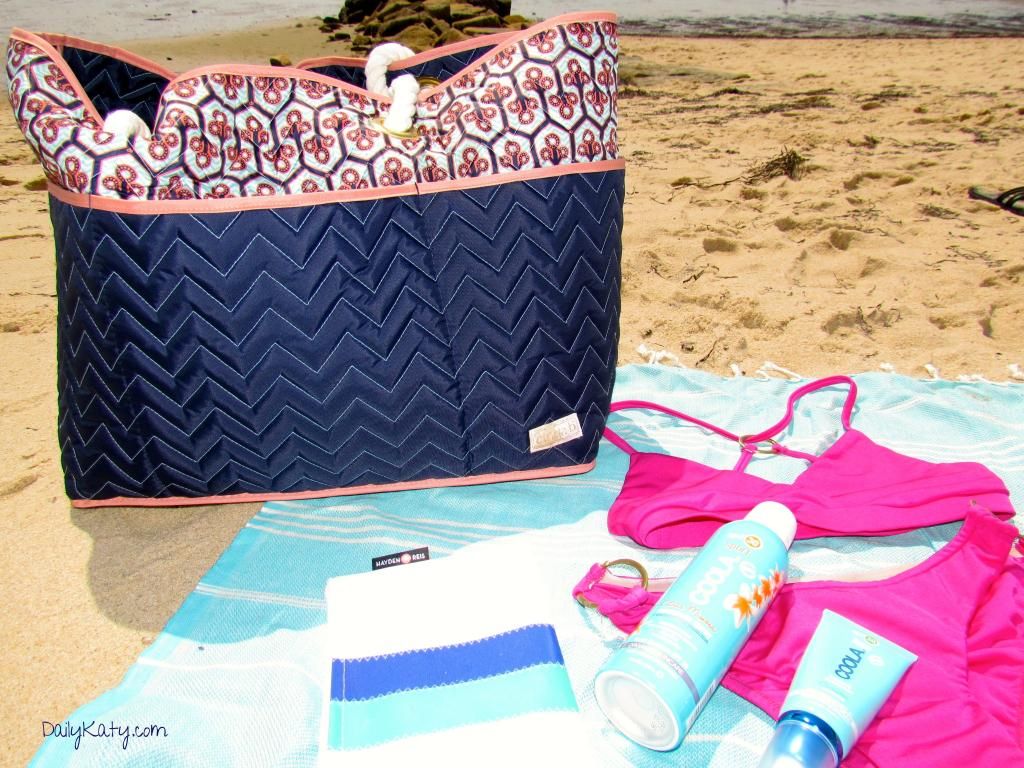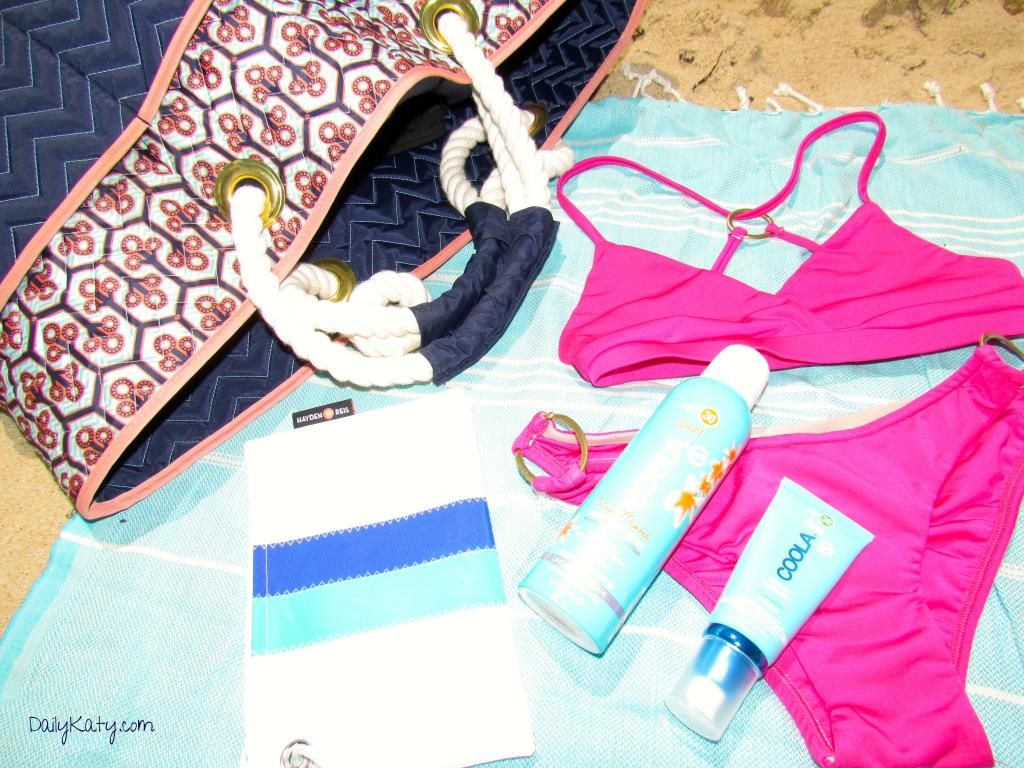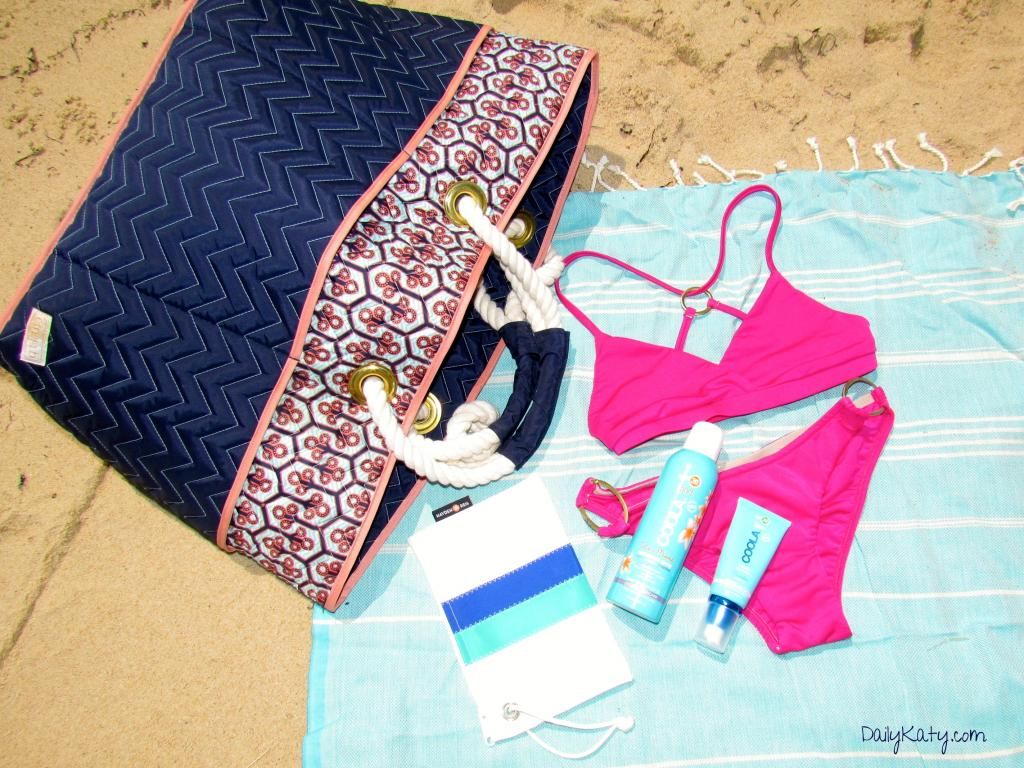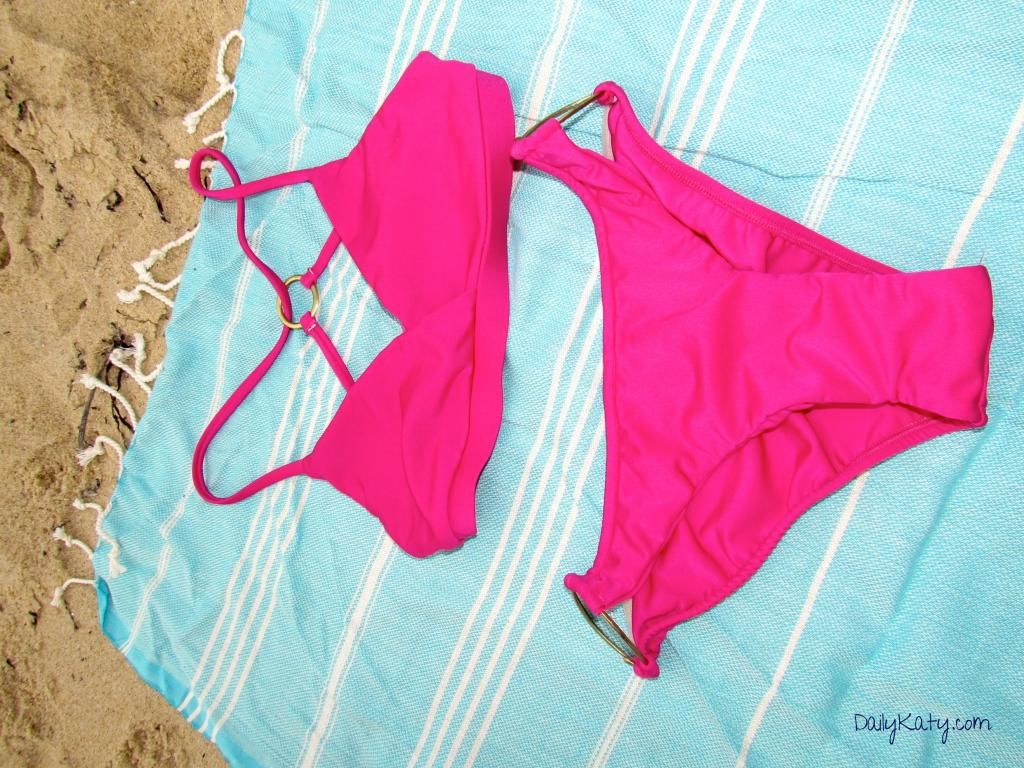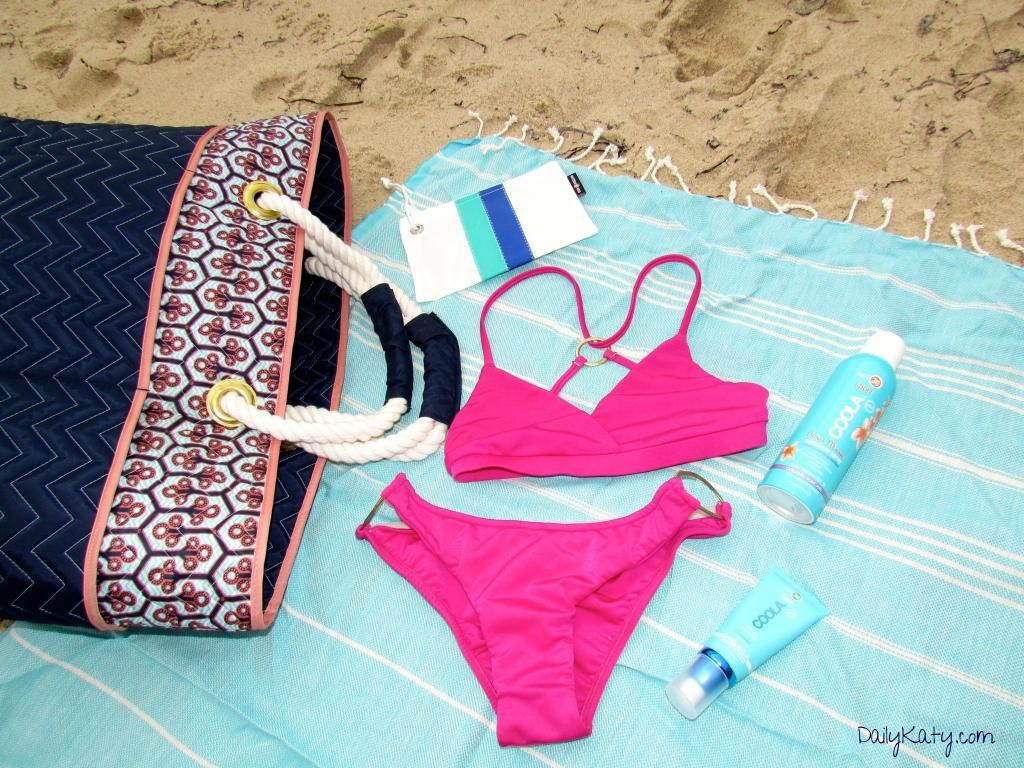 What are your beach bag essentials? Let us know in the comments below!
**While I was provided product samples for review in this post, all opinions are 100% my own.