I've always loved reading, but for some reason since graduating college I became a magazine girl. I subscribe to basically every magazine on the planet and read them front-to-back, tearing out or bookmarking pages I want to save for later, like recipes or good shopping finds. With print magazines closing down more and more, my mag supply has dwindled, and earlier this year I let a few of my remaining subscriptions expire (aside from Us Weekly and People StyleWatch – need my celeb gossip and style finds!).
And that brings me to my new book review series. I read a couple books on a vacation back in April and remembered my love for reading. So from there, I've been mainly reading books, with magazines scattered here and there on my commutes or on vacation. In addition to my work book club and friends, I've been getting great recommendations from reading other bloggers' book reviews, so I decided to start doing my own to help other people find suggestions.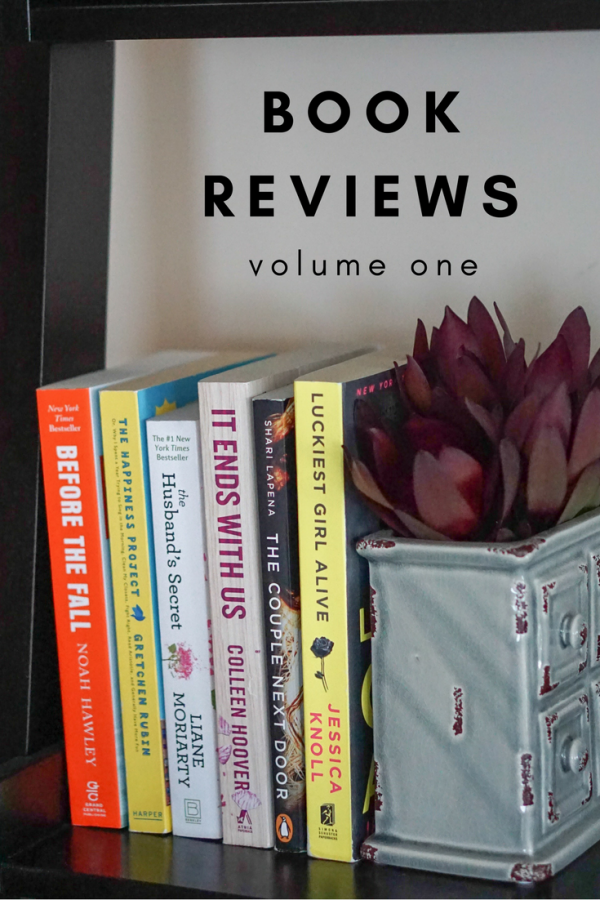 While I'd love to make this a monthly thing, I know my schedule and it's not always easy for me to find time to get into a good book. So I've added a section of the blog HERE and I'll be adding posts there whenever I get through a good chunk of books like I did here.
Volume 1 includes six books that I loved – most of which are pretty different from one another. Read on for my thoughts on each and click through the links to view them on Amazon so you can read more and download/purchase as you wish! With the help of Amazon Prime, books arrive on my doorstep within a couple of days (yes, I prefer paperback – at least right now because my Nook is old!).
I'd love to hear which books you recommend – please leave comments with books you loved below and I'll add them to my list!
xo,
Katy
Before the Fall: Before the Fall takes place off the coast of Martha's Vineyard (not sure if it's because I'm from New England, but I'm always drawn to books that take place here or on Nantucket).. Eleven people, all but one of which are quite wealthy, and their private jet crash just minutes into a flight taking off from the island. Sadly, there are only two survivors: a painter, who was a last-minute oddball addition to the flight, and a four-year-old child who is the son of a powerful man that died on the flight. This is a page-turning thriller – you won't see any signs of what caused the crash until it was revealed toward the end of the book. Aside from looking for answers on what caused the crash, the book takes you through the lives of each of the people on that flight and how they were ultimately bound together. My only critique was that I didn't love the ending, but I also can't think of any better way to end it and think the author, Noah Hawley, ended it the way he did for a reason. One last note: the author of this book also wrote Fargo, which the TV show is based off of. I've never seen it before but it's supposed to be good!
The Happiness Project: 2017 isn't quite over, but I'll go ahead and say that this is my favorite book of the year. I don't normally read books that technically fall within the "self help" category, but this is a must-read that I recommend to everyone. Gretchen Rubin takes you step-by-step through her year of "trying to sing in the morning, clean [her] closets, fight right, read Aristotle, and generally have more fun." Rubin is honest, refreshing and real – and the book is all backed in tons of research that she did on the topic of happiness, which is applied to her own life. The best part is that while everyone's happiness journey is (and should be) different, you'll close the book with actionable steps to apply to your own life, whether you start your own Happiness Project or analyze yourself in a new way. I did try to do my own Happiness Project and while I didn't make it very far, I took tons of her tips and started implementing them in my everyday life. I would love to pick up my Happiness Project next year… we shall see! Thinking about getting her Happiness Project daily calendar for 2018…
The Husband's Secret: Liane Moriarty, who also wrote the popular book-turned-TV-series Big Little Lies, does it again with this book. Much like Big Little Lies, this story is told from the perspective of several different characters, all of which are intertwined in one way or another. The thread that weaves each of their lives together is that one of the women, Cecilia Fitzpatrick, discovers her husband has a secret that will ultimately weigh over all of them. She finds a letter addressed to her, which has instructions to open after her husband's death… but he's still very much alive. Once that letter is opened, there's no going back – and the plot takes you through how this secret impacts so many lives of people who barely knew each other before. I actually didn't read Big Little Lies but binge watched the entire season of the show, and after that I was excited to read this book. It's an incredibly well-written mystery that I breezed through despite it being almost 500 pages. Highly recommended!
It Ends With Us: I borrowed this book from a friend and didn't even know what it was about when I began reading. I was immediately drawn in – the only way I can explain it is that it's a powerful love story that dives into a sensitive subject matter. This quote from Kirkus from STARRED REVIEW says it well: "It Ends with Us tackles [a] difficult subject…with romantic tenderness and emotional heft. The relationships are portrayed with compassion and honesty, and the author's note at the end that explains Hoover's personal connection to the subject matter is a must-read." I can't go into any more detail than that without ruining it, but just read this book!
The Couple Next Door: I was really into all of these books, but I would say this was the one that I read the fastest. The suspense was killing me and I just had to get to the whodunit part! As the title implies, this is a story about a couple – Anne and Marco Conti – who seem picture perfect on the outside. Then while they are next door at a dinner party, a crime takes place and that starts the complicated storyline of figuring out exactly what happened and who is to blame. Both Anne and Marco have secrets – as do each of the other characters – and this all unfolds leading up to the last twist where the truth comes out.
Luckiest Girl Alive: This one is recommended for fans of Gone Girl and The Girl on the Train and while I haven't yet read the second, I was sold after loving Gone Girl. This is another one where I can't say too much without giving it all away. Ani FaNelli is a high schooler who seems to have a perfect life – but she's really hiding something from her past that has significantly impacted her life since then. You won't see what's coming as the plot twists in different directions. I couldn't put this one down!
Shop all of these books here: