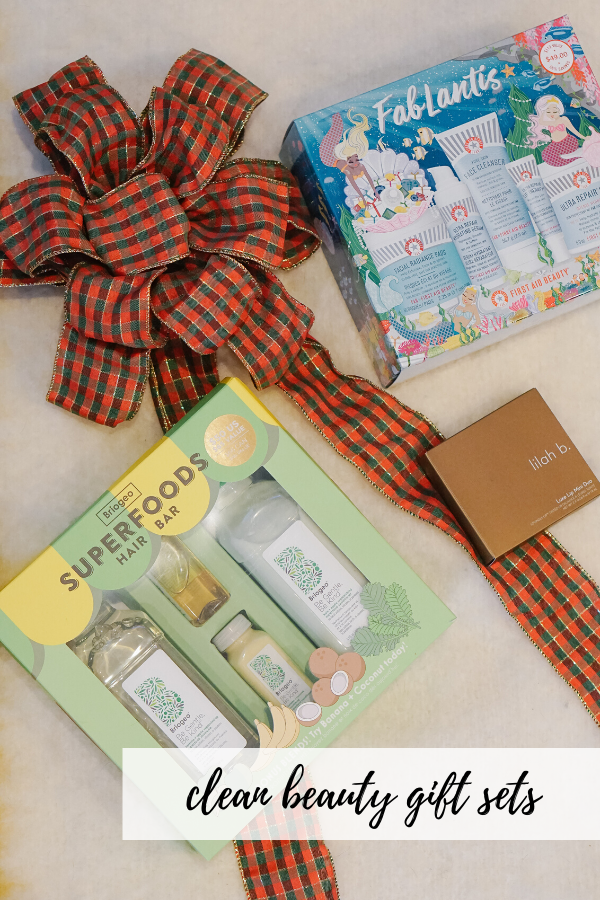 The holiday season is when I stock up on beauty and skincare products during big sales, but it's also the best time for trying out new things. The best way to do this is by picking up gift sets – particularly at Sephora – because you can try out popular travel-size picks from different brands.
With my ongoing focus on cleaning up my beauty and skincare routine, I love how many clean beauty gift sets Sephora has this year (shop even more options than I have in this post here!). When you're on the site, just look for the "Clean at Sephora" green circle.
These do sell out pretty quickly, so now is the time to shop! Shop my picks for clean beauty gift sets using the links and widget below.*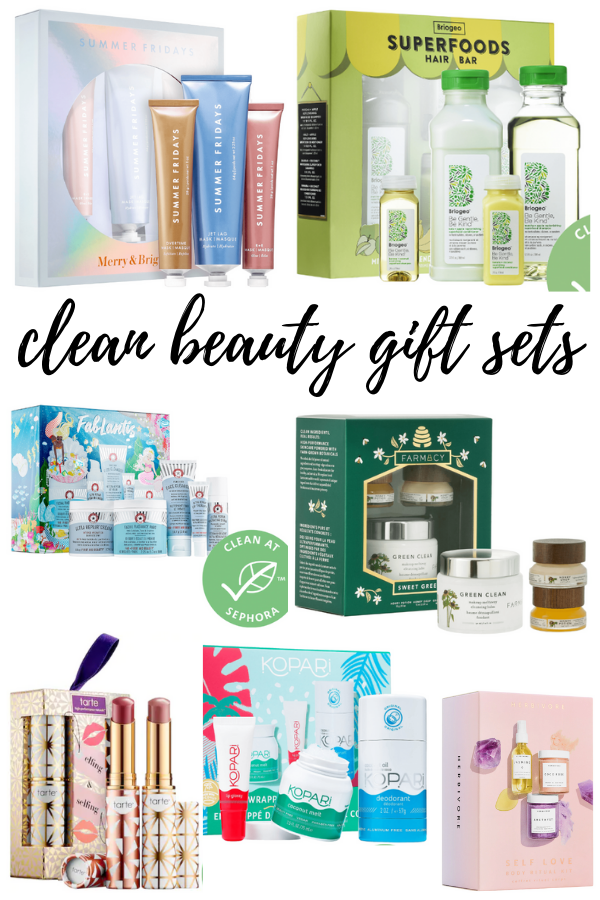 Shop the Gift Sets:
Summer Fridays Masks / Briogeo Hair Set
First Aid Beauty Set / Farmacy Set
Tarte Lip Duo / Kopari Coconut Set / Herbivore Spa Set
Here's why I love these sets:
Kopari Wrapped in Coconut: It took me a couple years and many natural deodorants to finally find one that works – and that's Kopari. Admittedly I haven't tried any other products from the brand, so this is a good way to stock up on deodorant while also getting the Coconut Melt and Lip Glossy.
Briogeo Superfoods Hair Bar: I'm doing a good job with clean skincare, but hair products are another story. I haven't actually tried many brands yet because I've been skeptical and had some of my favorite (non-clean) options to use first, but this set caught my eye because you get two full-size and then two travel-size bottles of both shampoo and conditioner. Reviews look good too!
Summer Fridays Merry & Brighter: The Summer Fridays Jet Lag Mask is one of the best things I've found for hydrating my skin (it's known as a good in-flight mask, but I also love it for after sun or when my skin is feeling particularly dry). This set comes with that and two other masks from the brand.
Farmacy Sweet Greens Holiday Set: I'm waiting to try this brand 'til I run out of my Beautycounter Cleansing Balm – I've heard the Farmacy Green Clean Cleansing Balm is even better! This set comes with that plus smaller versions of a mask and lotion.
First Aid Beauty Fablantis: Another new-to-me brand that I've heard great things about – particularly because of the lower price point. The Facial Radiance Pads caught my eye a while ago, but I also thought winter would be a great time to try out the lip therapy and intense hydration cream.
Tarte SEA Elfing & Selfing Quench Lip Rescue Duo: I love the ornament/stocking stuffer packaging of this set, but more importantly have also heard great things about these lip products. Great option for under $20 gift grabs!
Herbivore Self Love Body Ritual Kit: Herbivore's body polishes and oils are something I've been meaning to try out. Either keep this whole set for yourself or you could break this out into separate gifts and pair with a sleep mask or other spa-like products for a relaxation-themed gift bag. There's also another good Herbivore gift set – the Glow Potions Emerald CBD + Prism 12% AHA Glow Duo.
*This post contains affiliate links, which means if you purchase through my links, I get a tiny commission. Thank you for supporting Daily Katy!