One of my goals of this year is to educate myself on what should and shouldn't be in my beauty products and to phase out whatever I uncover is "bad" for me over time. I hate wasting products so I'm not about to go and throw everything out, but I'm doing my research as I run out of things I use regularly and making cleaner swaps when I go to replace them.
The beauty and skincare world is incredibly unregulated in the U.S. There hasn't been any legislation around personal care products in our country since 1938. According to Follain, if we're compared to other countries, we have 30 banned ingredients, while Canada has 500 and Europe has 1,500. This means it's up to us to figure out what we should and shouldn't be using via our beauty and skincare products.
While I've been incorporating "clean" products into my routine over the past couple of years, I still have so much to learn. I'd love to hear about any resources for learning more – it's a little overwhelming with all of the crazy ingredient names (sulfates, parabens, phenoxyethanol, what?!). So far I've found that Follain has a great blog, Clean Beauty 101.
I'll be sharing more about my clean beauty journey throughout the year! What are your favorite clean beauty finds? Here are a few I've been trying out.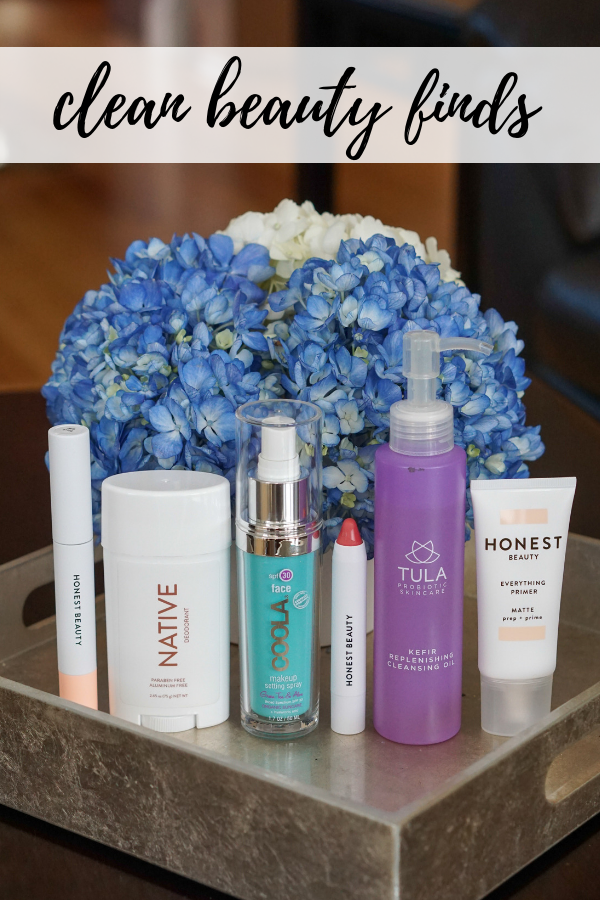 Native Deodorant: I've been on the natural deodorant train for almost two years, yet I've had trouble finding a brand that actually works. So far, Native has been good to me, specifically in the Coconut & Vanilla scent (the Lavender & Rose scent for some reason did not work for me, but they not have lots of other scents to choose from). Its aluminum, paraben and sulfate-free, plus it's not animal-tested and is made in the USA. Compared to other natural deodorants, I found the texture of this to be similar to regular deodorants – not sticky, doesn't leave a residue on your clothes and yet it actually feels like you're putting something on. You can get it online with free shipping and it's also now at Target, which I find super convenient.
Honest Beauty Extreme Length Mascara + Primer: If I had to pick just one makeup product to wear every day, it would definitely be mascara, thanks to my blonde lashes you can barely see on their own. I use several different mascaras depending on the occasion and I was pleasantly surprised that this clean option really worked. I wear it pretty much every day unless I'm going out at night or to an event (let's face it, that's rare). One end has a lash primer that essentially puts tiny fibers on your lashes that the mascara then sticks to, making them look longer. And then the mascara itself has a nice wand that gives good volume and definition without clumps. All Honest Beauty products are free of parabens, paraffins, silicones, mineral oil and synthetic fragrances, along with not being tested on animals.
Honest Beauty Everything Primer – Matte: I rarely wore a primer before this one – this product gives you the perfect matte look and makes your makeup go on nice and even. It almost feels like your skin has a light powder on it, which I learned while posting this that it's actually micronized bamboo powder that helps blur imperfections. I prefer topping it with a tinted moisturizer, but you can also wear this alone or under foundation. Same applies as above: no parabens, paraffins, silicones, mineral oil or synthetic fragrances.
Honest Beauty Lip Crayon: This lip crayon is super moisturizing thanks to ingredients like coconut oil and shea butters. It comes in a great selection of colors – I love "sheer coral" right now. It's lightweight and stays put for a good amount of time considering it's a cleaner option than traditional lip colors.
Coola SPF 30 Makeup Setting Spray: I've been a big fan of Coola sunscreens for years, especially their cucumber face sunscreen, so I was excited to try out this product. In my opinion, it comes in handy the most during warmer months when you're going to be outside, need sunscreen, but already have makeup on. Just spray a few mists of this organic SPF 30 spray on and your skin will be protected and hydrated and you'll be good to go. You can do it as many times as you want throughout the day. All of Coola's products are paraben, para-aminobenzoic acid and animal cruelty free.
Tula Kefir Replenishing Cleansing Oil: I had tried out a few Tula products that I love prior to being sent this face wash and was skeptical because it's oily when you put it on. But I've read that oils bind with oils, meaning that the oils in the cleanser meet the bad oils in your skin that ultimately leaves you with clean skin. I found that it leaves my face soft and hydrated (not oily at all once washed off) and does a good job at removing makeup. Tula is known for their probiotic skincare and this is one of their products made with kefir, a fermented milk drink with probiotics, vitamins and minerals that's known for its health benefits. This face wash is free from sulfates, fragrance, DEA, TEA and is cruelty-free.
Thanks to Coola, Tula and Honest Beauty (via Influenster) for sending me samples to try out. As always, all opinions are my own.