I love a good margarita, and today just so happens to be National Margarita Day. Try out one of the margarita recipes below and celebrate with me!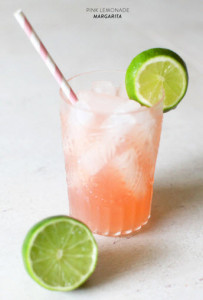 Ingredients:
1.5 oz tequila
.5 triple sec
Juice of lime wedge
4 oz pink lemonade
Splash OJ
Instructions:
First, rim your glass by dipping the top in water or sweetened lime juice then into an equal parts salt + sugar mixture.
For the cocktail, combine all ingredients into a shaker (or a large glass) and mix well.
Pour over ice and voila!
2. Skinny Margarita (Skinny Mom)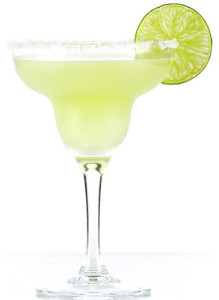 Ingredients:
1.5 oz. Tequila (We love silver tequila as it has the fewest calories)
.25 oz. of Triple Sec or a "splash"
2 tbsp. fresh lime juice, the juice of 3-4 wedges
1 tbsp. Splenda®
Instructions:
Combine all ingredients in shaker with ice cubes and shake vigorously for 30 seconds.
Rub a cut lime around the rim of a glass and dip the rim into a plate of salt. (optional)
Pour mix into a glass on the rocks and serve! Another option is to blend ingredients with 1/2 cup of ice and serve frozen, as shown on right.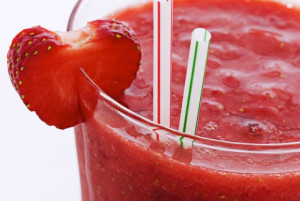 Ingredients:
3 1/2 cups strawberries
2 1/2 cups crushed ice
1/2 cup tequila
1/2 cup fresh lime juice
1/4 cup sugar
3 tablespoons Cointreau (orange-flavored liqueur)
Lime wedges (optional)
Instructions:
Combine strawberries, ice, tequila, lime juice, sugar, and liqueur in a blender, and process until the mixture is smooth.
Pour the margaritas into 4 large glasses.
Garnish margaritas with a lime wedge, if desired. Serve immediately.
4. Lime Sorbet Margaritas (Real Simple)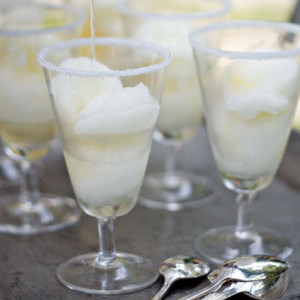 Ingredients:
1 lime, cut into 8 wedges
1/4 cup sugar
2 pints lime sorbet
1/2 cup tequila
Instructions:
Rub the lime wedges around the rims of 8 stemmed glasses.
Place the sugar on a small plate. Turn each glass upside down and dip the rims in the sugar to coat.

Place 2 scoops of sorbet in each glass and pour 1 tablespoon of tequila over the top of each. Serve with a spoon.
What's your favorite margarita recipe? Leave it below!