I've now been through 2 pregnancies where I've shopped the summer Nordstrom Sale and have a handful of recommendations for Nordstrom Sale maternity picks. One true maternity item and the others staples you can use while pregnant and once your little one arrives. Here are my top Nordstrom Sale maternity picks: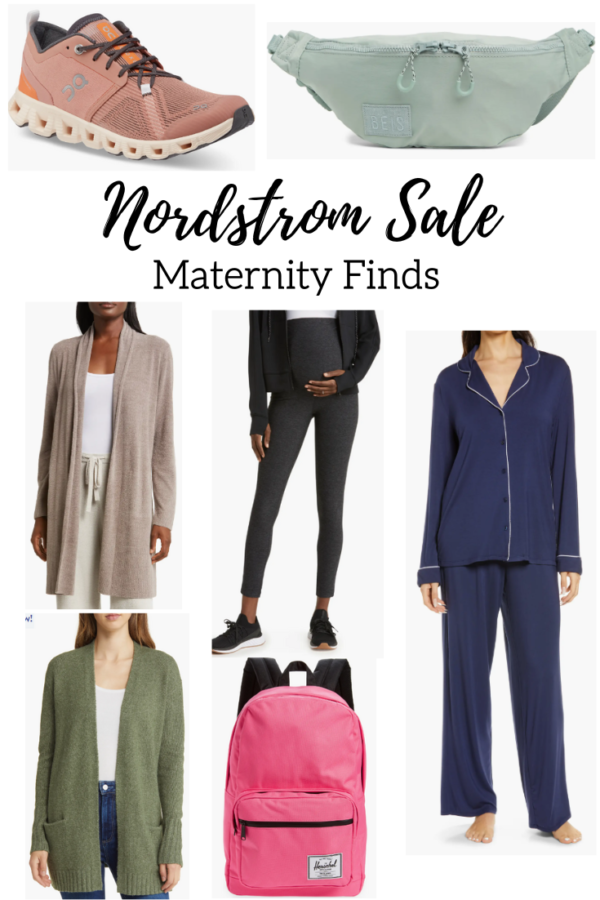 Zella Maternity Leggings – There are 2 options included in the sale: Live In Maternity Crop and Restore Crop Maternity. I'd buy these in 2 sizes so you're totally comfortable at all stages of your pregnancy. They're affordable and were always a staple for me. 
Button Down Pajama Sets – Even if you don't get to wear these through the end of your pregnancy, you will once the baby arrives, especially if you plan to nurse. The Nordstrom brand of these has great reviews and they also come in a t-shirt and shorts set.
Cardigans – If you'll have a baby bump in the fall or winter, cardigans are perfect because they're non-maternity. I like that you can show off your bump with a fitted maternity tank or tee underneath but still be comfortable. Here are a few favorites: here, here, and here. If you're like me and have winter babies, you'll find yourself living in a Barefoot Dreams cardigan (also hooded version) postpartum as well.
On Cloud Sneakers – I'm now on my second pair of these and think they are the best pregnancy, postpartum and everyday sneakers out there. They're lightweight, comfortable, and you can slip them on with the no-tie feature.
Herschel Backpack – Take care of your back and start using a backpack now. I still use one like this to this day for both personal and kid stuff. I have a similar one to this that I once used for commuting and now for days out and about with my daughter.
Beis Crossbody Bag – I carry this daily on walks, both when I was pregnant and when pushing the stroller with my baby. The size perfectly stores essentials like keys, phone, small water bottle, and even a diaper. I love the blue color in the sale.