It's time to reveal and review the products that were included in the latest Beauty Box 5, a monthly subscription box that makes it fun and simple to try out new brands and great hair, makeup and skincare products at a fraction of their cost. In case you missed my first Beauty Box 5 post last month, here's how it works:
Go to BeautyBox5.com and sign up for a monthly subscription for $12 each month (less if you purchase for the quarter or year)
Receive five deluxe samples and full-sized beauty, hair and skincare products from top brands delivered right to your door each month
Post an Instagram pic of your Beauty Box 5 and include #bb5fave and @beautybox5 for a chance to win five full-size versions of the products
If you don't win, head back over to BeautyBox5.com to purchase full-size versions of the products you loved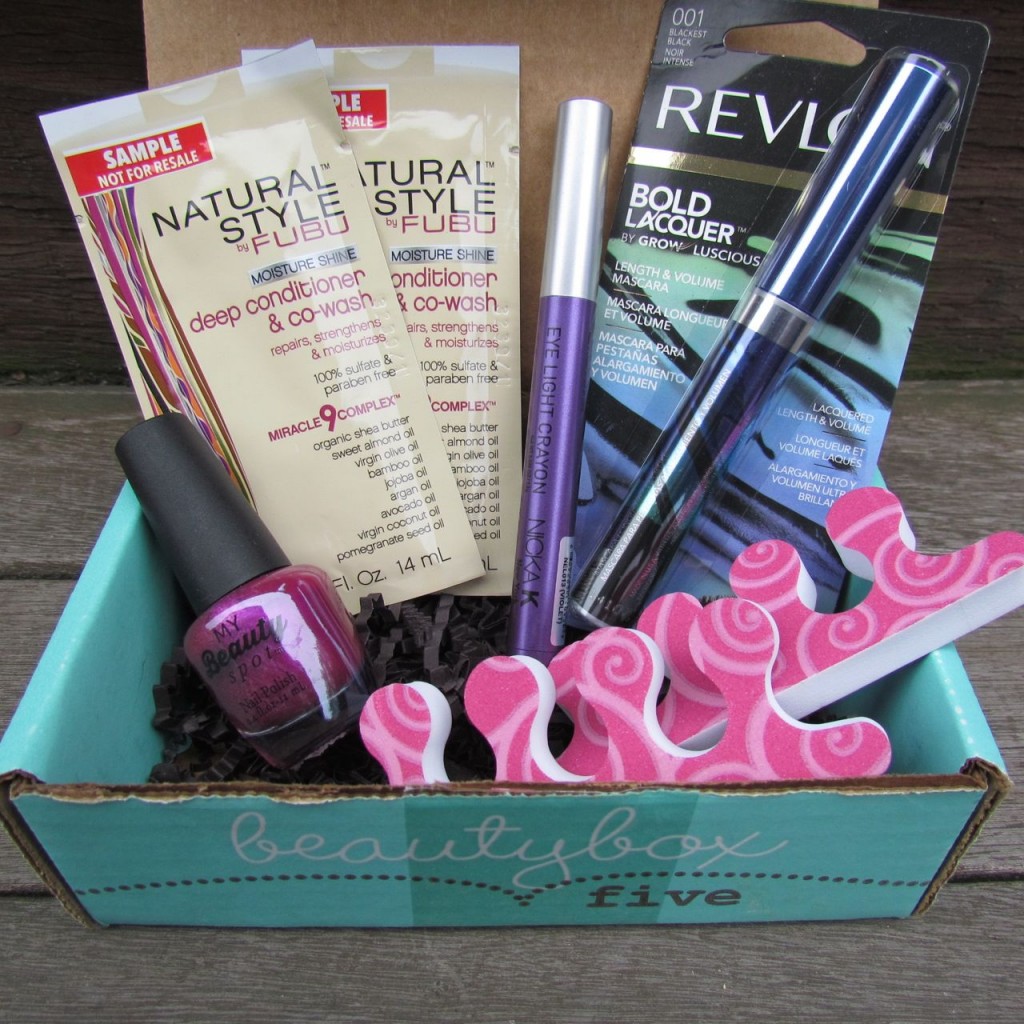 September's Beauty Box 5 included items from Nicka K New York, Natural Style by FUBU, Sally Hansen, My Beauty Spot and Revlon. Read on for more on each product!
Nicka K New York Eyelight Crayon: This long-lasting, creamy eyeshadow stick is a great way to add a pop of color. You can use it as liner, smudge it or blend it to cover your eyelid. ($4.50 each)
Sally Hansen Toe Spacers: These cute toe spacers are exactly what you need to separate your toes to allow for the perfect DIY pedi. Not only that, Beauty Box 5 has some ideas for other ways to use these toe spacers, including using them to create a simple striped mani. ($2 for 1 pair)
My Beauty Spot Nail Polish: Pretty shades and bold colors are what this set of nail polishes offers. The thick formula goes on smooth and dries quickly. ($25 for set of 6)
Revlon Bold Lacquer Mascara: The brand's newest mascara is perfect for everyday use. It gives you volume and definition, while also lifting your lashes (no need for that curler). Also, no need to worry about smudging or flaking with this mascara. ($8)
To sign up or learn more about Beauty Box 5, visit BeautyBox5.com and be sure to follow the brand on Facebook, Twitter, Instagram, YouTube and Pinterest.
**This post was originally written and published by me on Examiner.com. I received a sample for this review, but all opinions are my own.