The month of April's Amazon purchases were filled with baby daycare preparation (back to work!) that may be helpful for other mamas, along with clothing staples for me and miscellaneous home items. Below you'll find recent Amazon purchases organized by baby, toddler, women's and miscellaneous.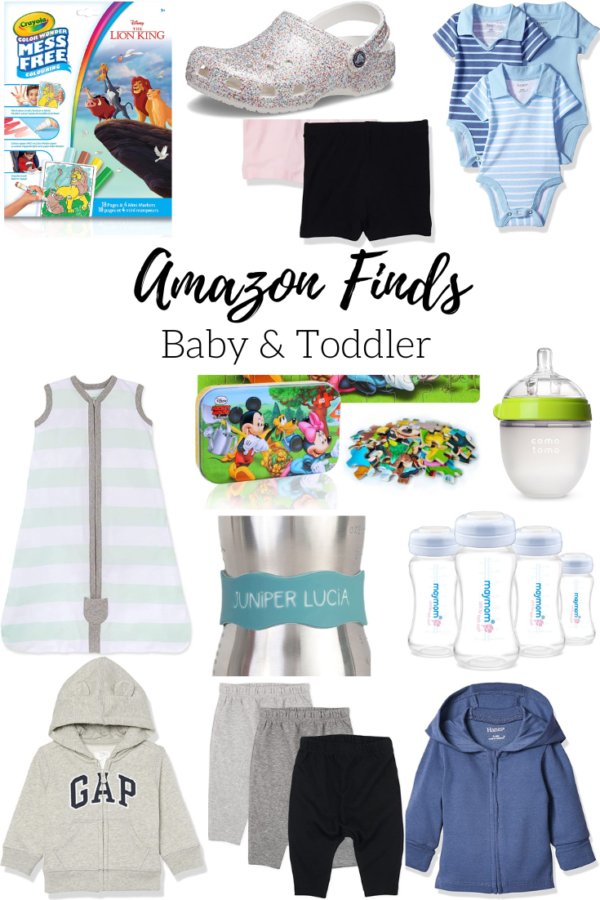 BABY
Comotomo Bottles – I've used these with both kids and ordered a couple more of the 8oz bottles because my son started daycare.
InchBug Bottle Labels – Comotomo bottles aren't easy to write on or use dishwasher-safe stickers on, but these "Orbit Labels" have worked well.
9 oz Storage Bottles – Sensing a trend here? Daycare means I'm pumping quite a bit. These take up way less space in the refrigerator and attach right to my Spectra pump.
Hanes Polo Onesie 3-Pack – Our daughter had a few packs of clothes in this Hanes fabric for daycare so I went back for more for our little guy. This polo style will be cute for spring and there are lots of colors and patterns to choose from.
Hanes Zip Hoodie – Same fabric as above, this zip-down hoodie is good for morning/evening when it's warm enough that you don't need a jacket but still cooler temps on our daycare walks.
Gap Zip Hoodie – Similar to above, I like a zip up hoodie to get on and off on a baby easily and to use as a warmer weather jacket. Amazon now sells Gap basics that are regularly on sale.
Burt's Bees Sleep Sack – I bought 2 of these for daycare and my in-laws' house. These are lightweight, comfortable and inexpensive.
Honest Baby Pants 3-Pack – I wrote about these in my Baby Clothing Favorites post and ordered the next size up for my son. The fit is good and they're lightweight so good for the weather warming up.
TODDLER/PRESCHOOL
Mickey Mouse Puzzle – This puzzle is nice and compact with a small container to store it in. It's around $10 and while it's not world's best quality, it was an easy win for my puzzle-loving 3-year-old. These also come in other themes like Frozen in the same Amazon listing.
Crocs – Repurchased white/glitter crocs for my 3-year-old, which she approved. They're very similar to the ones she had last year that were worn daily. Buy now as sizes in good colors tend to sell out.
Crayola Color Wonder Mess Free – Lion King Set – My daughter recently discovered – and loves – the Lion King, so I grabbed this set for when she needs an activity. The markers are the best – they color like regular markers but are clear if it's not on the special paper.
The Children's Place Bike Shorts – These are under $10 for a 2-pack and a repurchase in a bigger size from last year. Black and light pink get worn quite a bit for us!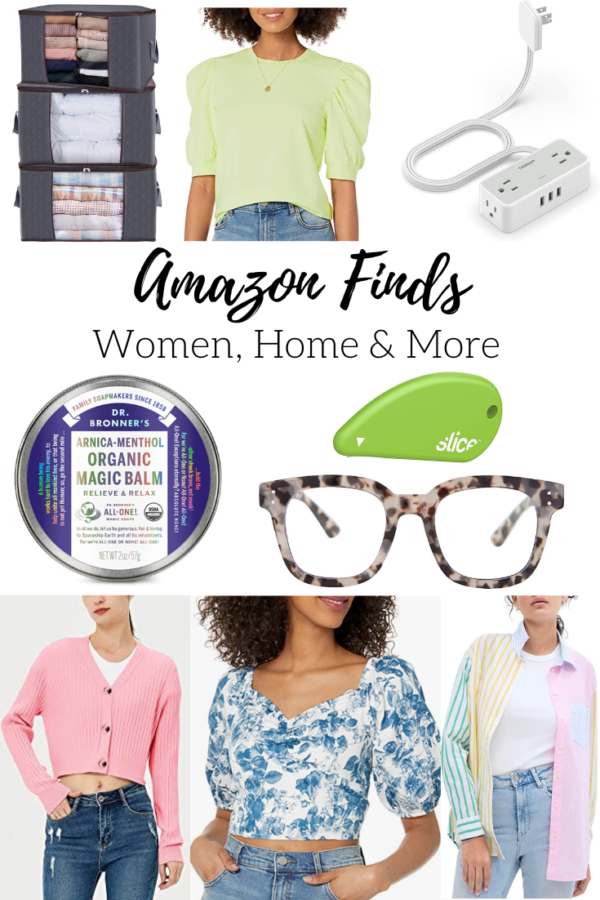 WOMEN
The Drop Puff Sleeve T-Shirt – A soft and stretchy shirt that I found to be very flattering, available in several colors at a great price. I got the lime green.
The Drop Puff Sleeve Top – Got this in blue and white floral and was impressed with the quality and sale price. I plan to wear it with high-waisted jeans, a denim skirt or this black jersey skirt. The top also comes in white, another floral and black.
Blue Light Blocking Glasses – I needed a new pair for going back to work and liked that these have a thicker frame to them.
Crop Ribbed Cardigan – I got this to wear with a skirt on Easter and was impressed by the quality. I'll be wearing it again with high-waisted jeans.
Gap "Big Shirt" Button Down – These were on sale and I got plain white and a colorful stripe. I'll wear either on their own or over a tank or t-shirt with jeans or leggings.
Nude Slip – I needed something like this for underneath sheer dresses – particularly this blue and white striped one I love – and this is perfect.
MISCELLANEOUS
Large Capacity Clothing Storage Bags – I heard good things about these for storing things like sweaters or blankets. I was looking for ways to store off-season clothes, for example, and didn't want to buy more plastic bins if we didn't need to.
Slice Safety Cutter – No more scissors for opening boxes – this is much safer, especially with kids around.
Dr. Bronner's Organic Magic Balm – Bought this to put on my shoulders and neck, which are constantly tense from holding kids and being where I carry my stress. I'll report back!
Ultra Thin Power Strip – The room our son is in doesn't have many outlets so I got this to plug in his essentials like the sound machine and humidifier.