I learned with my daughter how easily it is to wind up with too much baby clothing – especially when the little one is your first and people are giving you all sorts of gifts (and in our case, a pandemic hitting when she was 3 months old). With my son, I've been being much more thoughtful with curating clothes that are cute, practical and comfortable without going overboard. We do laundry in our house daily anyway, so there's no need for high volume.
There are a few things I continue reaching for and even buying in the next size up. I've found that with boy clothes, there isn't as much out there that I love compared to girls' clothes. Here are some of my go-tos for baby clothing favorites that I'd recommend to anyone preparing for or welcoming a new baby into the world (and congrats if that's you!).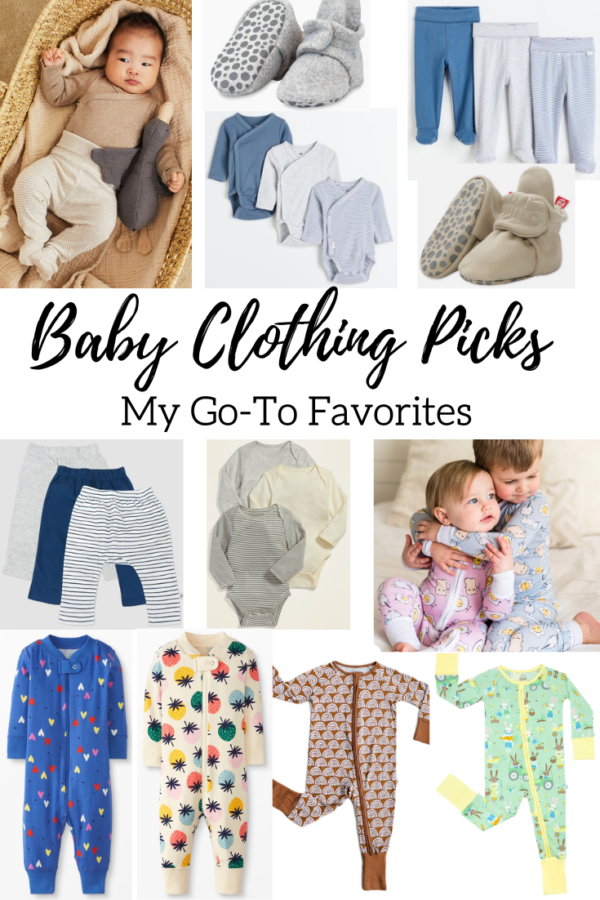 Little Sleepies Pajamas – The bamboo pajamas are a bit pricier than other brands, but they are incredibly soft and the way they are designed allows them to really grow with your baby. They last way longer than any others we own and come in such cute prints. A great gift for any baby!
H&M Crossover Bodysuits & Matching Footie Pants – These 3-packs are the best. They're soft, come in a variety of neutral toned color combinations and patterns, and look so cute the way they fit snug on a baby. We had the blue set and I'm considering repurchasing them in the next size up.
Hanna Andersson Footless Pajamas – I find babies outgrow footie pajamas pretty quickly unless they're a stretchy bamboo fabric – but with this brand, the reason they are high quality and worth the price point is that they're a nice thick material. I've been liking these footless pajamas – they're always introducing new fun colored prints, or you can stick with their Moon and Back line on Amazon, which has nice stripe and star patterns at a consistent lower price.
Honest Baby Cuffless Pants Set – These are unisex and I'm a big fan of them because they're fitted yet not loose, so they don't feel like they're overtaking a baby's legs. They're lightweight, soft cotton and I currently have the set with black and grays.
Old Navy Bodysuits – Every store changes up their styles here and there, but this time around I've been a big fan of Old Navy's basic cotton onesies. The plain colors in particular are soft and stretchy and I've been able to roll up the sleeves to get more wear out of them. Oftentimes this is all our little guy wears around the house.
Zutano Booties – No knock offs have stood up to these booties, which come in both fleece and organic cotton and stay on with an adjustable snap. With my daughter, this was really all she wore until she started standing. My one complaint is I wish they made them in actual newborn sizes because they've been a little big during super early days at home, but wearing them with socks helps (the smallest size is 3M which is 0-3 months).