Preparing for the holidays – particularly gifts for littles – can be overwhelming thanks to the overwhelming amount of product suggestions on social media. Before I get into this post, I want to point out that these are just that – recommendations for you to pick and choose from. Your little ones don't need another Christmas for Easter, but it's fun to get a few festive items to make them feel special after a visit from the Easter Bunny.
With that said, I've prepared a list of ideas for an Easter basket for preschoolers (my daughter is 3). Pick and choose from these options to fill your little one's basket. Be sure to also check out TODDLER EASTER GIFTS and BABY EASTER GIFTS ON AMAZON for other ideas, most of which are still available on Amazon!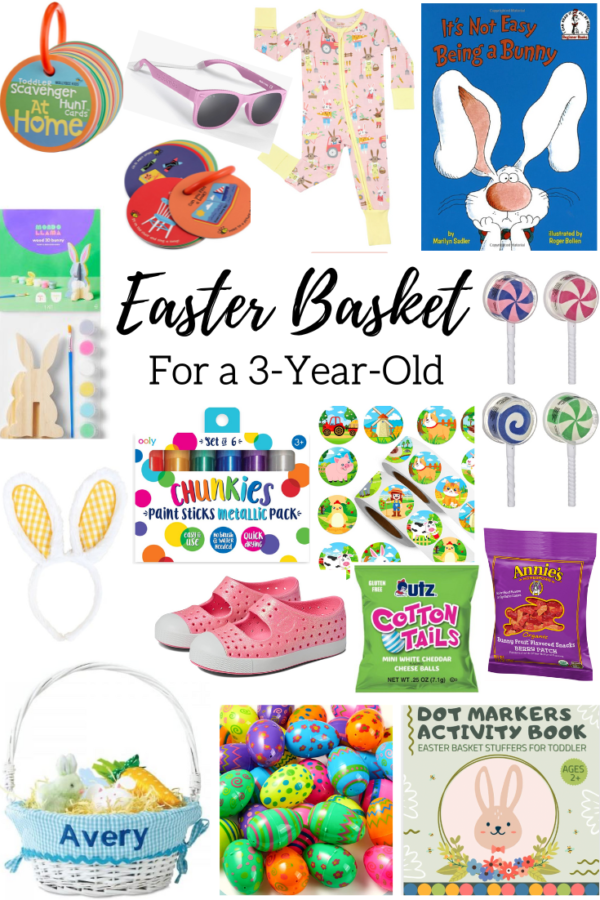 Personalized Easter Basket – Our daughter has a basket from Pottery Barn, but I'm including this Amazon option here that I just ordered for my son. If I had to do it again, I'd get this for both! A tiny bit smaller, but much more affordable and just as cute.
"Decorated" Plastic Easter Eggs – Such a fun twist on the classic plastic Easter eggs that you fill with candy or whatever else fits. I was also a fan at how these arrived – taken apart and all stacked together so they don't require a giant box to store them in.
Bunny-Themed Snacks – To avoid giving tons of candy, I like to buy holiday-themed snack packs (Target is great for this!). Annie's fruit snacks or crackers are an obvious one!
Play-Doh Lollipops – These are bigger than I was expecting, so I won't be using the whole box in my daughter's Easter basket, but I love them as a fun candy alternative. I may put a bow or card tag on the others and give to my niece and nephew.
"It's Not Easy Being a Bunny" Book – My 3-year-old is completely obsessed with books, and while we really don't need more, this came highly recommended as a bunny-themed option that will be good for learning to read.
Little Blue Truck Farm Sticker Fun – Anything LBT wins in our house, and this book also comes with all sorts of stickers to add to the mix.
Chunkies Paint Sticks – I learned about these last summer when my father-in-law brought them on a family vacation for the grandkids. They were such a hit! We collected rocks and they drew on them, but you can use them on paper or whatever else you want. It kept the kids entertained for quite a while.
Toddler Scavenger Hunt Cards – My daughter is very into hide-and-seek and games like Zingo, so I thought this would be fun to have around. It was recommended by another mom.
Sticker Sheets – I keep these in my Dagne Dover backpack at all times, so while they won't be in our Easter basket, they'd definitely be a hit! They are the perfect puffiness for independent toddler play and also don't get gross if you accidentally wash something with them on them. I also found these Farm-Themed Sticker Rolls that would work too.
Paint-Your-Own-Eggs Set – These Mondo Llama sets at Target are $5 and I always have some on hand for a rainy day. Last year I also put one in the Easter basket because they come out with fun seasonal ones like these eggs. In the photos above, I included one where you paint a bunny that stands up on its own.
Dot Marker Activity Book – Amazon has lots of Easter-themed activity books for dot markers, which we already have a couple sets of at home.
Little Sleepies Pajamas – In the past I've given pajamas in the actual Easter basket, but this year the cousins will get matching ones in advance. My daughter loves to wear seasonal/holiday things all month long, so that also makes it so they'll get lots of wear. These are my absolute favorite pajamas – they stretch, are so soft and last way longer than others!
Spring/Summer Shoes – Natives or other shoes you'll be buying your kiddo anyway are always a good add. Amazon has had some good deals lately.
Bunny Ears – Can't go wrong with these $3 bunny ears! I found these in-store in the Target dollar section last year but it looks like they're now online.
Sunglasses – These polarized kids' sunglasses are popular on Amazon and will be the next ones we try!